Hi beauties!
Thanks to you all for the positive (and honest) responses in regards to the brows. I'm feelin' a tad bit better about it. Well, not really but at least I'm not cryin' about it anymore. I have, however, indulged heavily in my head wraps and making sure that they cover my brows. Guess I still haven't been able to accept it. HA! It's kinda funny when you think about it.
So I've been goin' to work and 'roun town lookin' like this.
LOL, look at me. Got the snob look goin' on and fake wedding ring blingin'. I look like I'm in mourning…of my brows. I'm a mess, yall. Some days I've pulled the scarf to the side for the gypsy look and other days I've tied it up like my African sistas do. So sad. I've prayed (literally got on my knees) and prayed about these brows. LOL, it can't be that serious. But then again it is. I have purchased Espresso e/s. So we'll see how that works. Trying to draw on brows with my MAC Stud eyebrow pencil is soooo hard.
Today I did a different kind of purple eye. For the look below I used:
Artifact paint pot as a base
Inner Lid-Hepcat
Middle-Nocturnelle
Outer V-Carbon (my new BFF. Sorry Vex!)
Crease-Satellite Dreams (Sooo fab!!)
….and then I dabbed some Vanilla along with S.Dreams and blended up.
Came up with this: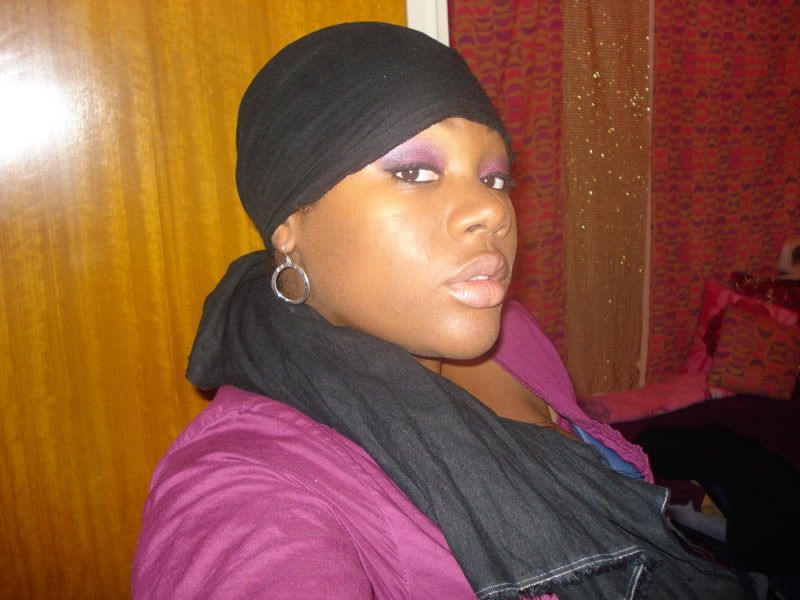 I can dig it. Did a super nude lip. Gotta love that Bare Truth lipstick from Blue Storm.
I also went to MAC and returned my Strobe Cream. I played with it as much as I could but I realllly didn't like it. I didn't feel like a strobe light was on my face. It didn't give me enough moisture and all that opaque pearly stuff just made me look a bit ashy. So instead I returned that and purchased my first Mineralized Skinfinish. Really excited about this! Can't wait to see how that works!
My girl Vanessa at
NecessaryMakeup.com
(faaab beauty blog. Check her out!) is pro Beauty of Essence brushes just like me. For great quality brushes for a realllly good price, please check out this brand at your local drugstores. And is it bad that I absolutely adore NYC's lip stuffs? Pictures of "Mission Salvage Brows, Act I" will be available soon!
….but before I go! Cross your fingers for me! I've entered my Jigsaw look in
Temptalia's
Halloween Mask Contest! Some girls have entered some beauuuutiful looks so we'll see. Just to be featured on this wonderful beauty blog is considered an honor to me! To my other bloggers, add this one to your list. I don't purchase anything until I get the trusty pictures and reviews from this site.
Love and L'Oreal macaras!