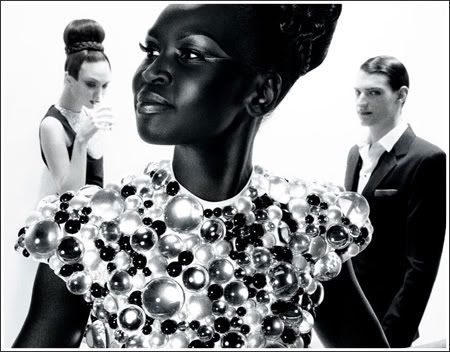 I can NOT wait for MAC's Collection of The Stylistics to drop. I think the packaging is just absolutely gorgeous! I wonder if the products are really worth the hype? It doesn't even matter! I'm just happy to see beautiful Alek on the center of this piece. Pro-Black and pro-MAC. They do a pretty decent job at showin' some brown folx. Missy, Eve, Mary J, Alek…..I can certainly support a company that shows brown skinned folx some love.
I thought about typing up the color story, but then I realized one of my favorite beauty blogs has already done that. Check out Temptalia for the complete cover story and beauuuuutiful pics of this upcoming collection. It's droppin' on November 29th. Normally I'd hit up my nearest MAC Pro store in Orlando……but then I moved to LA, so I usually run to the MAC Pro store off of Roberson a week before launch dates. Buuuut, I'll be in NYC so I'll be hittin' up their MAC Pro in Manhattan. Can't wait! Now whether I'll be able to afford more than 2 products from this collection is another story.
On a good note: my brows are growing back. It's been 8 days since….ahem, "the accident" and I've got hairs growin' like mad. I'll upload a picture later to show yall. I'm so happy. I'm broke beyond belief this weekend (oh wait….EVERY weekend) but I plan on working on some projects/designs. This weekend I want to:
(1) Watch some make-up videos (love EnKore!)
(2) Play around with my yellow shadows…just for fun.
(3) Invest in a kabuki.
(4) Check out fab fall nail polish colors…Alyssia, you're the inspiration for this one!
(5) Study MAC product ingredients (I have a MAC Employee manual. Don't even ask….hehe)
(6) Depot some eye shadows.
(7) Have a field day at the nearest CVS and check out Ardell lashes, Milani, CoverGirl, L'Oreal, Beauty of Essence brushes, etc.
….and that's just for the weekend. Let's see if I stick to it! Here's a completely "blah" but natural look I did yesterday after work.
I used (all MAC unless otherwise noted):
StudioTech NW45
Mineralized Skin Finish (Deep Dark)
Revlon Colorstay eyeliner
L'Oreal HIP Cream Eyeliner
NYC lip color
….and sprayed with Fix +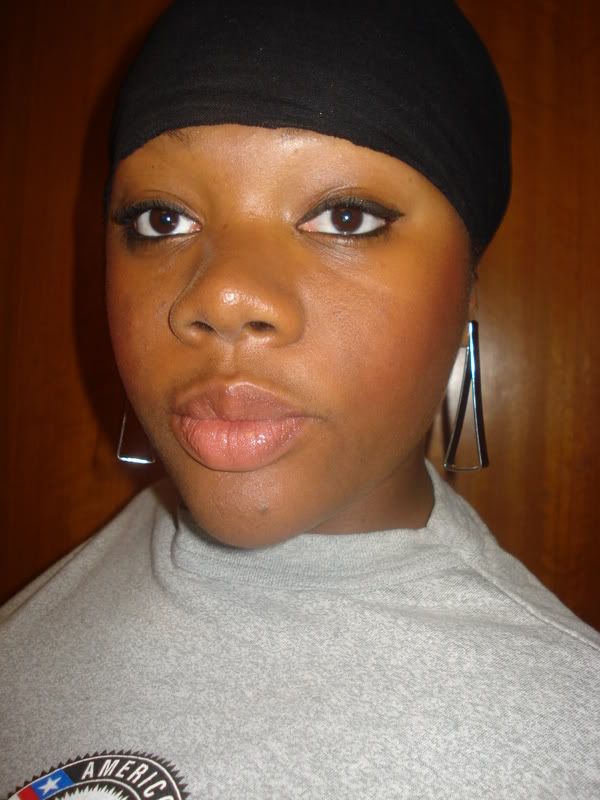 Yes, been wearin' the head wrap all week. I'm so dramatic—I trip my own self out. Pretty decent neutral look, I suppose. Thanks for showin' the love and for all of your comments/responses/tips/opinions. It is greatly appreciated!
Peace.