Hi lovely people! I hope you've all had a great weekend. I diiiiiid. Watched a ton of movies, went out to eat with the roomies, been cookin' up a storm, semi-shopping then went to church with my Joy Joy. I've also been studying for the GRE and FTCE (one's for entry into grad school, the other to be a certified teacher in Florida) and making plans to high-tail it out of LA. Which includes looking for an apartment and a list of other things. But this is a beauty blog….so let's bring on the beauty!
So obviously I'm still supposed to be on make-up probation. I've been doing well…..at least for high end products. I've only been in Target and drugstores, so I'm proud. This is what I got this weekend…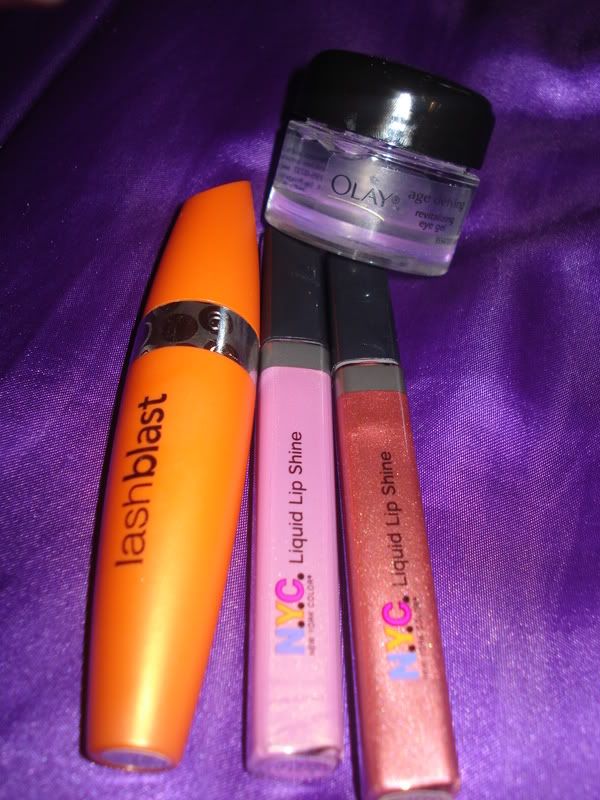 I've been content with my Fibre Rich and Voluminous mascaras but I think one of the reasons I got the LashBlast is because I love the orange tube! It's just so fab. I'll do a review on that later. And of course….had to cop some lip colors since that's my newest interest in make-up. NYC is cheap and I love their colors. Wish they had more! And I needed an eye gel and since Olay was on sale at Target, I copped that. I don't have dark circles or wrinkles (yet) but I want to get in the habit of applying this stuff.
And now onto the FOTDs.
This was taken this past Friday….I have on zero foundation. Haven't been wearing that or eye shadows this past week. The pimples are back. Alllll over. It makes me so miserable and I have noooo idea how to stop these breakouts. When I go home for the holidays, I am going to do my 5 day fast and have Mom, the herbalist make something for me because this is getting out of control. Who gets acne at 23? Especially having NEVER had it as a teenager. Ugghhhh!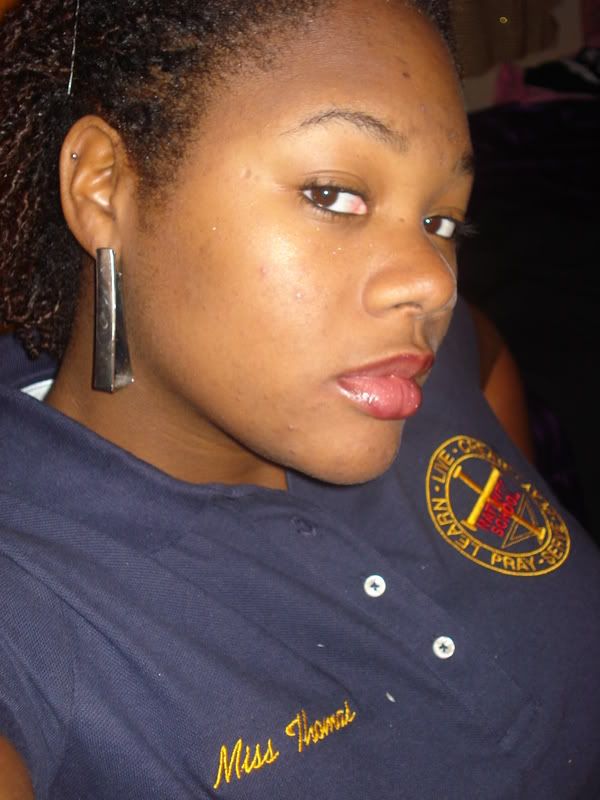 A friend of mine told that maybe MAC products are the root of evil. I mean she is right…my skin was never this bad when I wasn't wearing MAC. But the horror! I love my MAC but I love my flawless skin more so if I have to give it up, I will….damn, that would be one hell of a break-up. Let's hope that doesn't have to happen.
Here I am Friday night indulging in soooome eyeshadows.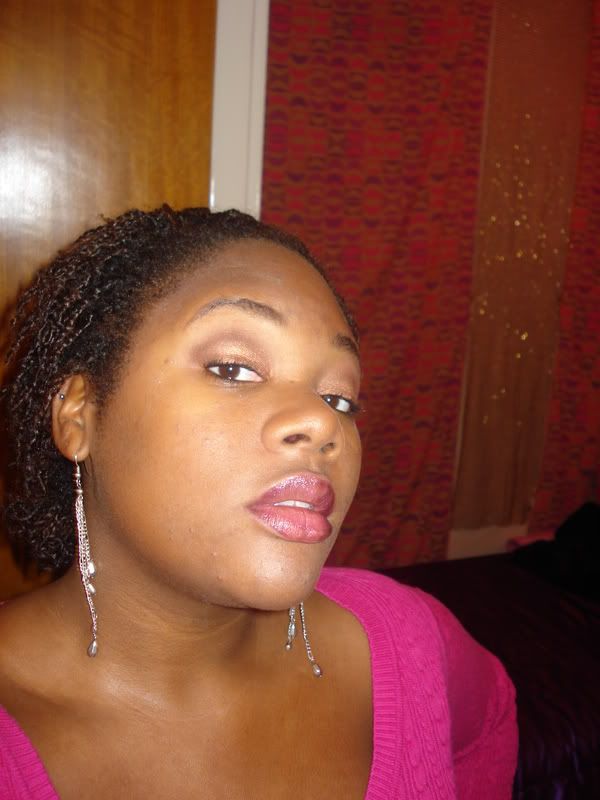 And Saturday as I went off to Little Tokyo (BTW, I'm in love with Asian food/culture. I'm all over it these days) I decided to do a Blue/teal look. I used Big T, Navy Blue Pigment and Carbon. It's just ehhhhh. Not that into it but it was fun.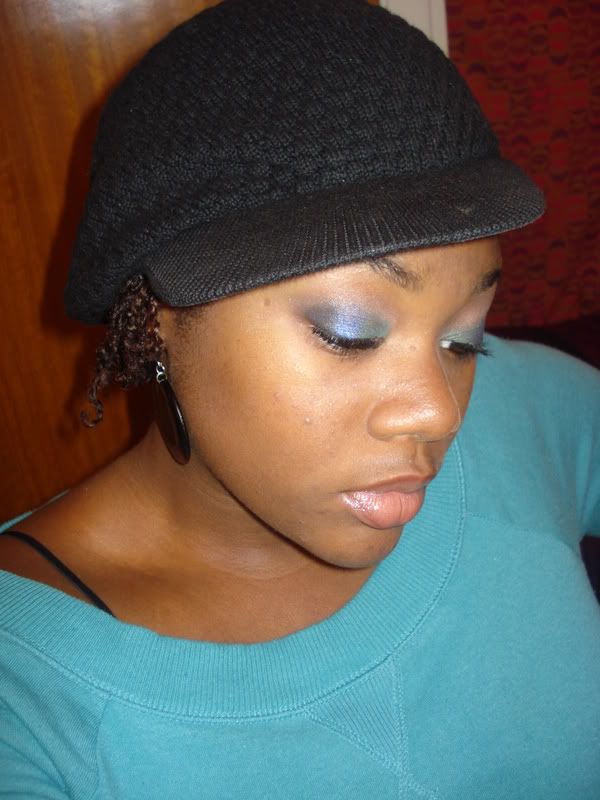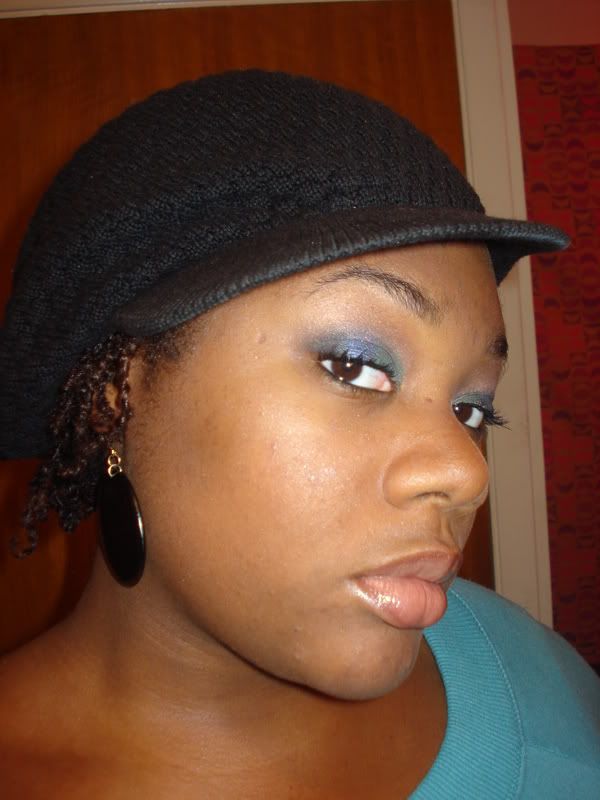 I am soooo in love with my brows. They actually have an arch now. With a little more growth at the top, I think I'll finally have the "perfect" brows. So sad that I had to go through the waxing accident to get to this. But all is fair in make-up and learning.
I've also decided to do some nose contouring because damn my nose is huge! LOL, check out my pictures…you can see up my nose in a lot of them. AND it's just….very dominating. I've got a honker. Hehe…even if I could afford it, I don't think I'd get a nose job, but still…gonna learn how to do some contouring.
I'm going to do a video next post or so. I've got some reviews to do too. So yay! I hope everyone has a fab upcoming week. I'm leaving you with some of my make-up art. I love taking fun photos of make-up. Check 'em ouuuut.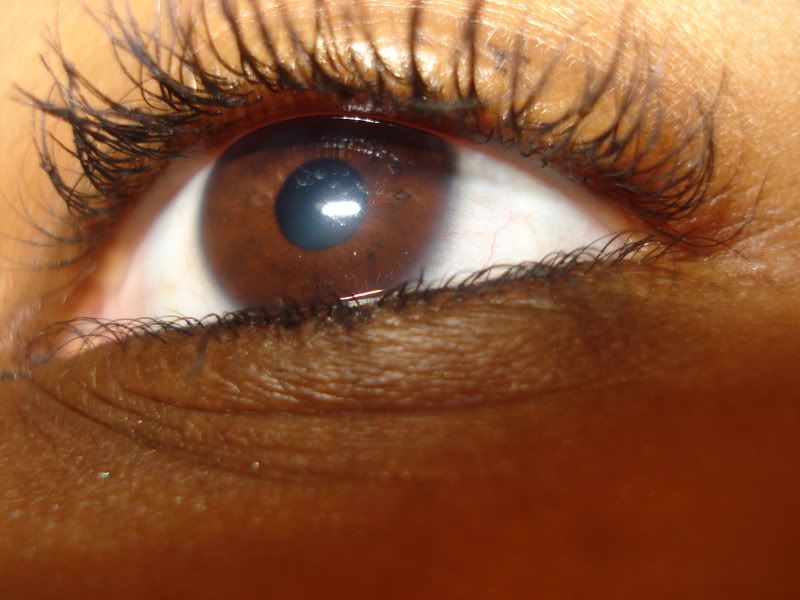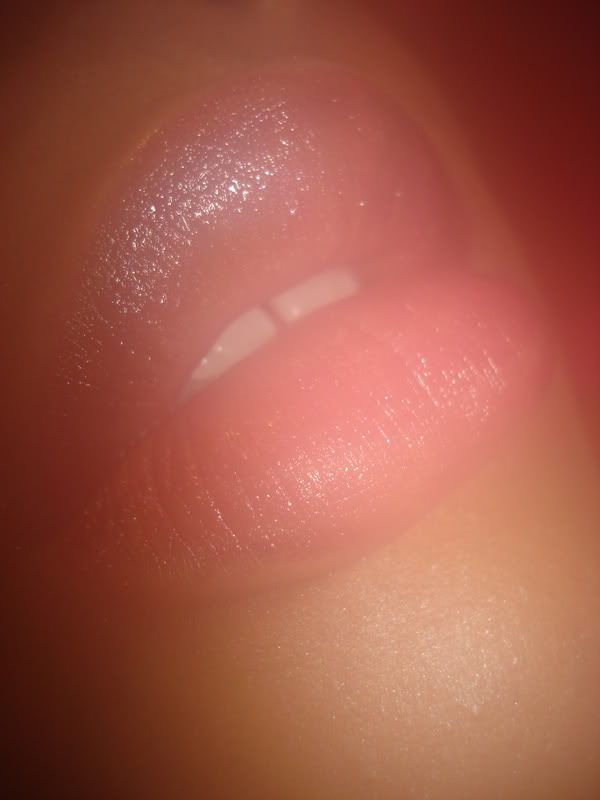 I'm allll over his music these days.