So yeah….pimples are back. And they brought a little partner called Seborrheic dermatitis. It's the most random thing ever. My face gets all hot and it looks like a flesh eating bacteria has taken over. It's awful. Hydrocortisone cream helps. Anywho. I'm getting patches of that again. So in the next few pictures you may see that. I think I've gotten it under control for the most part, but still….
OH—and for those that are using MAC's Prep-N-Prime, I'm trying to figure out what I'm doing wrong. I honestly like the product, but it's leaving my face a bit ghostly lookin'. It looks white after I put it on….I'm using a brush and applying it as lightly as I can. What's the prob, mayn? Anyone got any application ideas? Or maybe this just isn't for me….I don't know. The next time I go to MAC to ask questions about this, but I'm getting a bit pissed off at MAC in the Skincare department. First the Strobe Cream now me. I can't the pearly shimmer stuff they put in some of their skincare products. Definitely not brown skinned folx friendly—-or it could be me. I don't know. We'll see.
So….I tried something different the other day. A colored liner on my waterline (or is that the lower lash line? I get an F in facial terminology). It's pretty fun…


And here are shots of me after getting' my lips done at MAC Pro.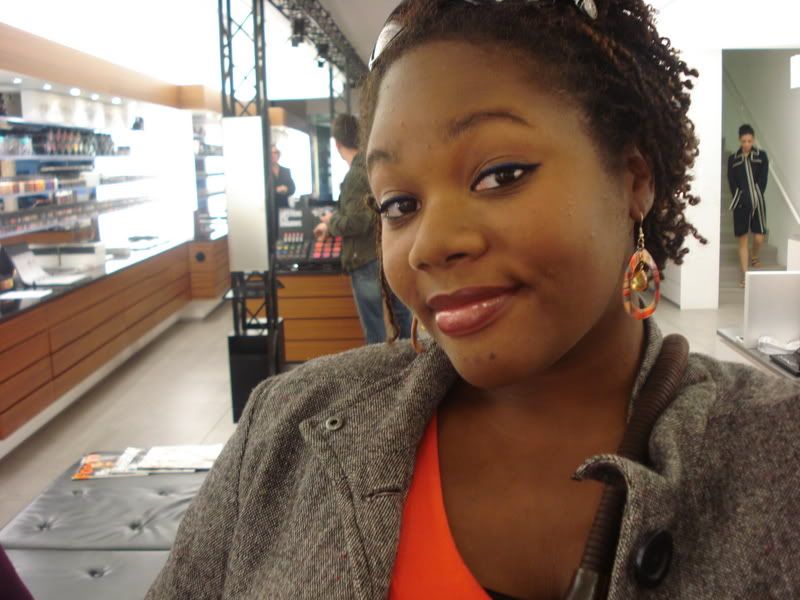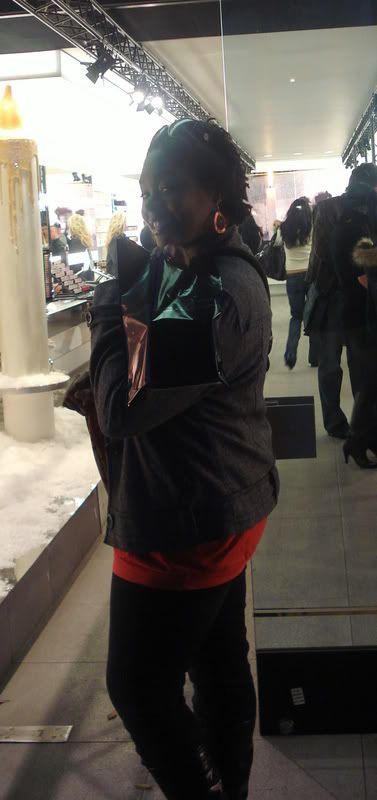 Oh…and there is Stylistics.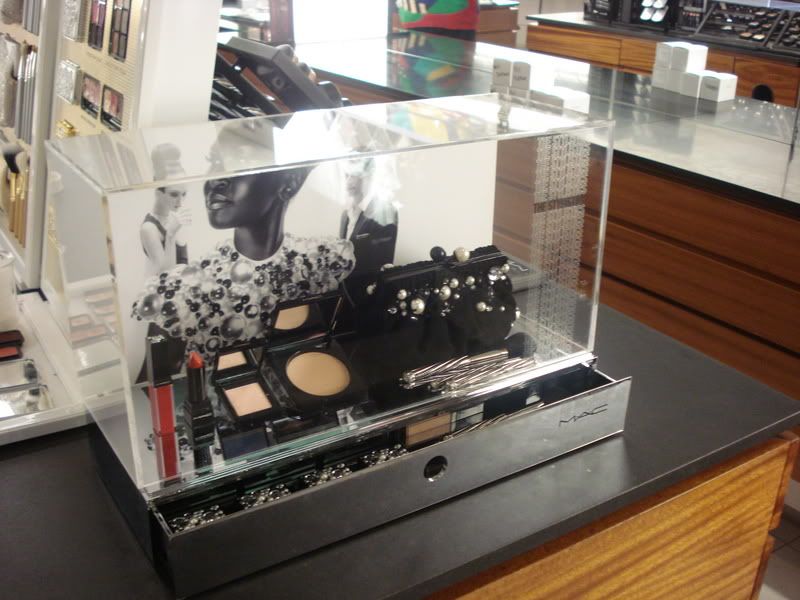 I couldn't bring myself to spend that much money on products that didn't really WOW me. Or maybe I'm in denial because I'm a broke ass and just can't afford it. Who knows. Maybe Santa will bring me something. But if not, life will move on. Passing on Metal X and The Stylistics ain't THAT hard.
On to the lips….
I've decided to return my Chestnut Lip pencil. Don't think I have much use for that. Especially since I have a pretty decent brown from Milani.
Here are my FOTDs…..you have been warned of the dermatitis on the left cheek (your right) so yeah….it sucks. So sad. Still blaming the harsh elements of LA smog. I can't do this city thing. I need to go back to my clean Floridian air. Ha!
FACE:
Mommy's Homemade Honey cleanser
Olay Complete moisturizer
MAC's Prep-N-Prime
Mineralized Skinfinish in Deep Dark
Fix +
EYES:
Revlon Colorstay eyeliner
Loreal Cream liner in Blue
MAC Fibre Rich mascara
LIPS:
Burt's Bees Lip Balm
Night Moth lip pencil
Culture Class lipstick/Ultra Madame in last pic
Contessa Lipglass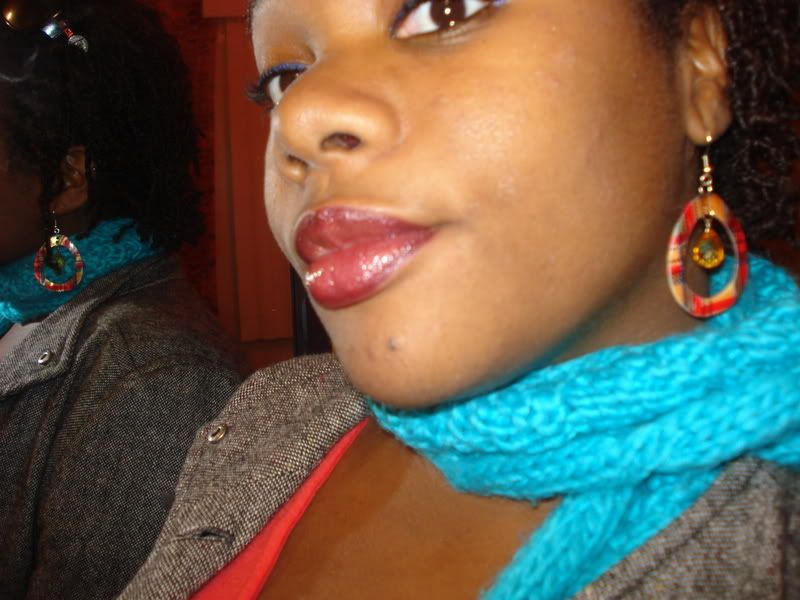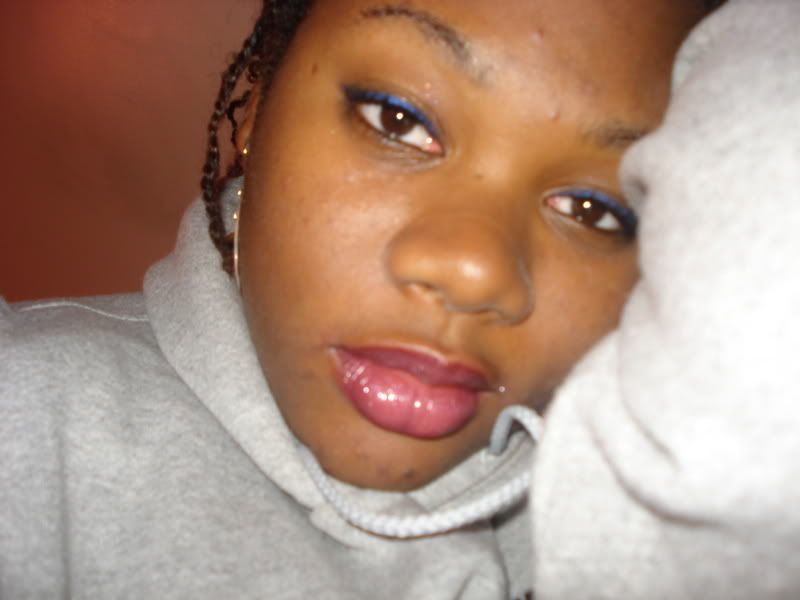 (yikes…Blurville. My bad, peeps)
I really like not putting a mess load of products on my eyes. I never realized how time consuming it is. I have 20 minutes more in the morning!
On a good note….the brows are growing back! I'm elated. They are looking better. It's 34 days since the incident and I'm so happy at how fast they are growing. Still not perfect but at least I don't walk around looking super duper surprised anymore. And I seriously don't want to draw them in anymore. Because my brows are so thick, I am confident in thinking that I can have decent arched brows without the assistance of liners, stencils and things like that. But we'll see how I feel in a month or two. Ha.
Peace and Decision Making