I love blogging. It's therapy and a lifestyle. Rantings of a Rebella and Clumps of Mascara have truly saved my sanity. I have 2 different sets of bloggin' families and it just makes my day when I see a new comment or a new post sittin' in the Google Reader. Today, I am happy to announce the unvealing of The Daily Cookie's Facelift! My blog sista, Lilan and her web designers have done a fab job with the new site! Congrats, Lil! And the cookie theme just has me salivating all over the place. Munch your way over to The Daily Cookie.
Great things are happening all over the make-up world and in blogspace. You've got anticipation for Fafi thickening, Fashion Week in NYC, L'Oreal has everyone buzzin'…..I just can't take it! Ah!
——–> MAKE-UP!
(one day I'll buy Photoshop! LOL!)
Newbies, I have not forgotten about you. A Newbie Post is coming soon. Keep emailing me your suggesions. I'm lovin' it! I have decided to familiarize myself more with the presdential election. So until I do that, I have to limit my make-up talk. Just last night I spent 2 hours at OnTheIssues.org trying to understand which candidate has the best lies, I mean platforms. Hehe, and I'm always tabbing in at CNN.com on the cell. Gotta know what's goin' on because it's going to affect us all in some way.
Okay, no posts this weekend because I've got some packing and studying to do. But before I go, check it…..my school is having Catholic School Week next week and Monday is "spirit day". You have to dress up in school colors. So, of course that gave me the idea to do a bold eye look; something I haven't done in forever! So here's what I came up with using Bright Sunshine e/s and Navy Blue pigment from MAC.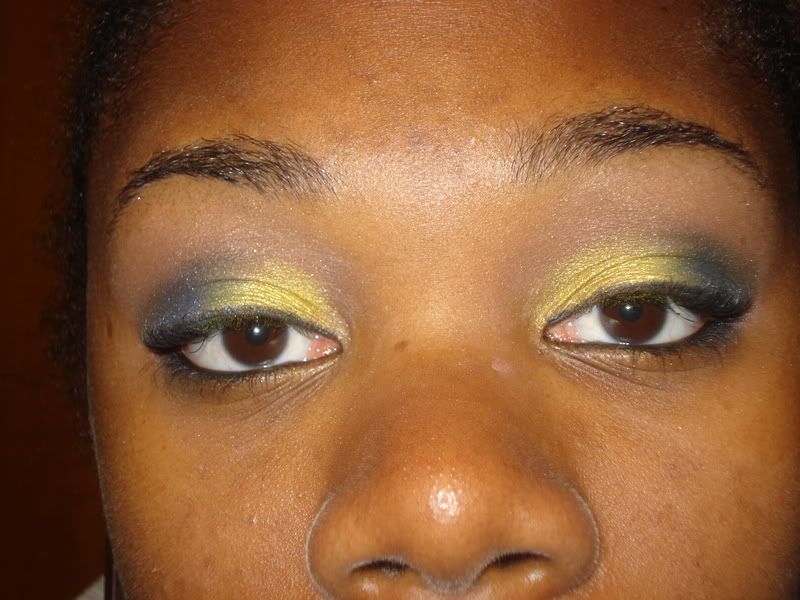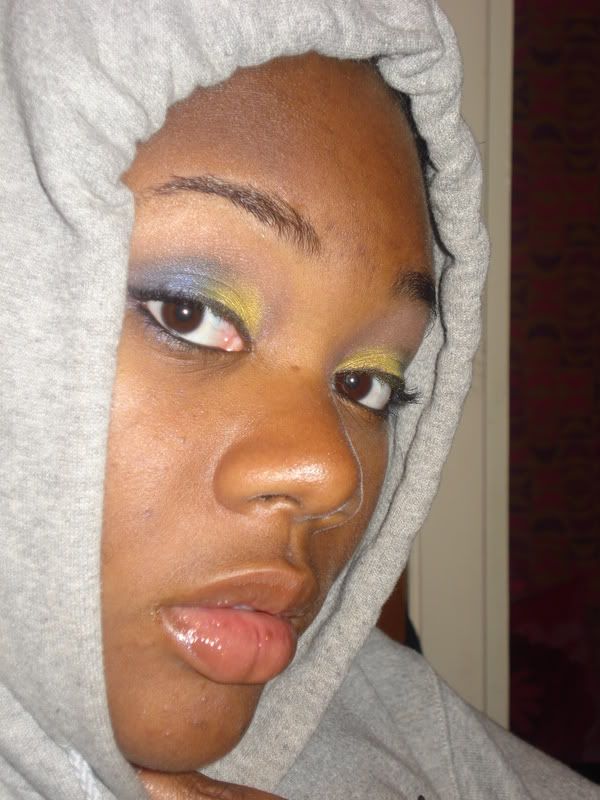 I don't have on any face make-up. Eek! Ah well…should I recreate this? I'm on the fence about this one. I had to bring in Wondergrass e/s to help me blend but I just don't think I like these colors on me. And I couldn't bring the color too far up on the lid because then I'd look clown-ish. Suggestions? Anyone? Hmm…. Have a happy weekend, my loves!

Peace & Newbie Pride!
Oh, here's the Clumps of Mascara banner! Ohhhh, my skills.
I'm a newbie in that area too. Clearly!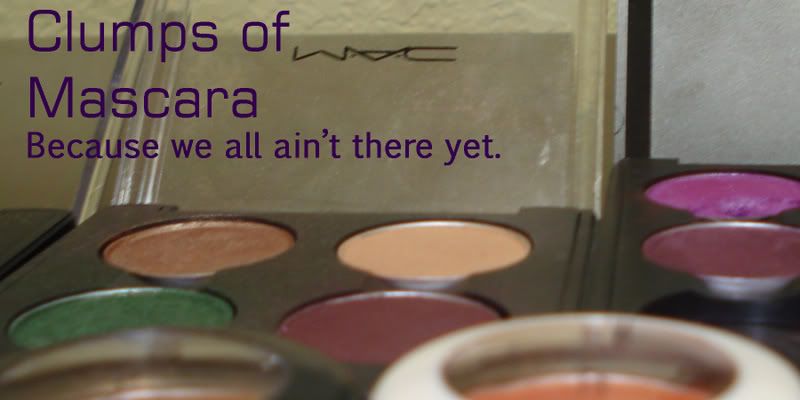 Bee Photo courtesy of Juliebee.ca