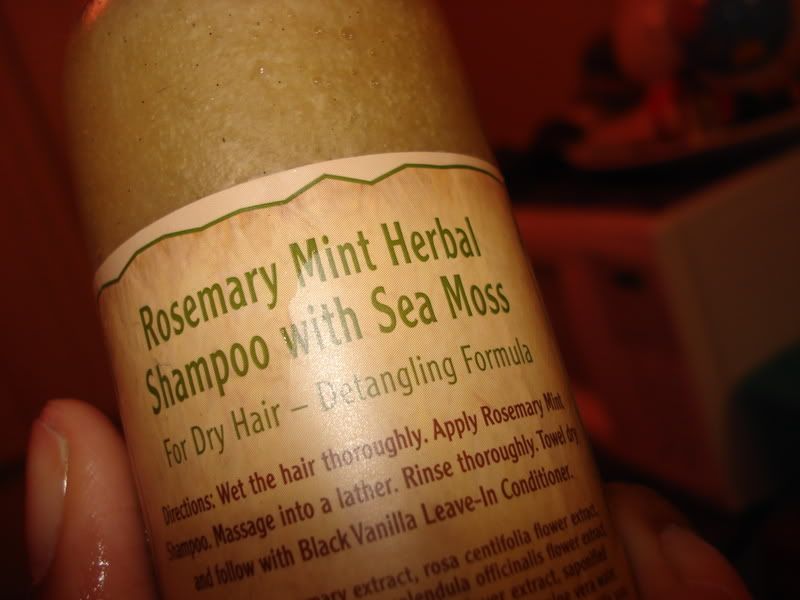 It has been a crazy week for me so I haven't had the time to do much updating with me packing to move to Florida so I figured I'd do a quick review on a hair product that I used recently. This is Carol's Daughter Rosemary Mint Herbal Shampoo with Sea Moss. This is the first shampoo I have used in my hair is very long time. I am a no-pooer and don't shampoo my hair so I was a bit hesitate with what this product would do for me. But I am a natural-lite and since the products were all natural and lacking sulfates, I figured I would give it a shot.
The smell is niiiice and was very pleasing to me since I'm a big fan of Rosemary the essential oil and the spice. When we think of shampoos, we often think of getting nice lathers but this product didn't do so and that was okay with me since lather often=sulfates. I massaged my scalp and gave my hair a good cleanse. I let it sit on my hair a bit to find that it was actually bringing out my natural curly cues.
Those little curly cues always disappear when my hair dries. After rinsed out the shampoo I was a bit saddened at how limp my hair felt. It was hard and unmanageable. Ugh, what happened?

So I don't know about this one, ladies. This product didn't make me want to convert to using shampoos again. So I'm sticking with the ACV rinses and conditioners. I've heard that ACV rinses work well for all hair types so click here to try the recipe for yourself. It does wonders!!

Oh….and Happy Black History Month. In fact here's a fact:
In 1871, Jefferson Long of Georgia became the first Black to make an
official speech in the House of Representatives. He opposed leniency to former Confederates.
You can find more facts by the link to the right of the this post…Black Facts online.

Peace and Fists up and a fabulous weekend to all!