Hi mijas.
I have a review for you…..MAC's Lip Conditioner.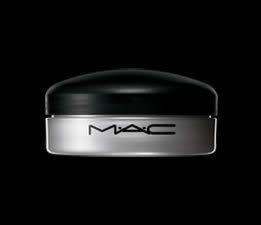 I know, I know. It's not a new product, but when you are a newbie you aren't always on time when it comes to discovering products. Ain't no shame in my game.
Overall Rating: 5
Packing: 4
Price: 2
Would you purchase this product again?: Yeeeep!
Now, I'm gonna keep it real. $12 is a lot of money for a lipstick, chapstick, lip gloss….whatever. I come from a 'hood where we got Bon-Bon lip gloss at Wal-Mart for $.88. And if we had a little more change, we may have shelled out another dollar for the glittery lip gloss at the hair store. And that was only a few years ago. So my step into MAC Cosmetics where everything is $10 and up was a bit of struggle on my wallet and sanity. However, I have to jump on the bandwagon of the lip conditioner.
It kinda really is good stuff. Lately my lips have been super dry. Drier than usual since I'm tryna be a grown woman and wear lipstick everyday. MAC's lip sticks and lip glasses are so drying. It really makes no sense and I was seriously about to boycott them until I discovered this stuff. I put it on after I exfoliate my lips at night (lightly with my toothbrush or my facial scrub), in the morning after washing my face and throughout the day when my lips need some extra moisture. It has a nice pina colada smell but don't it seep in your mouth. You'll be gagging for days. However, the consistency is great…feels like satin. Newbies, this is one splurge that is worth it. MAC's Lip Conditioner seemed to do the trick and now I can happily rock my lipsticks. Speaking of lipsticks….
Dig the newest color to the collection thanks to B2M (please tell me you knew that bringing in 6 empty MAC containers can get you a new lipstick or eye shadow, giiiiiirl!)
New York Apple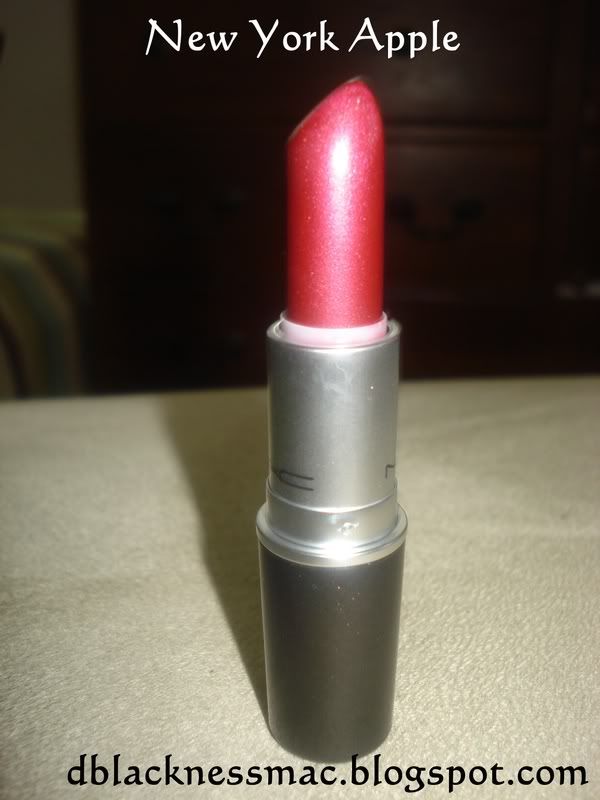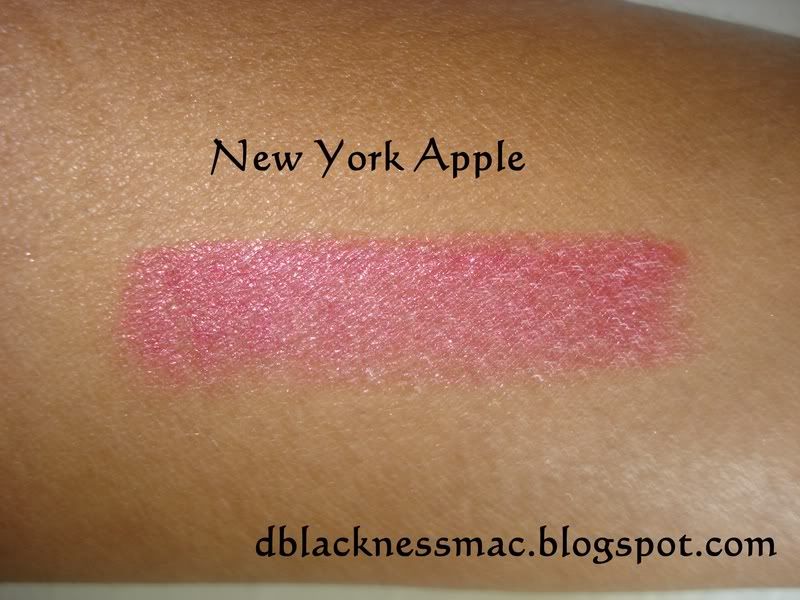 MAC defines this color as a muted red with pinky-red shimmer. And again, I am NW45. I'll feature some looks with this color. And remember newbies, you can change the color of any lipstick or lipgloss by pairing it with a lip liner. I've been eyeing this one for awhile and glad that I finally got it. And it feels divine with my lip conditioner. I also copped Twinks….another brown-girl friendly color. I'll provide ya with some swatches and looks with that one. It is such a nice neutral crease and lid color. Stay tuned for that.
Peace and love.
[Picture Source: www.maccosmetics.com]