Happy happy Friday! I can NOT believe how fast this week has gone. I'm not complaining…..we're getting closer to the holidays and then my birthday (January 2nd)!! The good ole' 24. *sigh* But I will forever be 21.
*crickets*
Alrighty then, let's bring on the FOTD! I was in Tallahassee during the Thanksgiving holiday and refused to get into any of that Black Friday madness. Okay, I kid. I actually had plans to make it to Macy's at 4 a.m. but was too busy partying it up with friends to go. I did, however, manage to snag that Lancome beauty box that I was desiring.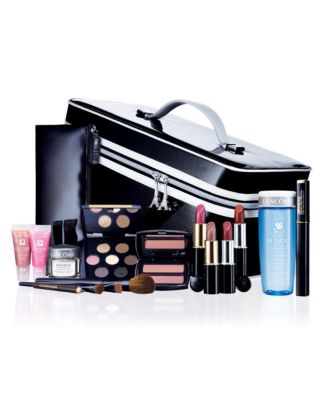 Spend a little less than $40 on any Lancome product(s)….and you get ALL of this for $48.50. A bit of a stretch but I figured this was the best time to try out some of Lancome's products. Mommy dearest and I went half. I purchased Lancome's Magnifique..
Another "grown up" fragrance that I absolutely adore! I'll review that in the coming "Let It Clump" posts. I decided to play around with my Lancome eyeshadow palette to see how the colors' texture compared to other brands.
I mean the colors are definitely pretty enough. A little too shimmery for my liking but I was loving the intensity of the colors when I initially swatched them.
Here's what I used:

EYES:
Too Faced Shadow Insurance
Lancome palette (GOLD-inner lid, GREEN-outer lid BROWN-crease..and the highlight color)
Clinique's brush on gel liner in Black
Urban Decay's 24/7 Glide on Eye Pencil in Black
Dior DiorShow mascara (gave it a whirl again)

FACE:
MAC Studio Finish concealer in NW45
NYC Color Chroma Face Glow in Sandstone
LIPS:
MAC Nightmoth lip liner
Lancome Coquette
Too Faced I Love Myself Mirror Lip shine
….Clumps of Mascara strikes again!

Where is my other earring?

OMG, is this not personality
overload or what? HA!
I can dig Lancome's shadows! They blend beautifully and seem to work well on brown skin. I've used this palette several times for work and am definitely adding this to my "take when traveling" stash.
And don't even get me started on the amazement that is Lancome Bi -Facil makeup remover. This make-up remover has been hailed as the greatest of all removers and I can see why. One swipe and it's ALL gone.
Do you have any favorites from Lancome? Or did you cop any hot beauty sales during Black Friday? Tell me, tell me!
Have a wonderful weekeeeeend!
Stay beautiful,