Are y'all ready for the guest post from Miss Yaya? I hardly think you are!!

As the weather outside gets less and less frightful, and the breeze is so delightful… our closets filled with blacks and browns, the edges of our clothing yearns for hikes of hems and sleeves alike.

And so

each year when spring melts into summer, some summer trends stand out (and fall just as quickly – haha get it?), while plenty have weathered through the years.

Current: This means they are of the essence, the same way bell bottoms, mood rings, door knocker earrings were once THE IT item in your collection, and are now out of sight/out of mind for the majority of the fashion frenzied.
Rompers: Though this style was always present in the fashion world, it is the first season in a while that it's becoming so widely popular. The baby to OH BABY style is playful, and offers the same ease of choice as a dress does, in the sense that one item is your whole outfit.
The variety of styles go from strapless to different sleeve lengths, and from tight to loose. It is however suggested that you get one with a looser topside than the bottom, as it is meant to highlight your lower half. Anything looser on the bottom would really need to be a skirt – and thus become a dress.
Pictured: Dereon Romper $79.00
Gladiator Sandals: This is the second year that the sandal style has stuck around for. The style is versatile in that it can be bulky and add grunge/character to a girly outfit, or tone something down to a relaxed, bohemian mood.
This style comes in a plethora of studded to strappy versions, with every other style in between and has been fluid in the boundaries of flats to heels.
Be your picky self and choose just how strappy you want it – from minimal to your whole darn foot if you want it so. But please – leave the Crocs at home!
Pictured: Twelfth St. by Cynthia Vincent Dinah Flat Gladiator Sandal $142.10
Pinup Va Va Voom: With sweetheart necklines and highwaists galore, it is easy to evoke the era of the pinups, where clothes were sensual and not cut from here to there with little to the imagination.
Slowly making it's comeback, this style is taking over everything from pants and tops to swimwear. It is recommended that if you do not want to do a whole themed outfit, you are better off to sticking to a few items (i.e. a high waist pair of shorts with a modern top).
Pictured: The June Dress $54.99
Keepers: Now this here is a summer style staple. A 'let me buy this on clearance in December because it will still be relevant next June' style. Something you could probably remember your parents rocking out (though maybe not as fashionably as yourself). This here style is not going anywhere.
Maxi Dresses: Ever since the celebrities started sporting maxi dresses, clothing companies took notice. Before – finding a decent maxi dress would land you in a house dress or an evening gown, with few well priced options in between. Now there are a gazillion ideas out there, with creative cutouts, backs, and patterns.
The shape itself lends to highlight the mother earth qualities and goddess-like similarities all females have from birth (yes ladies – please stand up proud). Once again, this is a whole outfit in one try, and being that it takes up your whole length, you don't even need to worry about many accessories.
Pictured: Victoria's Secret Maxi Dress $109.00 via a Shop.com search
Bright Colors: If it's anything that happens in my closet every summer is that the rainbow comes around. This is the perfect time to experiment with neons, pastels, and everything in between. If you're shy to the news – try it with a toenail color and work up the confidence – if it's me? You'll be seeing me with hot pink shoes, earrings and bags! (I try not to look like a big bright traffic light though). Let's not forget that white is a bright too (okay for me it is). Have you ever been in an area with too much white light and it just overwhelmed you? Okay then – point proven! Forget the hokey about Labor Day and wear white all around – but wear it now especially!
Oh and ladies? Don't ever think you're too old to visit retailers that cater to a younger crowd. They usually have cheaper stuff in colors or styles you haven't tried yet.
Some places to try (if you haven't already started to mosey over…):
And who can forget the male clumps population? Certainly not I!
Men's Summer
by
missyaya
featuring
Nike shoes
Men's styles vary a lot less than women's. They don't have revolutionary different length short shorts to skirts and skorts every season (nor do I know many a man that will follow the trend). Male fashion houses are aware that for men, it is more in the shape and the fit.
So what do you ask is the summer style? Well – no matter if you're 3008 or 2000-late, you can definitely make a boom by first realizing that the long tees, the abnormally long jeans – they're out the window. Let's all motivate and get our grown man on with a fit that compliments all your features, rather than highlights poor choices.
Tops: Polos, tees, and blazers. The ideal fit is that it is a half size bigger than the male body. So if your medium tee is snug – step it up a size, this will make it more comfortable to wear and undershirt and will not constrict movement. Plus no one looks confident or sexy when they're fidgeting and uncomfortable in their own skin – and that sure as hell will happen if your shirts and shorts are bunching and twisting.
Men – don't be afraid to look casual. A well designed tee in a soft fabric will make you extra comfy, and still keep you looking good. A button down is and always will be a good choice, but don't be afraid to experiment!
Pictured: LRG polo $38.00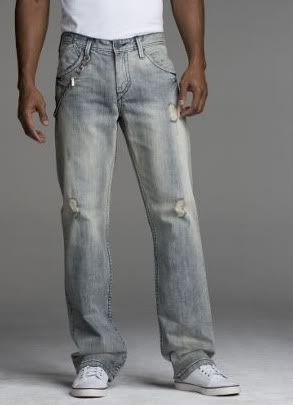 Bottoms: Personally, I like my man to wear a straight leg pant. I'm not a fan of a man in a skinny jean. If you can rock it – then by all means do so, but IMO that is a male nono.
Straight leg or bootcut will be the closest in line with your upper body and will create a long and lean silhouette. That means no breaks from top to bottom which also means you're on the scene smooooth and clean (and I'm queen of corny…).
Pictured: Express Rocco Straight Leg Jeans $78.00
Manly trends you ask? Some similar to women's: don't be afraid of bright colors (but don't overdo it – we are not looking for Skittle takeovers). Pastel colors are also in tune with the brights, but are toned down enough to be up to par with the relaxed summer mindset. Designs are also snazzy – whether on a t-shirt, blazer, or a pant.
Try not to go all nutso with it though, because I have never had much nice things to say for males whose pants have a golden arch on their behind (must I even name the brand?).
To save the best for last – unisex advice that never goes out of style OR season – be confident. Wear all that you are and have with confidence and everything else will be a perfect fit. Smiling seems to do the trick too – just brush yo teeth! I know every person reading this has stepped outside of their house and found the natural ability of checking out a person who's having a good day. It's in the smile, the posture, the language. Don't ever put yourself down.
P.S. If y'all want to save money and catch all the deals without running around everywhere, check out my post on Shop It To Me – a free personal shopper service that comes straight to your inbox!
Or you can just give it a try here: