Have y'all had enough of the giveaways yet? We've got 2 more days and if you haven't won yet, you've got at least 8 more chances. Don't forget that I have giveaways on YouTube, Twitter AND Facebook. Increase your chances by following me everywhere.
Today's giveaways on the blog come from some of my favorite green brands.
Tarte is gifting one Clumps reader with their Summer 2010 Collection.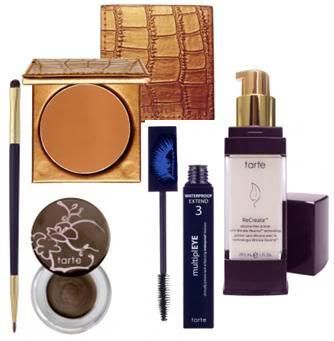 The winner will win:
New multiplEYE™ natural waterproof mascara ($24)
New matte park ave princess waterproof bronzer ($29)
New ReCreate™ natural silicone-free primer ($32)
Tarte's favorite: picture perfect eyelash curler ($15)
Here's how!
Shoot an email to Giveaway@ClumpsOfMascara.com with "Going Green" in the subject line. That's all!
Rules:
-International ladies, you're included in this one!
–Send an email to Giveaway@ClumpsOfMascara.com only-Contest ends Monday, June 14, 2010 at 12:00 am EST. Submissions after that will not be valid.
-Winner will be selected at random.
-Family members/personal friends of B are not eligible—haha! *blows raspberry* 😉
-In the event that a winner does not respond in 3 days, another person will be selected.