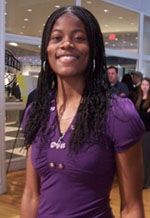 Oh my…what would I do without the Clumps of Mascara New York Fashion Week team? We would not have any representation if it weren't for my girls Sarah and Yaya. Yaya is a veteran to helping me out but the lovely Sarah is new to Clumps of Mascara. She is a New York native and I am so glad that we crossed paths. Girlfriend is super talented and she bounced around NYC last week attending New York Fashion Week events.
She did a video about her experience at one of Maybelline New York and CVS Pharmacy pop-up tents and ohmigooodness….let's just sayin' I was hatin' somethin' serious. I so wish I could have been there! Here's what Sarah has to say.
It was great to check out the Maybelline New York & CVS Pharmacy
Beauty and Fashion Retreat in the whirlwind that was New York Fashion
Week. What's better than getting pampered (for free!) and learning
quick tips about looking runway ready from the comfort of your own home? The experience was great, and Gabriel Almodovar was helpful in breaking things down for me.
And the amazing video that she did documenting the event….

Stay tuned for more New York Fashion Week coverage from Clumps' Sarah and Yaya!