Yay for another post from the The Lipstick League! We are a group of beauty bloggers, bound together by the desire to save the world with beauty, one post at a time!
Nouveau Cheap – Pssst! Want to the know the quickest and easiest way to make drugstore rewards work for you? Get 25 to 50% off your beauty purchases ASAP and stop throwing money down the drain!
Pink Sith – has completely lost it over the new NARS Eyeshadow in Lhasa from the 2012 Spring Collection!
Prime Beauty – invites you to Sunday Brunch with Jouer. Relax, enjoy some champagne, good food and of course, makeup!
Phyrra – presents a variety of lovely lipsticks and pigmented lipglosses from Morgana Cryptoria.
Vampy Varnish – highly recommends the new Kat Von D Mi Vida Loca True Romance Eyeshadow Palette.
we heart this – DERMAdoctor's Photodynamic Therapy lotion harness the sun's rays to create a sunlight activated laser similar to red light lasers used in doctor's offices. What has YOUR lotion done for you lately?
Clumps of Mascara – is in love with Finger Paints' Twisted nail polish. What's better than a flakie?
EauMG – falls in love with a natural citrus floral perfume, LUSH 1000 Kisses Deep.
Gouldylox Reviews – can't stop raving about three things this week.
Krasey Beauty – Read all about the new Sigma Beauty Eyeshadow palettes, see the swatches, and then decide for yourself if they are worth your time and money. K.B sure thinks they are!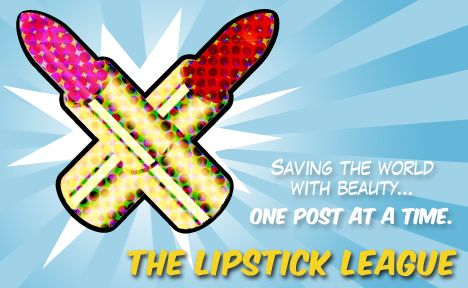 Question of the Week:
Do you have any makeup/beauty tricks
for looking more awake?
B says, "Sleep! And defining the waterline with black eyeliner. I look like a corpse without eyeliner. "
What about you? What makes you look more awake?
See you next week!
~The Lipstick League