It's been a few weeks since we've had a giveaway, uh? Yah. I thought the same thing. Something tells me that you gals are going to love this one so hopefully the absence of giveaways will be made up with this treat. And here's the thing…even if you don't win this, you may find yourself buying it because these goodies are just THAT awesome.
Check it:
CEW and BeautyBar.com teamed up to create The Insiders' Choice Beauty Box, which features 11 products selected as the industry's most innovative picks during the 18th Annual CEW Beauty Insiders' Choice Awards.
And yes, I'm one of those geeks that not only looked forward to these awards but did the Running Man each time I found out that one of my favorite products won an award. Hmm mmmmm.
Okay, so here's the best part: For a limited-time only, these Insider's Choice Beauty Boxes will be available at BeautyBar.com/CEW. The box is valued at $109 and is selling at a specially discounted price of $25. Aaaaand, if you buy two boxes, you'll get one free with the promo code: BBCEW (for the first 250 customers).
Crazy, right? And check out what comes in the box.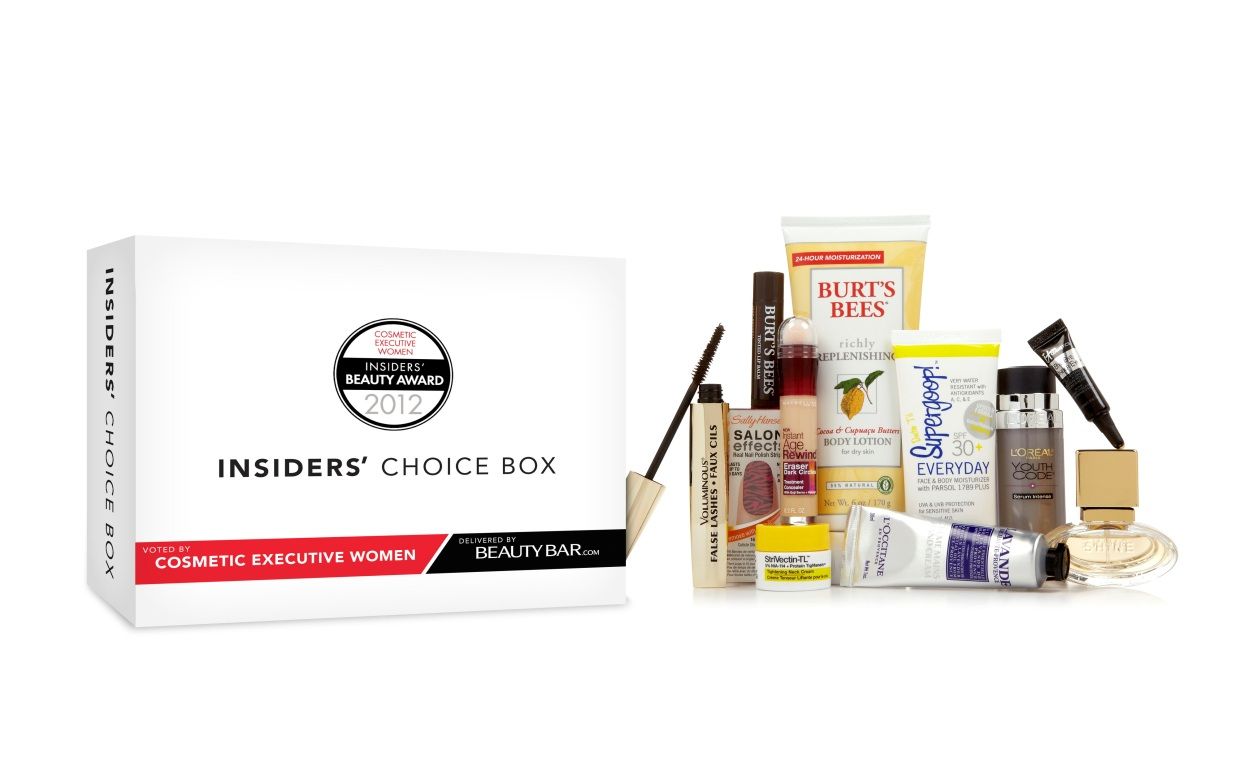 The Insiders' Choice Beauty Box contains the following products:
· L'Oréal Paris Youth Code Serum Intense
· L'Oréal Paris Voluminous False Fiber Lashes Mascara
· Heidi Klum Shine Eau De Toilette, 0.5 oz.
· StriVectin-TL Tightening Neck Cream, Travel Size
· L'Occitane Lavender Hand Cream-1 oz.
· Burt's Bees Richly Replenishing Cocoa & Cupuaçu Butters Body Lotion
· Burt's Bees Tinted Lip Balm-Red Dahlia
· Maybelline New York Instant Age Rewind Eraser Dark Circles Treatment Concealer in Neutralizer
· Bye Bye Under Eye Concealer, Travel Size
· Dr. T's Supergoop! All-Over Everyday UV Lotion for Face & Body – SPF 30+ – 1.6 oz. Travel Size
· Sally Hansen Salon Effects Nail Color Strips, Animal Instinct-16 count
I know, girl. I know. And these aren't itty witty samples either. Each product is at least a deluxe sample size and most of the goodies look to be full-sized. And each box is only $25! I've already purchased one just because I really need to re-up on the awesomeness that is L'Occitane's Hand Cream. And that Burt's Bees Tinted Lip Balm look awesome. Oh! And that Maybelline concealer may do wonders for the dark circles under my eyes. Can't WAIT to get this box.
Anywhoovers, if you'd rather try 'n press your luck to win it, go for it, mama! It's a U.S. resident only giveaway and one winner will be selected Wednesday, August 1st. Good lucky, duckies!
[Contest has ended. Melissa in Mississippi was our lucky winner! ]