Ohhhhhh, check out Maybelline. They've got new nail lacquers on the market. 40 to be exact. And of course I'm all giddy about it because well, what's NOT to get excited about? Affordable nail polish is SO hot right now. I've been spying Maybelline Color Show stands at CVS, Walgreens and Walmart and most are retailing for less than $3.99. And if you wait for a sale, you may be able to snag them for Buy 1, get 1 50%. Yeeeeep!
The 40 polishes range in color (obviously) and finishes. In fact, I'm pretty sure Maybelline has covered quite a wide spectrum of popular and trendy nail polish shades. You'll definitely find something you like. I've got 6 of 'em here to show off…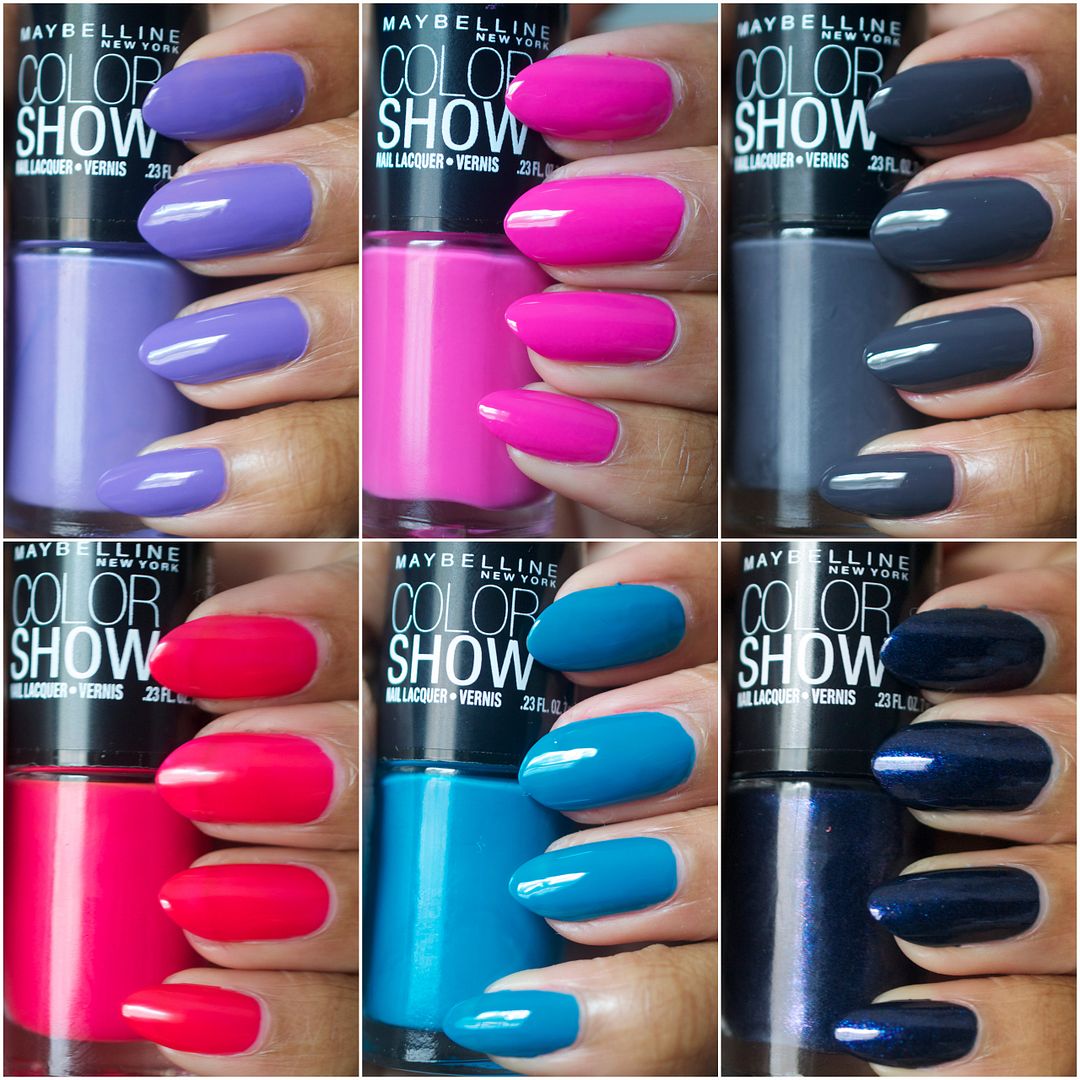 Iced Queen is a creamy lavender with cool undertones. It definitely reads as a Spring shade but you know me…I'll wear any shade of polish at any time of year. This was the only polish of the few that I own that required only 2 coats. It gave a beautiful opaque finish.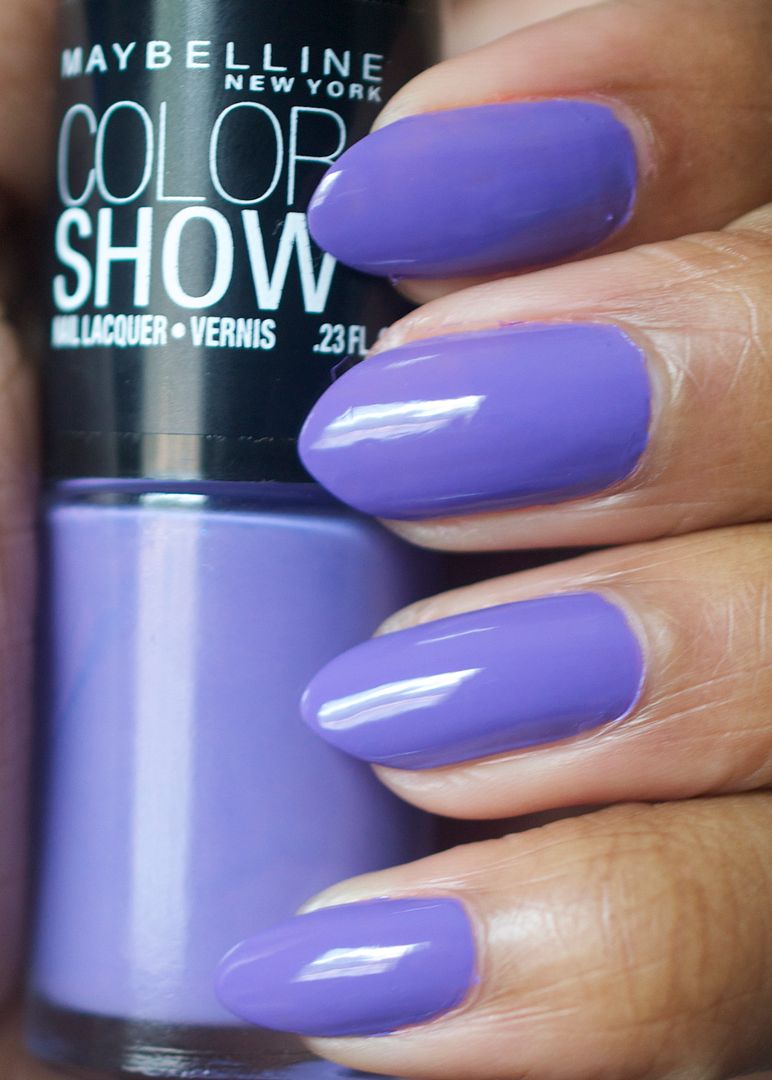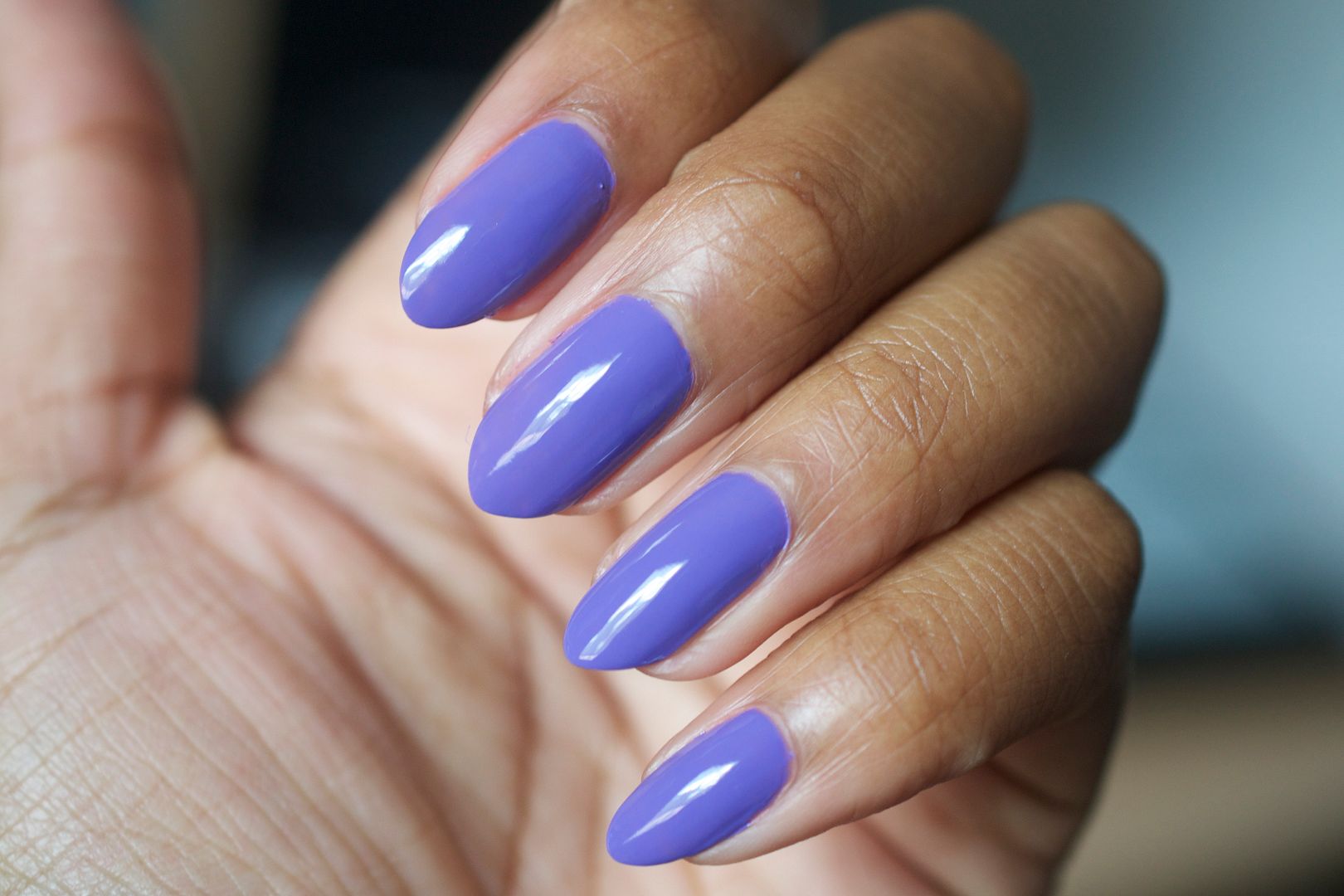 Pinkalicious is a bubble gum pink and if you've seen one, you've seen them all. This one isn't terribly unique but Maybelline would catch an inane amount of heat if at least one of the Color Show polishes wasn't a traditional pink cream. Not my style but I know lots of ladies love pink polishes.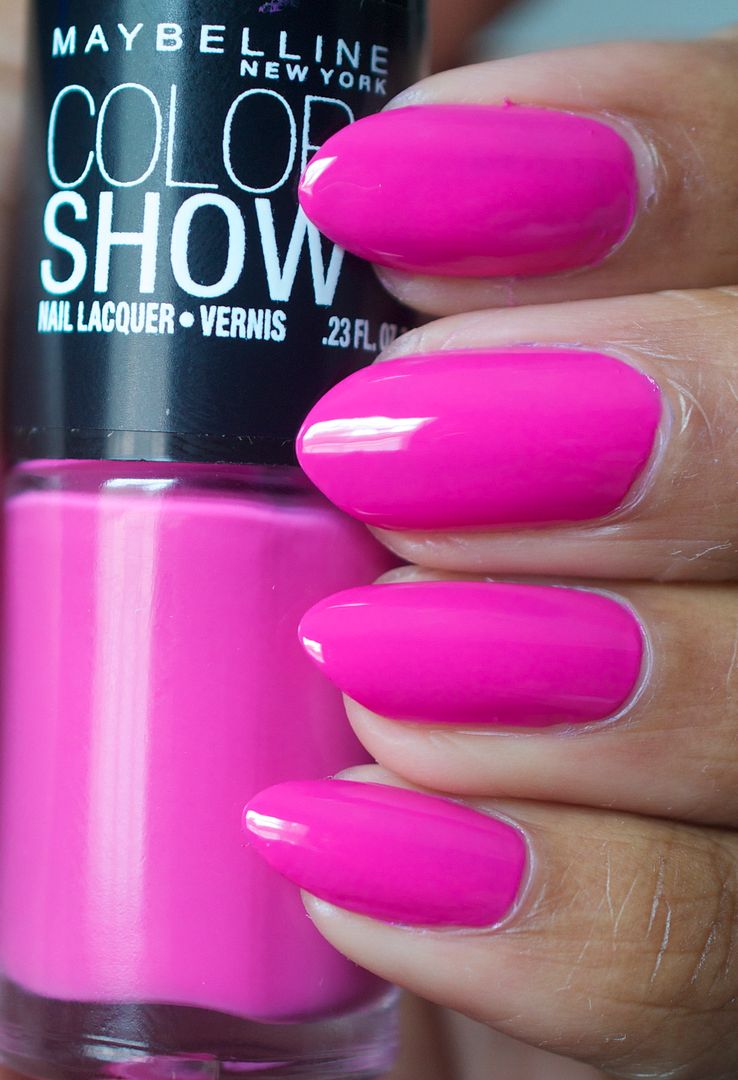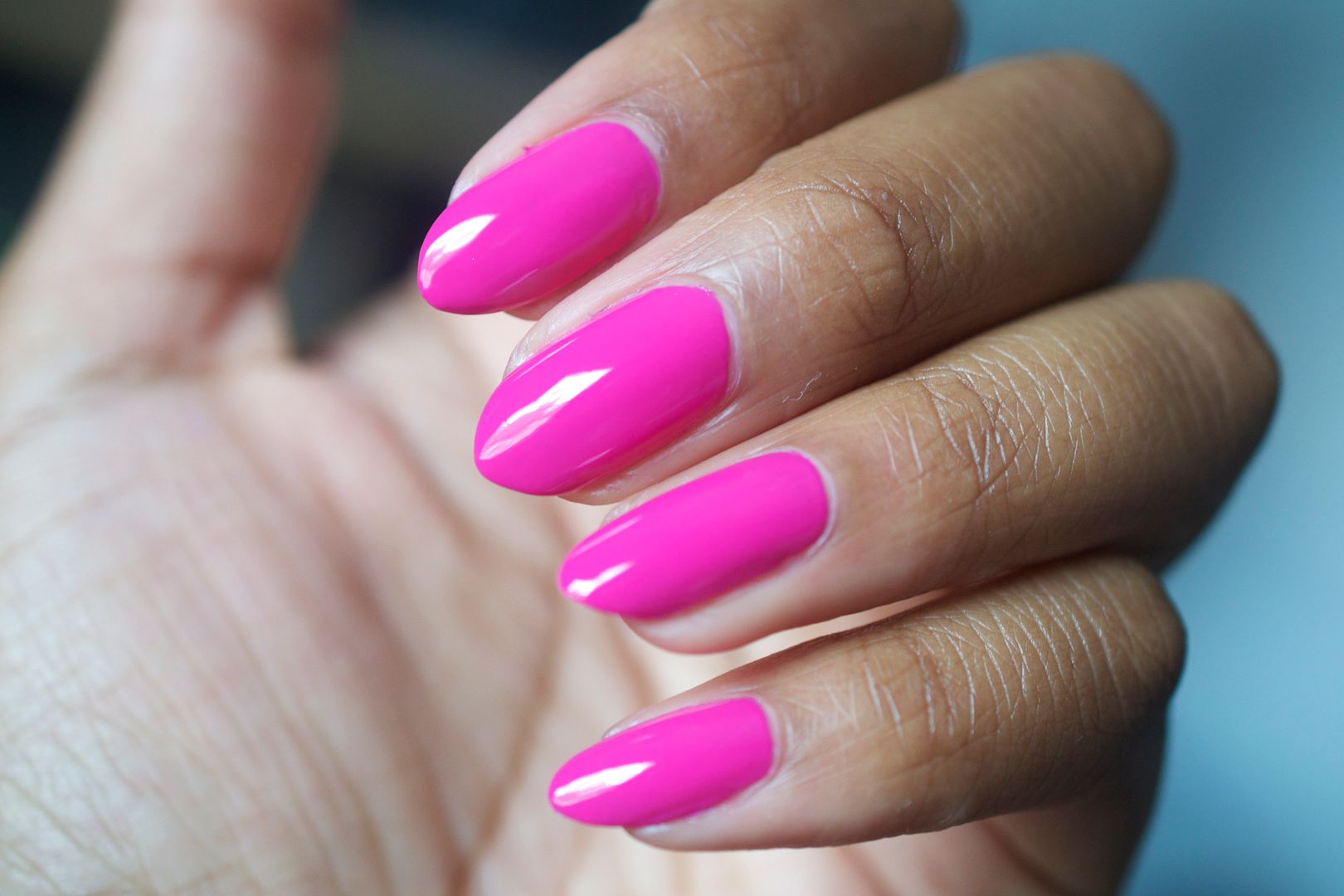 Impeccable Greys is flippin' fabulous. It's grey, yes, but it's a smokey grey and it looks like there a few drops of navy blue dropped in the bottle. This is definitely one of my favorite greys. It is creamy cool perfection.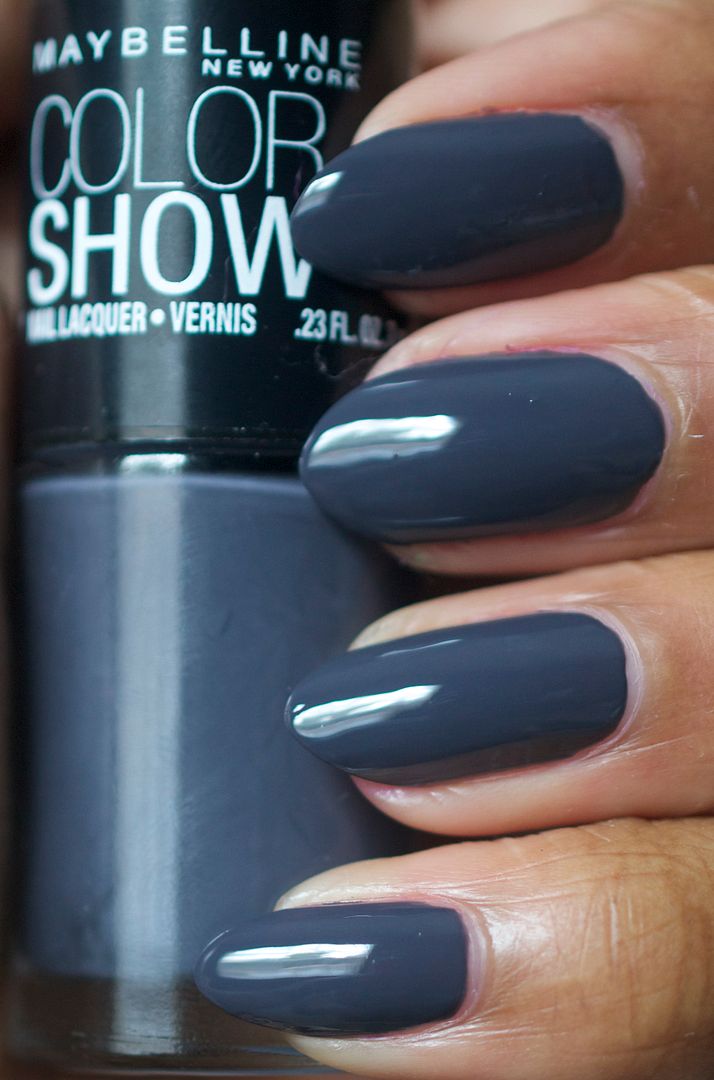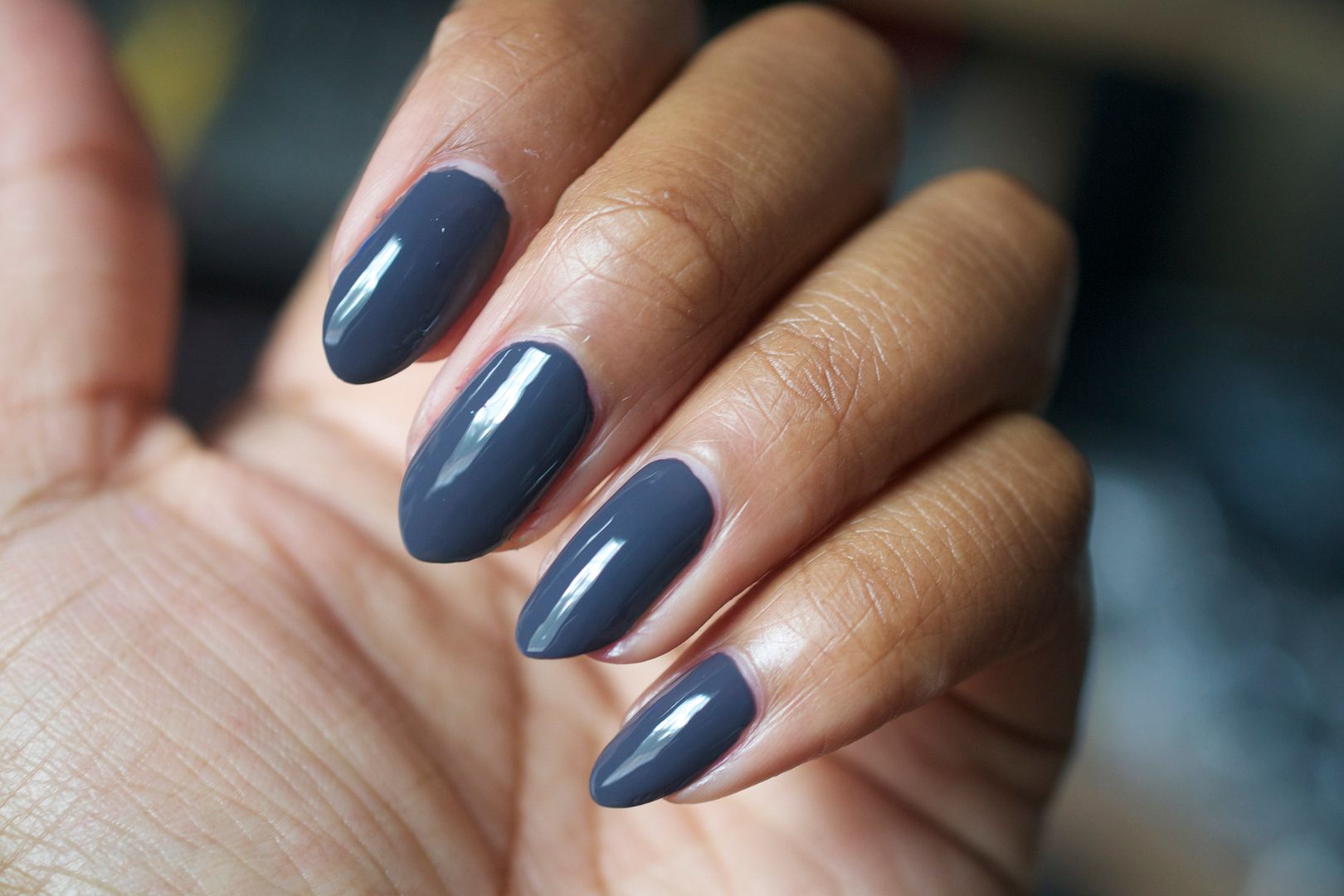 Pink Shock photographs funky but that's only because it's a neon and we know how weird neons can be. This baby is a hot pink that dries to a semi-matte finish. To get it to really pop, it's best to use it under white. Otherwise, you'll end up with a visible nail line and a dull finish. So glad to see neons in the mix!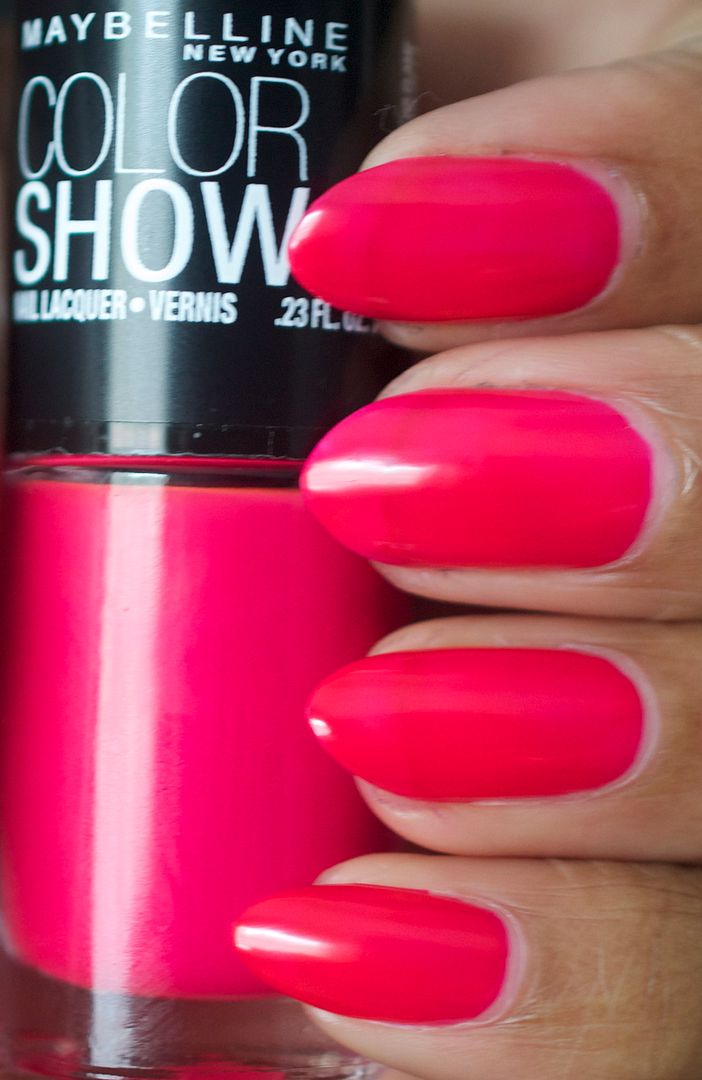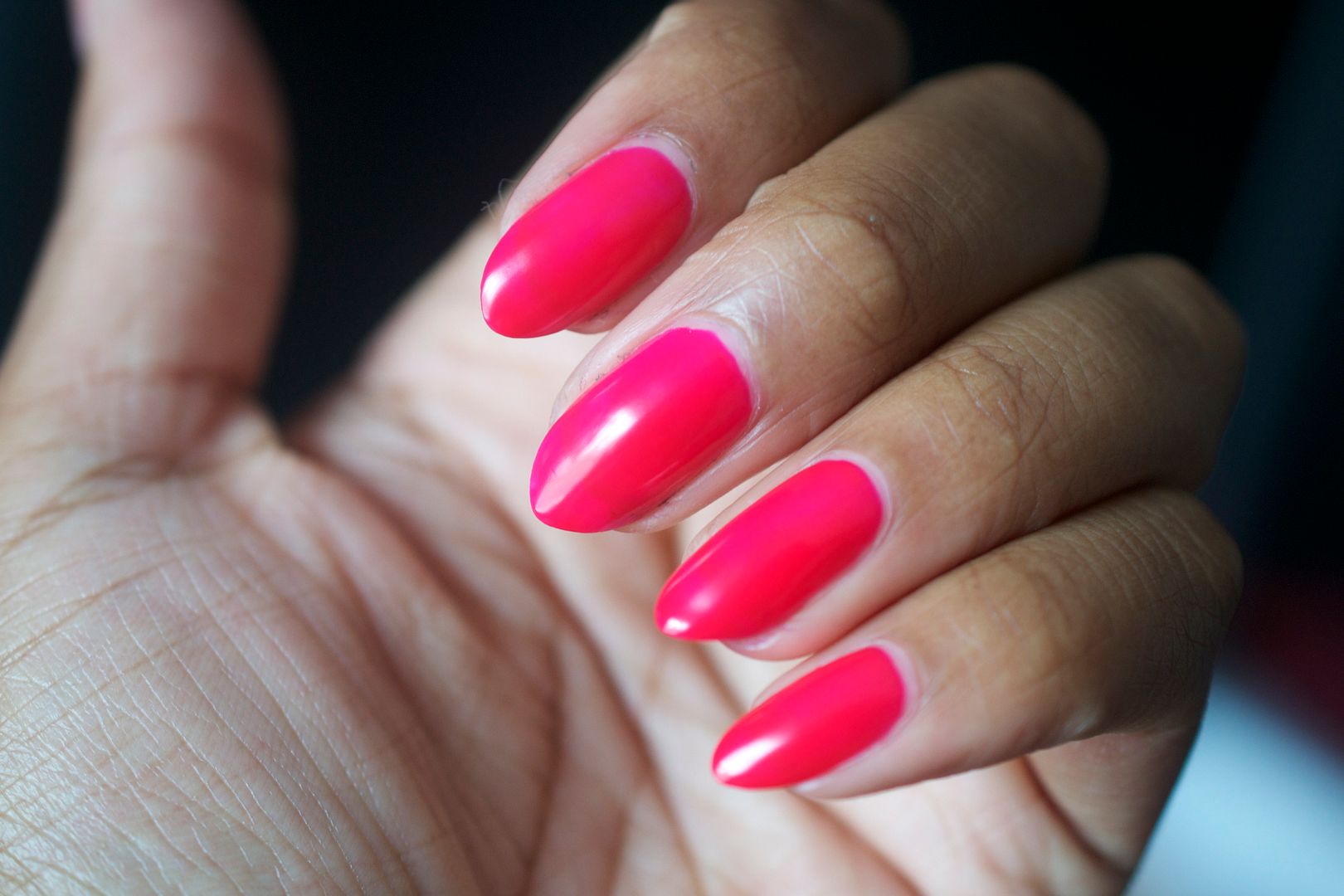 Shocking Seas is a gooooorgeous blue but like most blues like this, it has the tendency to stain the nails a bit. Sometimes even if you wear a base coat. Which sucks but a blue nail polish like this is almost worth the hassle.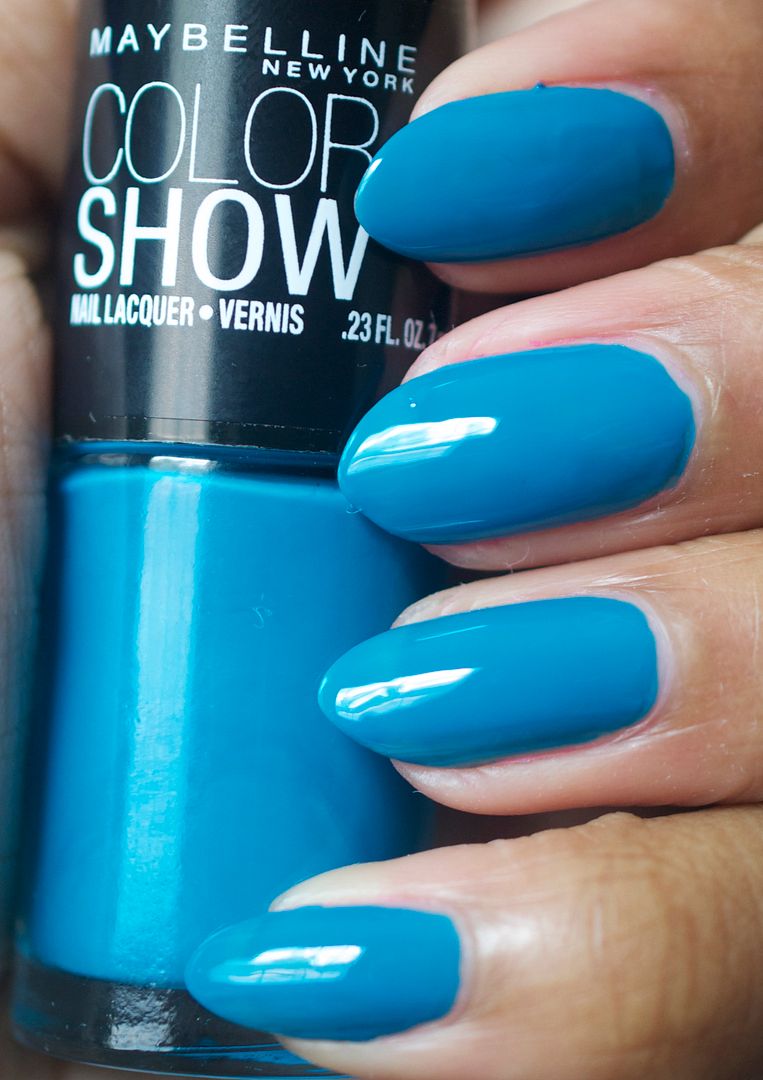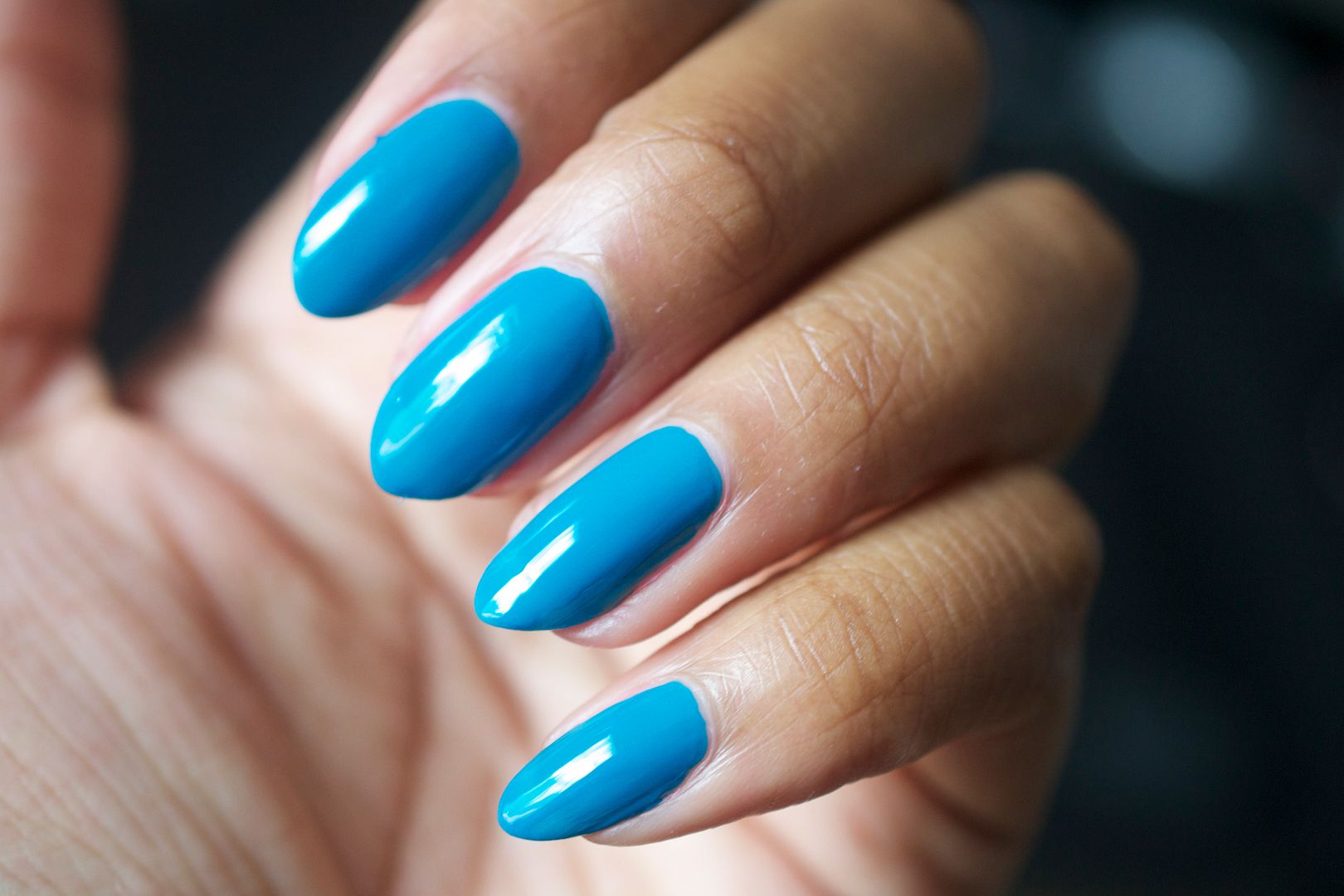 Blue Freeze is a dark blue/purple with various shades of micro shimmer. I spy a bit of red, blue and gold glittery specs. They are tiny and hard to see once on the nail but the shimmer really really makes this polish shine.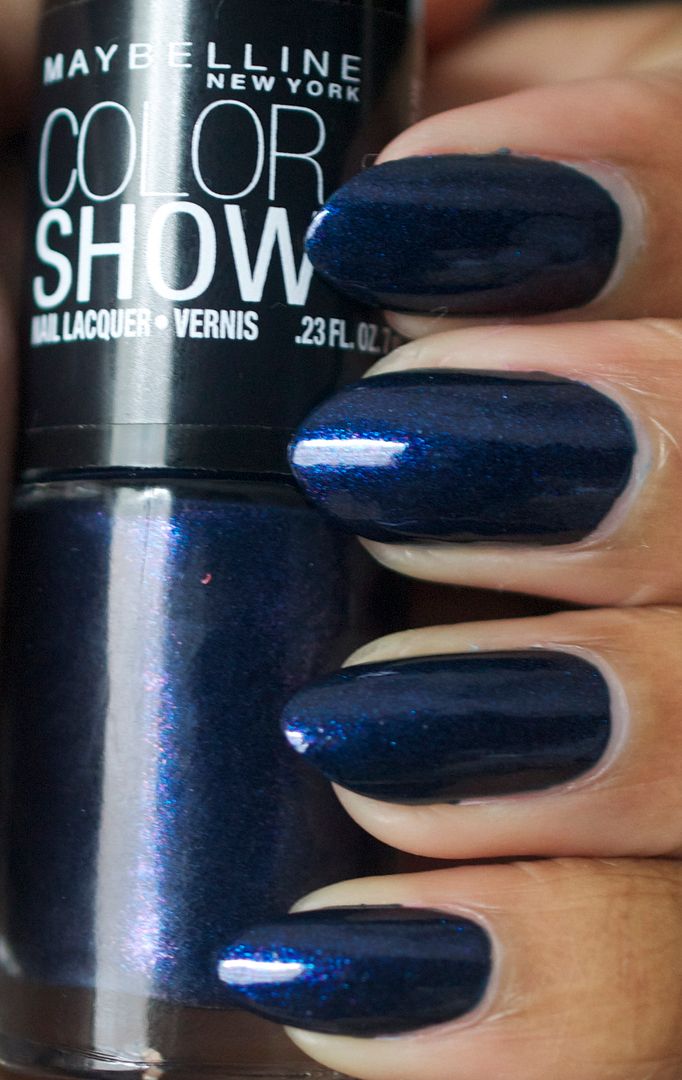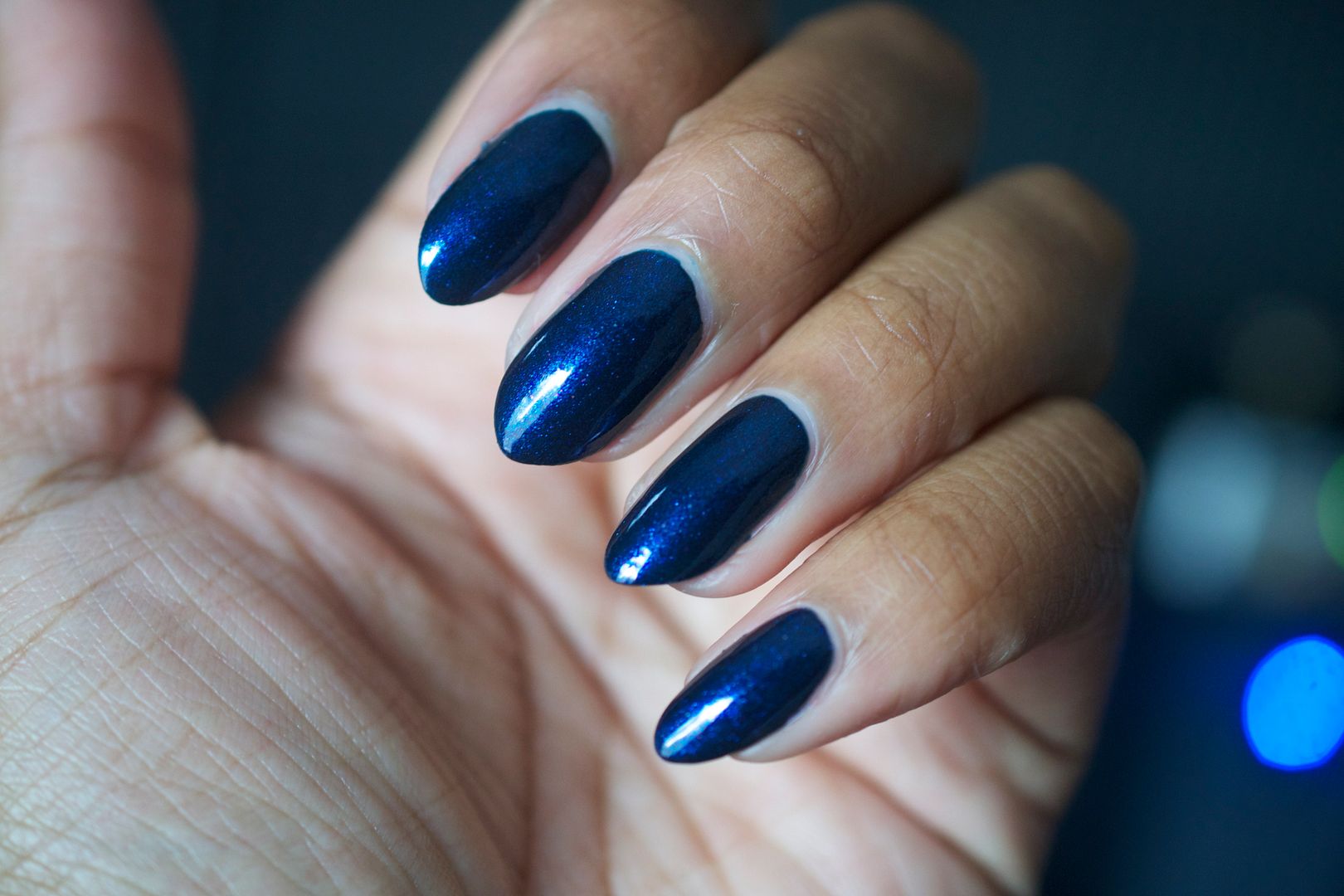 Overall: Having played around with a few of 'em, I kinda dig Maybelline Color Show polishes. The consistency of some of these (particularly the creams) are a bit wonky. I found some to be a bit on the watery side which made application tricky. But not impossible. I just found that I plop only a small amount on the nail each time I was ready to polish. The shimmers seem to apply better. Dry time is decent but I wasn't the biggest fan of the Color Show top coat. It didn't give my nails that sparkly shine that I yearn for after I apply a top coat. There are also crackle polishes too!
Still – if you're yearning for some new polishes and don't feel like breaking the bank, try these out. I mean, just look at this gorgeous rainbow of shades that exist…
Have you tried any of these babies yet? Whatcha think?