Welcome to another post from the Sista Show Off series! In this series I like to show some love to other companies, blogs, businesses, organizations or just regular ladies like myself who are paving the way for women everywhere! Let me feature you! Shoot me an email at Brittany@ClumpsOfMascara.com.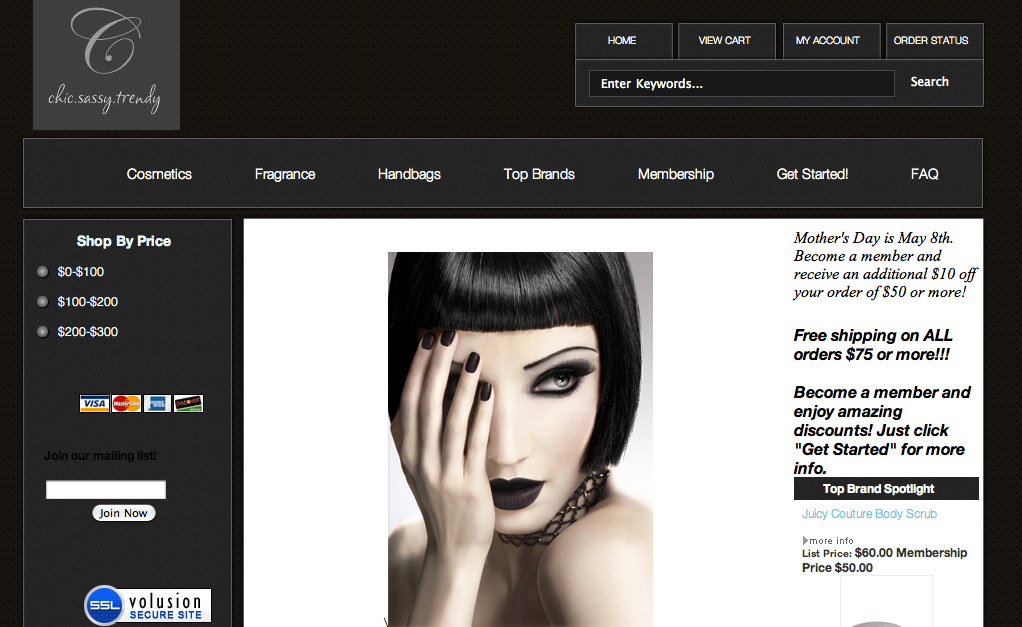 Annoyed with paying full price for your favorite cosmetics? Angela, the Founder of Chic Sassy Trendy has a solution.
There's Sephora, Ulta and then there's Chic.Sassy.Trendy, "Your one-stop shop for high-end cosmetics, fragrances and designer handbags." Some of the featured top brands include (but not limited to):
BCBG, Betsey Johnson, Beyonce, Bobbi Brown, Britney Spears, Burberry, Calvin Klein, Cargo, Carol's Daughter, Chanel, Christian Dior, Clarins, Clinique, D&G, DKNY, Ed Hardy, Estee Lauder, Giorgio Armani, Gucci, GUESS, Halle Berry, Iman, Jennifer Lopez, Jessica Simpson, Juicy Couture, La Mer, Lancome, Laura Mercier, MAC, MAKE UP FOR EVER, Michael Kors, NARS, Nine West, Pink Sugar, Prada, Ralph Lauren, Shiseido, Smashbox, Too Faced, Urban Decay, Vera Wang, and Versace.
But wait, did you know that if you become a member of CST, you can get up to a 50% on every product and free shipping on all orders $75 or more?
Also, if you refer a friend to www.chicsassytrendy.com, you could receive 20% off your next order!!!
You can also follow Chic Sassy Trendy on Facebook.
Rock on, Angela! Keep up the fantastic work!