Tag: "Tarte"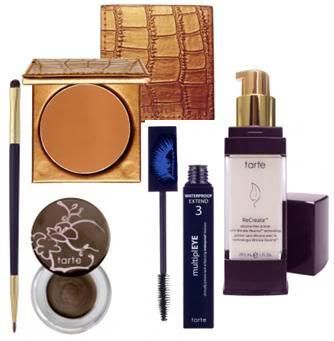 Have y'all had enough of the giveaways yet? We've got 2 more days and if you haven't won yet, you've got at least 8 more chances. Don't forget that I have giveaways on YouTube, Twitter AND Facebook. Increase your chances by following me everywhere. Today's giveaways on the blog come from some of my favorite […]
View Post
My totally awesome and amazing friend got me this highly coveted Tarte treasure box for my birthday. I mean…WOW! I saw fellow beauty bloggers rave up and down about this box during the holidays but I could never even saw it in stores. And it sold out hella fast online. Crystal from Lip Gloss Gossip […]
View Post
On the 3rd day of Christmas, my true love gave to me…. Hold on…what was given on the 3rd day? Three french hens? Um….no. How about three mini cheek stains from Tarte? How gorgeous are these? They bling so brightly that even my camera can't control itself. I've reviewed Tarte's cheek stains before and now […]
View Post
Happy happy Friday, sweets! As promised I am shootin' you another FOTD from my Tarte Femme Fatale palette. Hopefully you had a chance to indulge in Tarte's 40% off sale. This palette is full of shimmery goodness that works well for daytime and nighttime looks. The colors were pigmented and while I did endure some […]
View Post
Whoa whoa whooooa!! Now this is what I'm talkin' about…. I have that palette to the left and it is lovely. I'm also thinking about scooping up a cheek stain or two. Even though Lights, Camera, Lashes let me down I still love my Tarte! You grabbin' anything?
View Post
Everytime I look at the name of this mascara it reminds me of Mr. Cheek's "Lights Camera Action". That was my jaaaam in high school. The question is—is this mascara as hot as the song? Hmmm….. Tarte Lights, Camera, Lashes! Price: 3 out of 5 ($18 at Sephora, Sephora.com and Tarte.com) Packaging (Brush Wand): 3 […]
View Post
Happy Friday, family! So thanks to the introduction of Inglot Cosmetics in my life, I have gotten back into purple lips. Back in February I played around with lavender lips and that bug has bit me again. Purple lips, what can I say? You either love it or hate it. If you told me that […]
View Post

[NOTE] I'm workin' on some HTML/CSS so the page may be lookin' funky for a day or two. Excuse the messs.Welcome to another post of the Brown & Blushin' series. I am excited to see many of you involved in sending me your pictures, requests and proclaiming your love for all things blush! Remember, you […]
View Post