Tag: "Zoya"
Yep, I went to the enormous beauty trade show known as Premiere Orlando again this year. This is my third time going and I still NEVER really prepare myself for this ginormous affair that is this show. I did, however, make a list of the brands that I wanted to check out which made tackling […]
View Post
Welcome to another post of Amor de Lacquer….the series all about nail polish and nail care! Send me your requests, suggestions and ideas to Brittany@ClumpsOfMascara.com. I'm a colorful nail polish lover by nature. When I heard about Zoya's Touch collection a mumbled "Meh…" passed through my lips. When I saw them in person, I was a slightly impressed. […]
View Post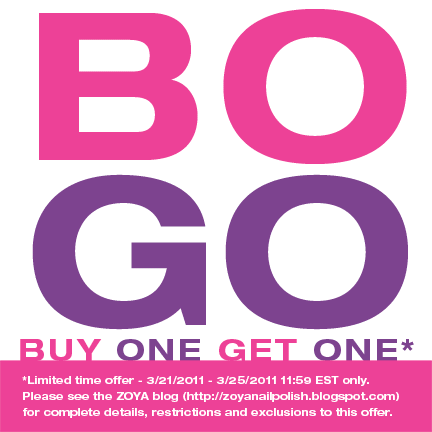 I gave the Facebook fam a heads up that something awesome was going down with Zoya. I hope you got yourself an account because just this out… …hit the jump for details!
View Post
Welcome to another post of Amor de Lacquer….the series all about nail polish and nail care! Send me your requests, suggestions and ideas to Brittany@ClumpsOfMascara.com. Wow oh wow, Zoya. When I first laid eyes on this collection, I'll admit it…I wasn't THAT surprised. Well, color me loca. This may be one of my favorite Zoya […]
View Post
This is why Zoya will always be on top. How many brands rewards their customers time and time again? Not many! According to their Facebook fan page, "We have the best fans in the world! As promised, the code is listed on the image above. The code is good for 3 Free* bottles of polish. The […]
View Post
Welcome to another post of Amor de Lacquer….the series all about nail polish and nail care! Send me your requests, suggestions and ideas to Brittany@ClumpsOfMascara.com. After getting a lot of questions about the holiday colors from Sally Hansen, I decided to share with you some other lovely holiday polishes. Tdhe stars of the show come […]
View Post
Welcome to another post of Amor de Lacquer….the series all about nail polish and nail care! Send me your requests, suggestions and ideas to Brittany@ClumpsOfMascara.com. It's not quite the holidays (although I was it was) but with a collection like this, it really is the most wonderful time of the year. Zoya's Wonderful collection has […]
View Post
Welcome to another post of Amor de Lacquer….the series all about nail polish and nail care! Send me your requests, suggestions and ideas to Brittany@ClumpsOfMascara.com. Well my darlings, Zoya does it again. I feel like I say that about EVERY collection that they come out with. Don't blame me though. When it comes to nail […]
View Post