First of all, I don't even know how people can wait 30-somethin' weeks to find out if what they're carrying is a boy or girl. I just…I can't even deal. I don't know WHY knowing the gender is so important to me, but it is. Esposo and I both wanted a boy. Men want sons and with my having nothing but sisters, does is seem outrageous to want to break the cycle a bit? But when I really think about – any time I pictured myself as a mother, it was always me being a mother to a little girl.
Since getting pregnant, I've had several dreams about baby girls. I just knew that Bean was a girl. I would tell people this and they'd laugh and say, "There's no way you can just know." But I did.
Oh! Before I forget, let's see what Bean is up to this week.
"Your baby now weighs in at a whopping three to five ounces, and is four to five inches in length. The bones that are now in place in his ears means baby can probably hear your voice as you talk to your partner and pals and sing in the car. While baby is getting used to your voice, the tiny muscles in his body, especially the ones in his back, are gaining strength, so he can straighten out a little more. And thanks to the developing facial muscles, your baby is capable of making a few expressive frowns and squints, even at this early stage The eyes are finally working, making small side-to-side movements and perceiving light (although the eyelids are still sealed)." (source)
Here's to hoping Lé Bean has longer and lusher eyelashes than Mummy. Ha!
As for me: Well, I promised that I'd reveal the truth behind my pregnancy. I wish more women revealed the details (as gore-y as they may be) so that the rest of us could kind of get an idea of what to expect. My face has turned against me. It's not even funny. I've got acne on top of acne. I look in the mirror and don't even know who I am anymore. Which sounds dramatic but it makes me very sad. I thought I was supposed to have some kind of glow but um no…ain't no glowin' over here. The truth, bro…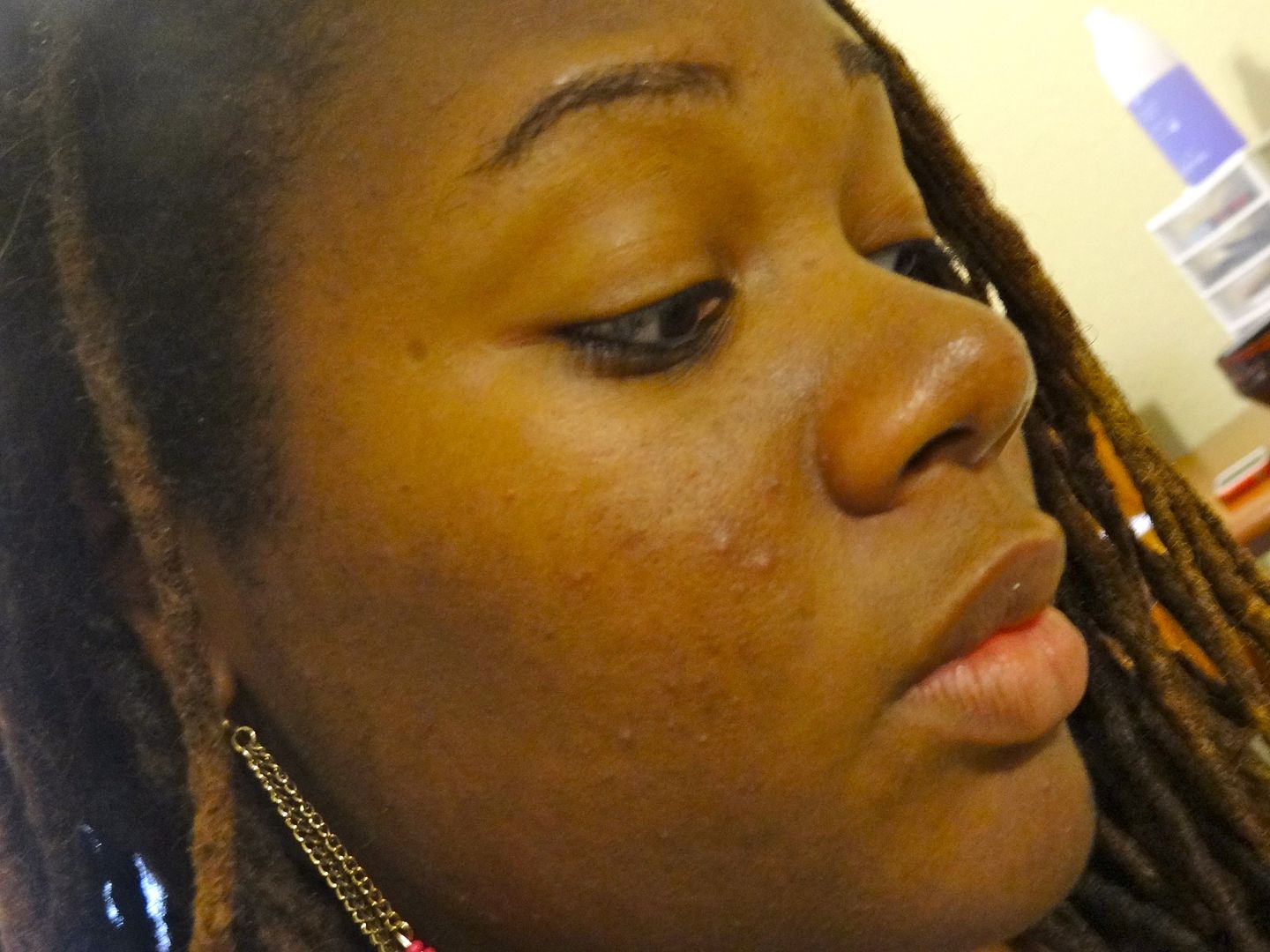 Sad, ain't it? Especially since these pimples have just popped up in the past week or so. On a good note, the morning sickness has really subsided. I only get sick early in the morning and in the evenings. Sucking on a Jolly Rancher or munching on cereal keeps the feeling at bay. I have also discovered that I can't brush my tongue as vigorously as I'd like. I did that this past week and was upchucking Cheerios. Yes. Ew. This gag reflex refuses to go away.
As do the food aversions. I'm used to eating the same things. Eating still sucks but I get it done because I know the minute I get a hunger pang, a headache is soon to follow. First trimester fatigue is back so daily naps are a must. I'm not going to lie, I wish I didn't have to work during all of this. I think I'd be a happier pregnant woman if I didn't have to drag myself to work and sit in a chair for 8 hours a day. Just sayin'… As far as sleeping, I can't ever get comfortable despite getting a body pillow so my back hurts daily. I'm used to a sore back though – I mean, I've been carrying DD's since I was like 16. Okayyyyy?!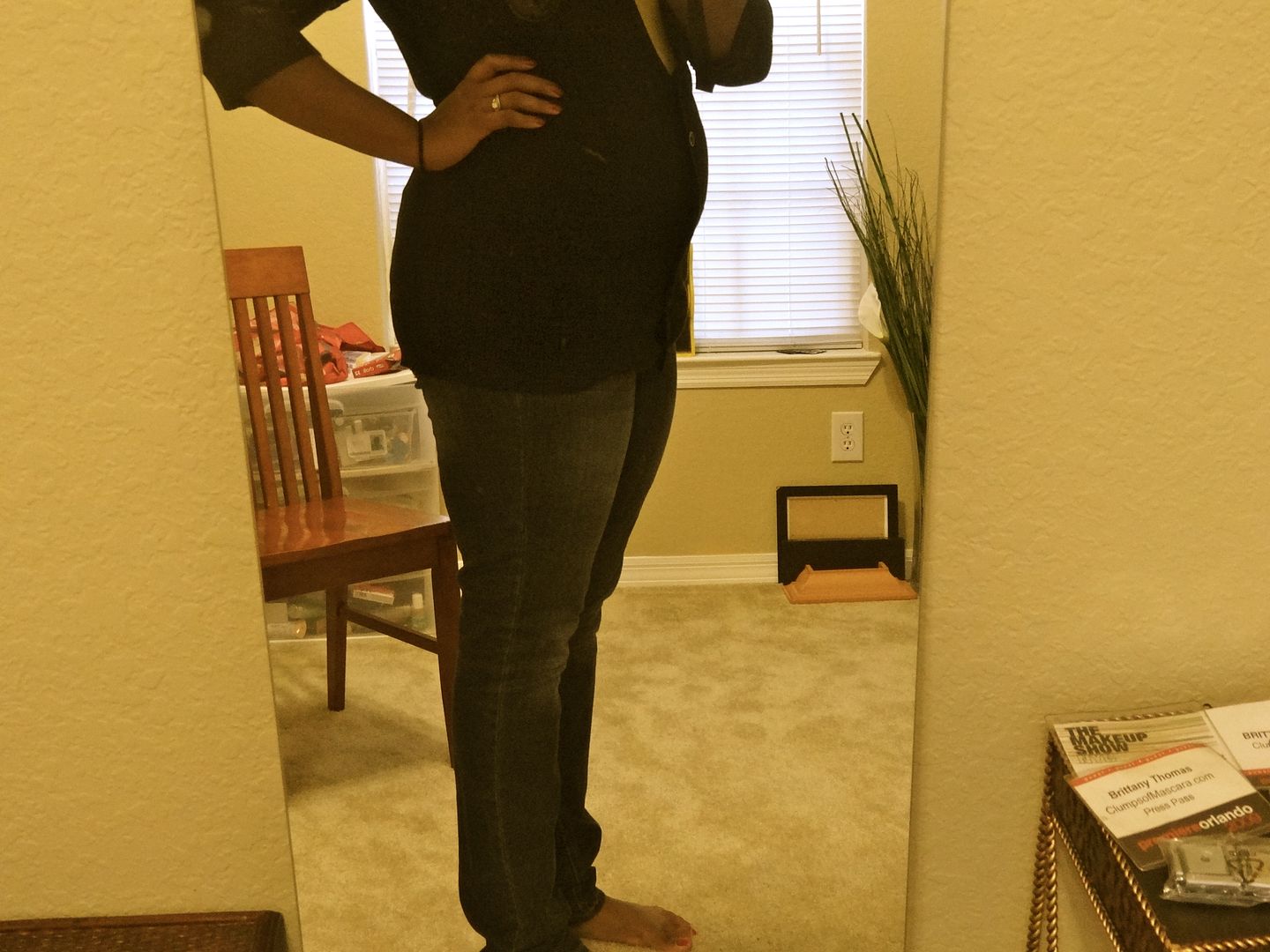 Things I'm Great At: Drinking a TON of water, remembering to take prenatal pills, counting pimples and attempting to eat healthy stuffs.
Annoying Symptom: My dog hates me. And has hated me since I became pregnant. It used to hurt my feelings but now I don't care anymore. She runs from me and acts as if I'm  going to hit her. Someone call Casear Milan, please.
Annoying Things People Say:
"You're pregnant. Wow. I never want to be pregnant."
"Enjoy life now because it's about to be over."
"Everyone is getting married or pregnant!"
"Loosing the post-baby weight is so hard. It'll take you years."
"Are you gonna become a stay at home mom now?"
Biggest Lesson Learned: Keep Bean's name a secret until Bean is born.
Something to look forward to: The day I can eat real food again. I've still got hope. I can't have aversions the entire pregnancy, can I?
Oh, and….
Bean is a girl!!!!!
The Clumps Facebook page found out first and the love given had me all teary eyed. I love y'all. Despite us both wanting a boy, we were so emotionally choked up when we saw Bean on that ultrasound. And no, I don't feel bad about "wanting" a certain gender. God blessed us with what He thought we needed and deserved and our little girl will the perfect addition to our geeky family. She'll be a free-thinker, superhero lovin', pink-hatin'  (maybe??) Hello Kitty aficando who will speak more than one language. Or she'll be whoever she wants to be and we'll be fine with that. 😎
Pregnant or not, would you want to find out your baby's gender before their birth? Or do you dig the element of surprise? Oh! And crazy pregnancy show of the week? 70 and Pregnant😯 
Other Baby Posts:
–Bean's Announcement
–Baby Clumps: 15 Weeks