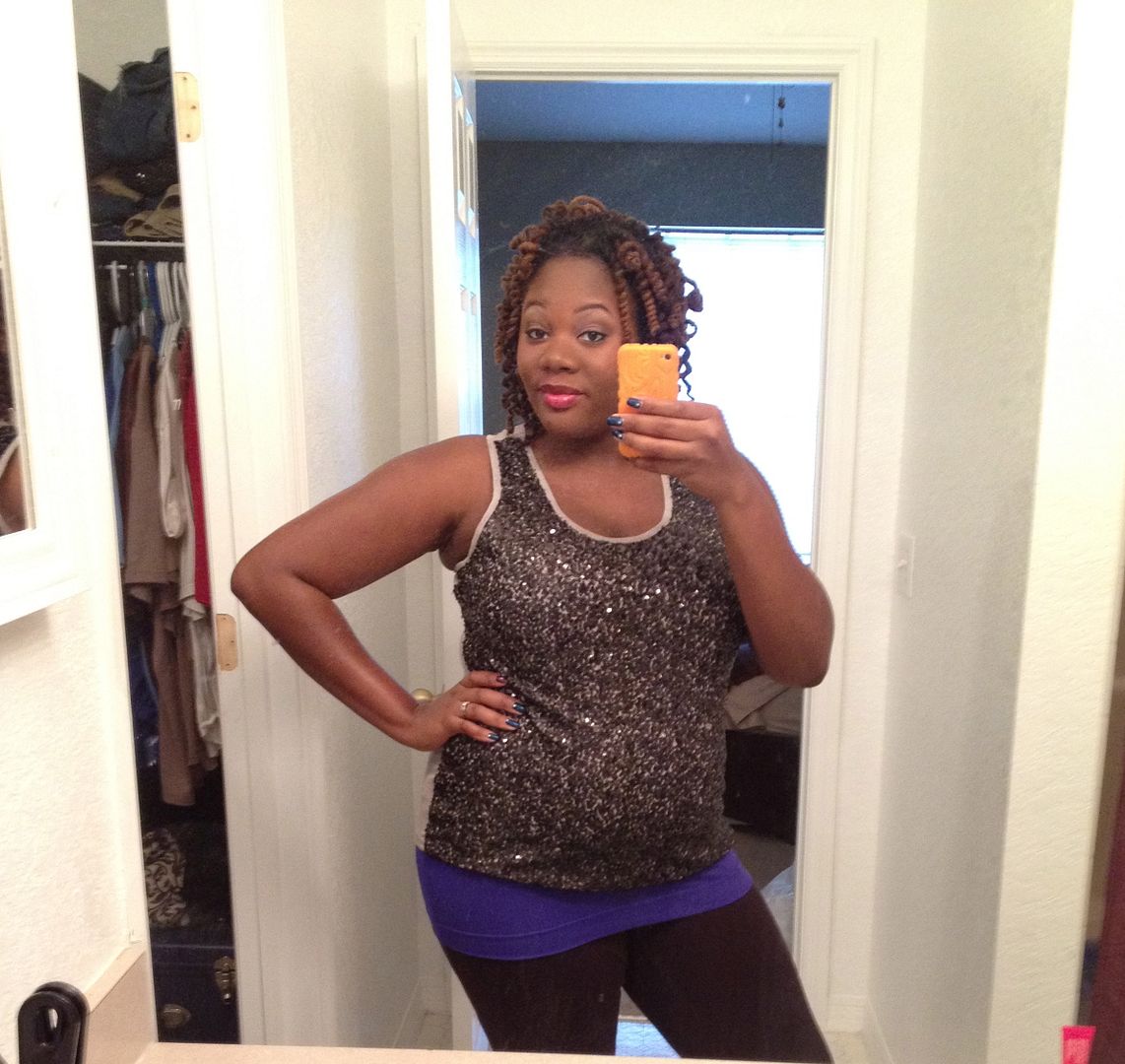 Guess who is almost halfway done with her pregnancy? This girl here. Soooooooo excited about that! I'm not going to sit here and lie to y'all and be all like, "OMG, pregnancy has been wonderful." because uh, it hasn't been. I am grateful to go through this but I can't wait to see Bean and get back to the things I lost while being pregnant (going to the gym regularly, for instance). I also realize that things may get a bit more difficult from here on out so I should really enjoy these days, uh? I've been dressing up, doing my makeup hair and feeling great and I think it's showing.
I'm still eating and probably gaining weight too. I'll know how much I've gained for sure at my midwife appointment next week. I'm not eating like the health nut I used to be but I'm doing a darn good job at not gagging and you know what-ing. I'm so proud of myself. And Bean. She clearly loves me enough to give me a break. It's been a pretty decent week. My belly disappeared a bit. Bean moved to my back and because of that I've been having crazy back pains all week. She's moved back to my belly a bit but I'm still not a baby bump-y as I was last week. My acne is clearing up and while I still get mild hits of nausea throughout the day ,they are manageable.
What she's up to this week…
"At five and a half inches long and five ounces in weight, she now may be large enough for you to feel him twisting, rolling, kicking, and punching his way around the womb. Plus, she's developing yawning and hiccupping skills (you may feel those soon, too!) and her own unique set of toe and fingerprints." (source)
I do feel her move! I find it most active at night right before bed. I'll be up for close to an hour just rubbing coconut oil on my belly and talking to her. I spend the mornings doing the same thing. Esposo spends a lot of time chit-chatting with her. He's got an incredible voice and sings to her too. Which pretty much brings tears to my eyes. I'm thinking this baby girl will likely come out singing. With both of her parents being decent singers (ahem…I'm not half bad, ya know) and her grandparents being good singers too, Bean may be our ticket out of the Sallie Mae doghouse.
Haha, just kidding. Kinda.
Okay, so random baby topic of the week…as I've been prepping for this baby shower in November, I have discovered that I am in the minority in thinking that men at a baby shower is weird. Apparently, men of all nationalities all over the world are invited and encouraged to attend baby showers of spouses, friends and family members. How did I not know this? Most of my experiences with baby showers have been super girl-only affairs with cheesy games. I even asked Esposo if he would like to attend my shower and he gave me an insane side-eye. When I took my thoughts to Twitter, many people told me that their husbands and their guy friends were happy to be a part of their baby showers? Really? I..I…I had no idea.
Have I been living under a rock thinking that baby showers are the kind of events that just for the mommy and her girlfriends? Do men WANT to go to these events or are they dragged by their partners?
Oh! Quick Bean Stats…
Current Obsession: Cinnamon gum. I eat like 2 pieces a day. It curbs my appetite and keeps the nausea at bay. Looooove this stuff. Hated it pre-pregnancy.
Baby Names?: Um no. Esposo and I can't decide on anything. What I love he hates and vice-versa. And I don't like hearing other peoples' opinons. Bean's name will be revealed after her birth. Until then, she'll be Bean.
Things I Still Can't Eat: Meat. I don't even want to smell it. Green smoothies (which makes me sad), eggs and anything that has a ton of seasoning in it.
Last Baby Item Purchased: I still haven't gotten anything. Is this normal? Oh! I did buy a belly band yesterday. Which is kinda a baby item. I think?
Goals for Upcoming Week: Do resistance training (upper-body) for 20 minutes at least 3x a week and regular kegal exercises.
Yay or nay to guys at baby showers? Yay or nay to baby showers period? I do think they can be a bit annoyingly  cheesy and uncomfortable (even more so if you aren't a mother or don't want to be one) but I've been to some fun ones too. Mine will have a heavy beauty spin to it so even if I invited guys, I'm not sure how they'd take to the beautifying. What say you?
Other Baby Posts:
–Bean's Announcement
–Baby Clumps: 15 Weeks
–Baby Clumps: 16 Weeks + Gender Reveal
-Baby Clumps: 17 Weeks + Confusion