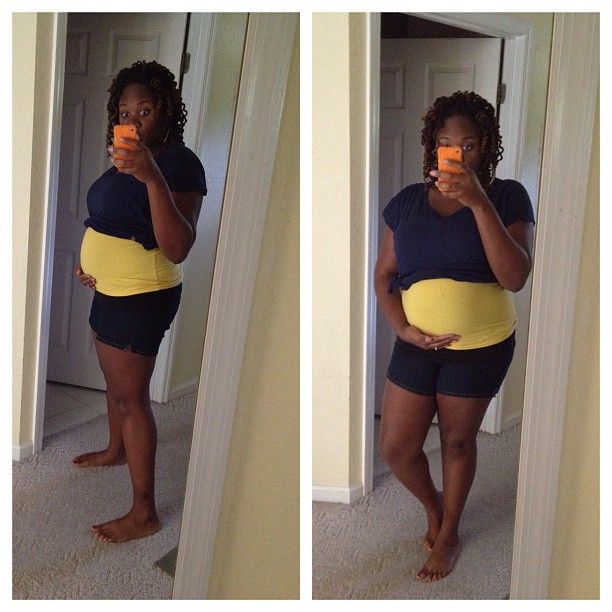 Talk about a belly that grew overnight, uh? I'm actually okay with the fact that I didn't really pop until close to my 5th month. As a woman who has always tried to lose weight and not gain, gaining too much too soon would have put me in the nut house. For awhile I thought something was wrong with me because I didn't look pregnant. Like the old saying go, "Be careful what you wish for." My overnight belly is reminiscent of my boobies. I went from undershirts to double DDs in like…a night. I'm not even kidding. I always tell the joke that one day I woke up and a boob plopped on the floor.
I'm so inappropriate, y'all. Poor Bean. She's going to have to endure crazy stories like that for a lifetime.
What the babe is up to this week….
"Your favorite womb-hijacker is suddenly huge, at 10 inches in length! This week your lil' fetus will start digesting the extremely appetizing diet of amniotic fluid and baby wee, as they are now capable of swallowing, digesting, and passing the fluid as far as their tiny "large" intestines." (source)
How do I feel? GREAT! I really don't have many complaints. My back hurts all the time but I try to get up and move throughout the workday. Nausea still greets me in the morning and early evenings (whether I snack or not) but I've learned to just deal with it. I remind myself of Filbert from Rocko's Modern Life.
Aside from the nausea, I do okay day-to-day. I thought I'd be free from heartburn but I get that daily too. It's manageable though. Annoying? Yes. Worse than 1st trimester sickies? No. And for that reason, I don't complain about much.
So today's random topic is something that is quite controversial and I may step on a few toes. Not intentionally of course but when pregnancy and motherhood is discussed, things get a little funny. So here's the thing…
I wasn't one of those little girls who pictured herself being a mother. I had baby dolls and Barbies but they were more accessories in my girldom than actual toys that foreshadowed my future. Even in high school and college, I knew I wanted to be married and have kids, but it was never something that I actively worked towards. I didn't have that maternal clock that many of my friends seemed to have. In fact, in my early 20's, motherhood seemed to be more of an inconvenience than anything else. I pictured myself having to swap everything I loved to become a Mom. I thought I'd have to loose my self-identity, friends, hobbies and passions to raise a child. I'd seen friends do this and just knew that being a Mom closer to to my 30's was the only choice for me. I wanted to really LIVE before becoming a Mom. And so lived I did.
Esposo and I made the decision to become parents because we thought we were in a good place in our lives to do so. Plus we both genuinely wanted to be parents. Now with being just a few months away from being a Mom, I still have this fear that I'll be so consumed with motherhood that I will loose myself. I have no problem dedicating my life to raising my children but I want to ensure that Esposo will still continue making music a part of his life. And that I will still blog, travel, volunteer and workout like I've been doing before pregnancy. We don't live near relatives so I can't rely on grannies as nannies and cousins who will babysit while I go to the gym. I'm sure it'll be a challenge to even crank out a blog post every day. While battling this fear, I run into spurts of "You know what…we can do this!" And that's what keeps me going. There are plenty of women who have managed to find a balance between parenting and running businesses, working outside of the home, enjoying their hobbies and spending time with their friends.
Bean will gleefully be #1 in our lives and there's no doubting that but I will try my hardest to be that Mom with a life. Is that okay? Is it okay that I want my children to be integral parts of my life without making them my entire life? My friends with kids say that 'things will change' when Bean is born and I'm sure but that's not the kind of discouraging comment a first time mom wants to hear, ya know?
Quick Bean Stats!
Weight Gain: 9 lbs! I freaked out for a minute but then realized that I lost a significant amount during first trimester. Midwife confirms that I'm right on track but thinks that Bean may be a week or 2 ahead of schedule. I'll be scheduling an ultrasound to see.
Strangest Symptom: The other night I noticed my tummy beating as if it was my heart. So weird!
Maternity Photos?: Yep. They'll have a comic book spin, I'm sure. We won't be doing any bare-bellied pics. I kinda hate those…
Baby Registry: Finally got 'em done! My Mom and sister did everything. I didn't realize how clueless I was when it came to baby essentials.
Last person to touch my belly: So I'm on the elevator and this random man asks me if I'm pregnant and then proceeds to try and touch my belly. Men do this?! I don't want any stranger touching me but some creepy man? Eww!
Goals for Upcoming Week: Prenatal yoga this weekend! The goal is to do it at least once a week. I also need to finalize a venue for the shower. Oh! And drink more water. I get down 60 oz a day but the midwife says I should be doing more. Oh boy…
Any gals out there who aren't moms but want to be one day and can relate to the fear of potentially loosing yourself in motherhood? Is there a sure way to combat these feelings? 
Other Baby Posts:
–Bean's Announcement
–Baby Clumps: 15 Weeks
–Baby Clumps: 16 Weeks + Gender Reveal
-Baby Clumps: 17 Weeks + Confusion
–Baby Clumps: 18 Weeks + Guys at baby showers?