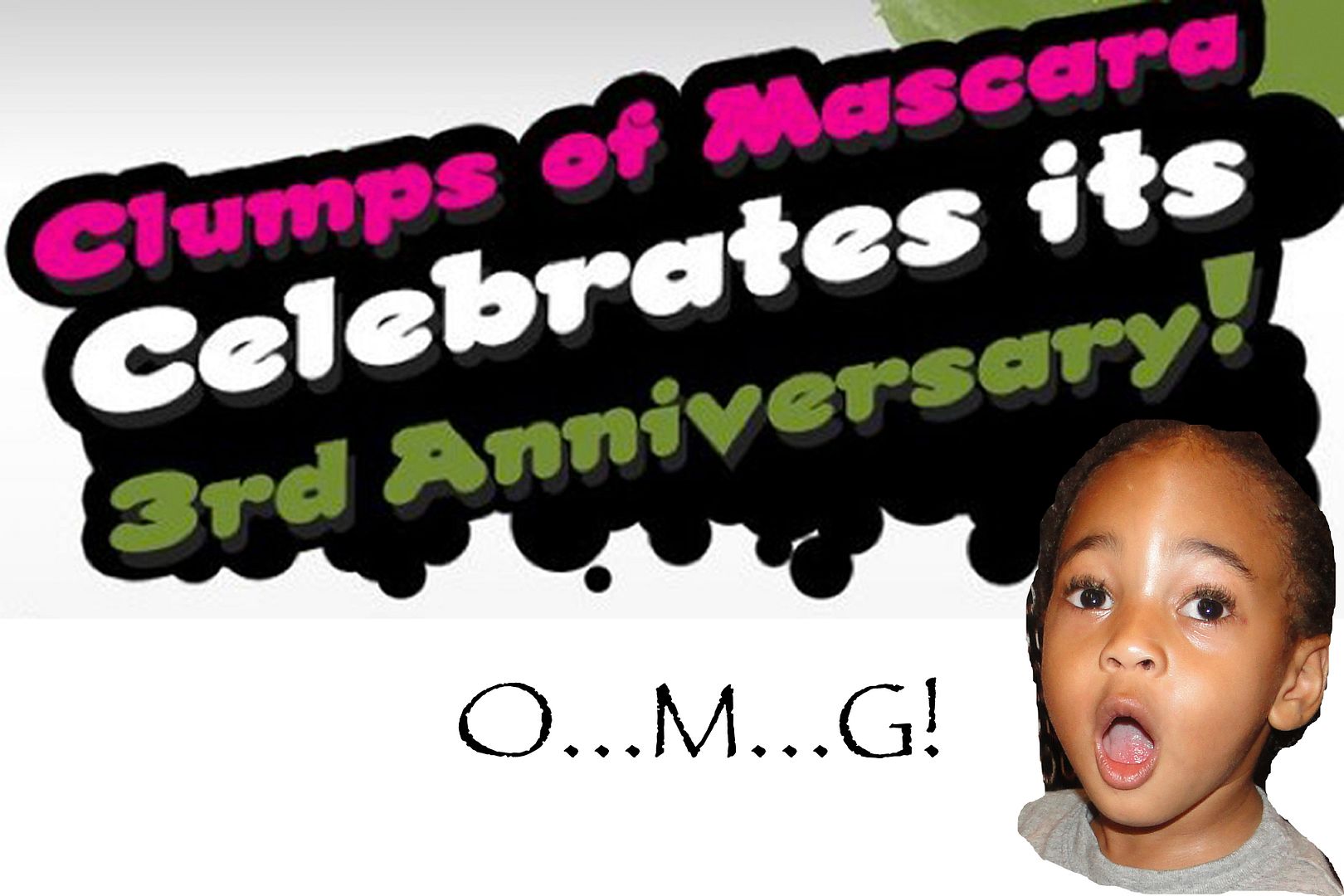 Clumps Turns 3 was the biggest anniversary celebration to date. I mean, it was HUGE! We received over 2,000 giveaway submissions. That's a lot! Winners have not been selected for every giveaway and some giveaways are still running (including the BIG giveaway) so be sure to search Clumps' archives to see what you've missed. I will post the Winners' List as soon as all giveaways come to an end.
My mission for celebrating Clumps' 3rd anniversary for an entire week was to shower Clumps' fans and supporters with the opportunities to win some of my favorite products. This would NOT have been possible without my sponsors. As much as I love y'all, I would go broke spending more than $1,000 on products to give away.
Special thanks to  Avalon Organics, Beauty Ticket, China Glaze, Clarisonic, Clinique, Colgate, COVERGIRL, Diamond Cosmetics, EcoTools, Lancôme, Mario Badescu, Maybelline,
Milani, NYX, Reach, Sally Hansen, Softlips, Surgicare, tarte, Zoya and more.
To my Board of Directors…thank you ALL as I would not have been been able to get the word out without you guys.
Thank you to my fellow blog sisters who posted about Clumps! That includes Beauty Rookie, Gangstarr Girl, Vex in the City, StaceFace75's  video, Ask Me What's, Dirty Pretty Thangs, Coup de Couer, Milan Rouge, This That Beauty and countless others. And who can forget about those of you that re-tweeted giveaways, told your Facebook friends and emailed friends and family members the flyer. Thank you SOOOO much.
Thank you Clutch Mag!
A huge hug to Gee from Afro Glitz…she knows why.
I started Clumps out of nowhere and I am so humbled that it has reached women all over. If you don't think Clumps can get any better, stay tuned…I have A LOT in store and our 4th anniversary will be even bigger!
And if you're still reading this, I got a lil' somethin-somethin for you. I totally forgot to include TWO giveaways last week. Here's one.
Two lucky ladies will each win Avalon Organics' Vitamin C Skincare System!!
Shoot an email to Giveaway@ClumpsOfMascara.com with "Vitamin C" in the subject line. In the body of the email, tell me why you'd like to try Avalon Organics' Vitamin C Skincare System. 
Rules:
-U.S. residents only
–Send an email to Giveaway@ClumpsOfMascara.com only-Contest ends Friday, June 18, 2010 at 12:00 am EST. Submissions after that will not be valid.
-Winner will be selected at random.
-Family members/personal friends of B are not eligible—haha! *blows raspberry* 😉
-In the event that a winner does not respond in 3 days, another person will be selected.