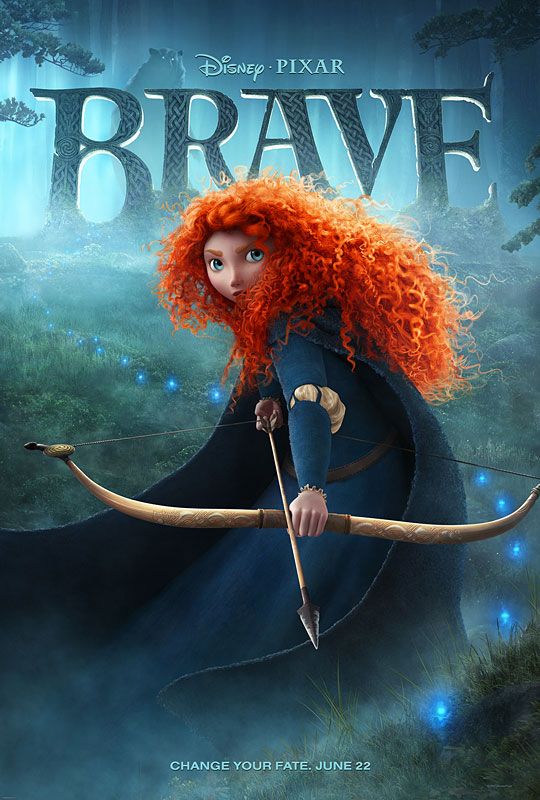 Brave was soooooo good. I could really end my review of this film right there but y'all would be mad at me. Seriously though – it's no surprise that I'd love this movie. What's not to love about a movie of a cute little curly redhead with a powerful voice and a mind of her own?
I got the opportunity to see a press showing of Brave last week and the movie totally exceeded my expectations. I mean, yes I knew Disney would hit it out of the park (don't they always?) but Brave's storyline was completely different from any other Disney movie I've seen. And don't ask me how many I've seen. Probably more than you. Just sayin'… 😛
I saw the film in 3D and if you're like me, you're probably like "Ugh…not this 3D thing again." I'm not a fan of watching movies in 3D because after 10 minutes, my eyes start crossing, I get all nauseous and it just gets to be uncomfortable. Luckily, Pixar and Disney have masterfully created this film so that while you're watching it in 3D, you don't have any thing popping out at you. If anything, the 3D effect brings the picture to life but in a real and beautiful manner. I thoroughly enjoyed not having bows go a flyin' over my head in 3D.
The story. Ohmigoodness, the story… while not to give too much away, I will say it was refreshing that the true love story wasn't between a price and princess. I'm a lush, so yes, I adore those kind of movies but Brave focused more on the love between a Mother and daughter. Princess Merida just wants her Mom to listen and you know how Moms are. Oftentimes they do more lecturing than listening. Their interaction reminded me a lot of how my Mom and I can be so um yes…I was or was not caught dropping tears during the movie.
The beauty of Scotland was captured in such a spectacular way that I was ready to start planning a trip. Humorous and heartfelt, Brave is the kind of movie that even those of us without kids will enjoy. The kiddies will enjoy it too of course. There were a few dark and scary scenes that may upset little ones but nothing they'll remember throughout the movie.
Brave is currently in theaters so you'll definitely want to add it to your summer blockbuster "Must See" list.
Any big kids out there see Brave yet?
*While Esposo and I received press passes to view this movie, all opinions are my own.