I can't believe that I've never used or reviewed a clear mascara. Quite insane, right? But after many requests, I am finally giving one a whirl.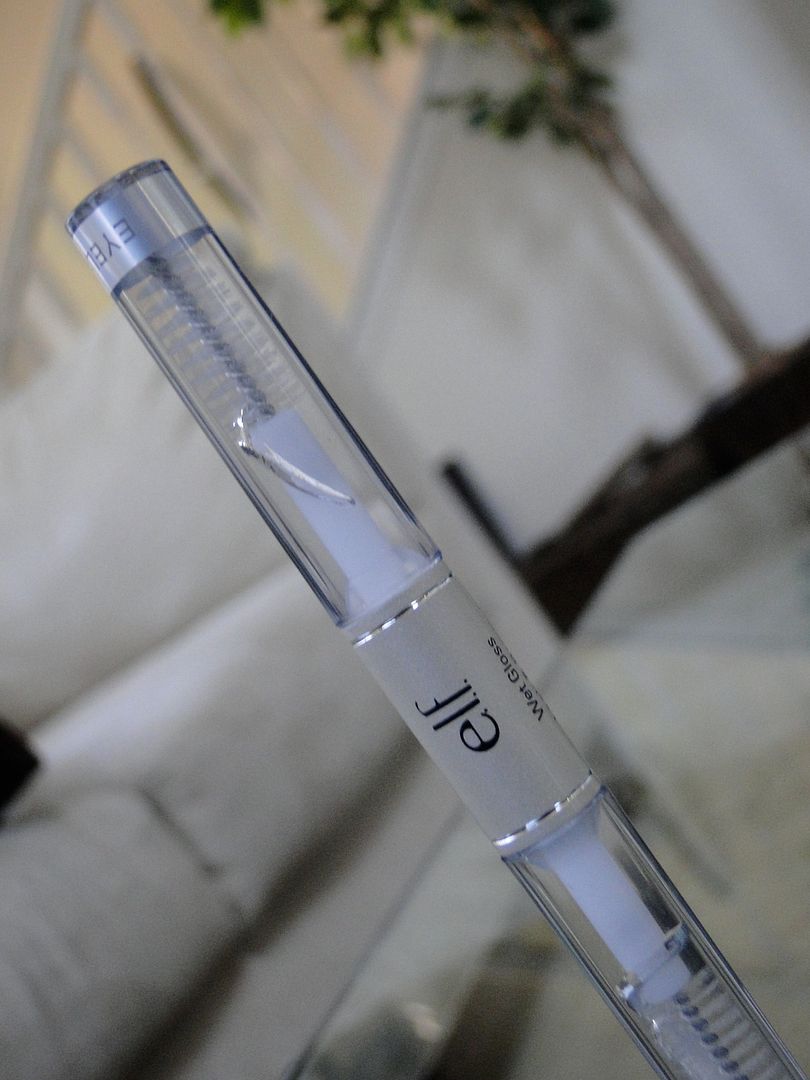 Price: $1. No lie ONE DOLLAR!!!
Packaging (brush wand): 4 out of 5
Overall: 4 out of 5
What It Claims: "Achieve glossy, shiny, healthy-looking lashes and brows with the infused long wearing conditioning agents in our wet gloss lash & brow mascara. Looking pulled together has never been easier!" (source)
The Truth: Well, this is refreshing!
What I Loved About It: I love that it's only a $1. Gotta love how affordable e.l.f.
What I Didn't Like: I wanted a bit more volume but that's because I'm volume-obsessed. HA!! It's really not the mascara's fault.
Overall: When it comes to a clear mascara, there are two kinds of people. Those that absolutely love them and those that don't understand the point of them. I sit comfortably in the middle. Clear mascaras make sense to me. At the same time I'm not head over heels in love with them and probably wouldn't swap 'em out for my traditional mascaras.
If you've got wonky lashes that struggle with growing in the same direction, a clear mascara is great to have. It helps to elongate the lashes and train them to grow in the same direction without loading them up with a ton of mascara. Clear mascaras are also great for teenagers, those who are taking baby steps into makeup or those with allergies. Ladies in those categories may be desirous of a little somethin' but can't wear or aren't ready for the "Look at me, I'm wearing mascara!" look. Clear mascaras help to open up the eyes a bit–especially in a pinch. It's foolproof, quick and easy and can certainly benefit any lady who loves mascara.
As far as e.l.f.'s, I didn't have any problems with it. Not one. Although large, the wand swept right through my lashes with ease.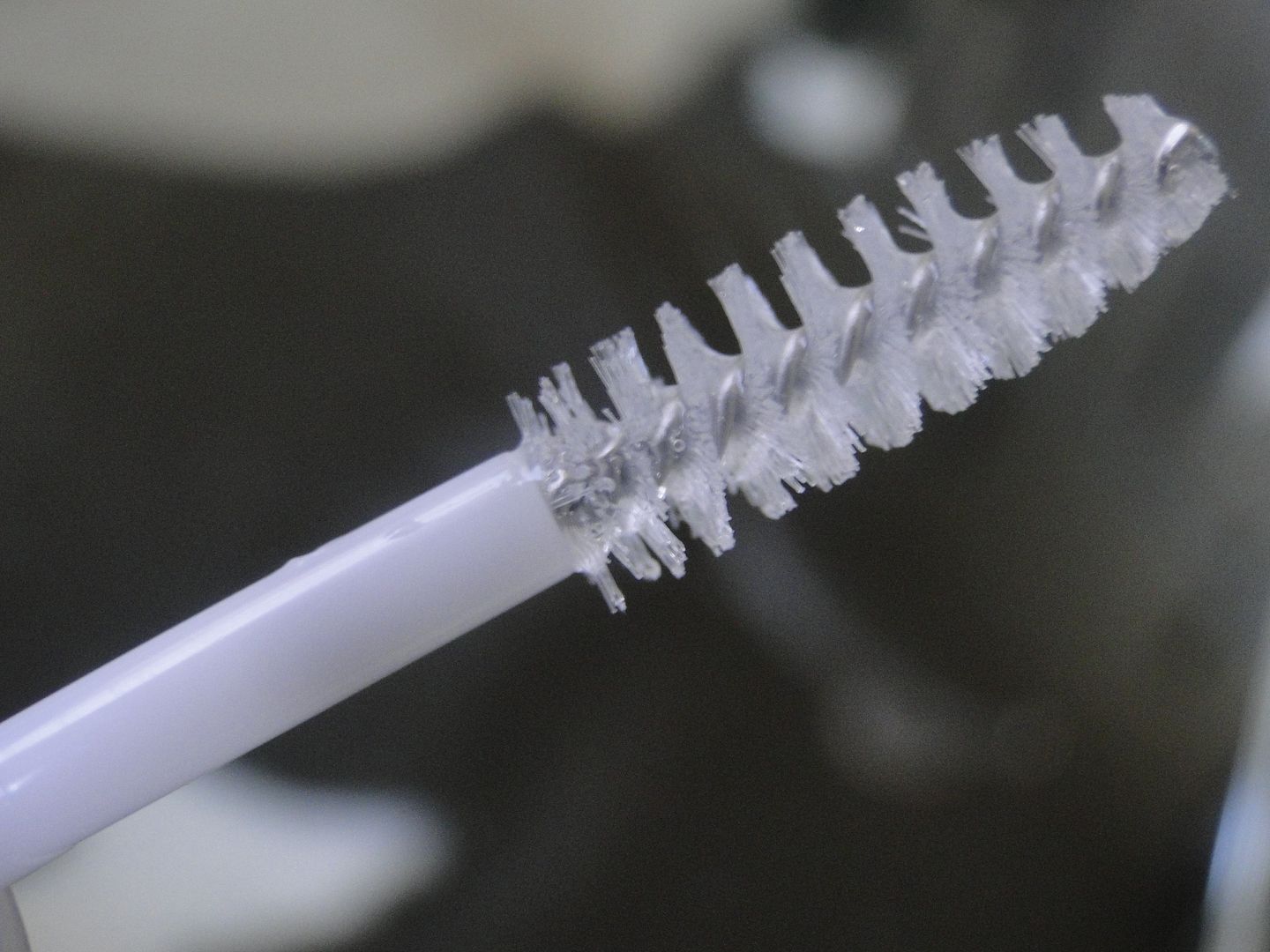 I don't think the wand is problematic despite its size. After all, the formula is clear. It you accidentally get a bit of it around your eyes, no biggie. As it dries, it may flake up a bit and you can just wipe it away with water. The mascara lasted a lot longer than I thought it would! I didn't experience any flaking and of course, since it's clear, no smudging ensued. While I didn't expect added length or volume, I was surprised at how well is separated my lashes and kept them in place all day. I do wish that my lashes didn't "bind" so much though. After applying the mascara, a few of the lashes lumped together. Boo.
And the brow clear gel? That's just an added bonus and perfect for ladies like me with the unruly brows!
Bare Lashes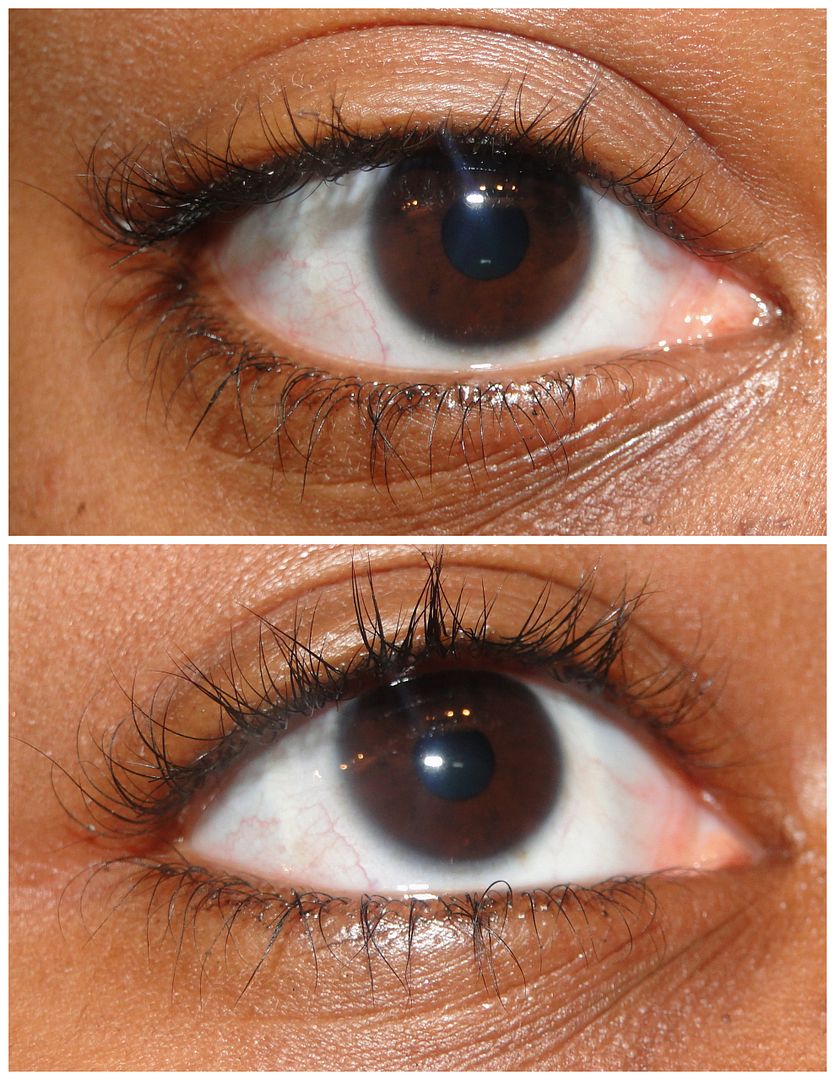 Lashes with 2 Coats of mascara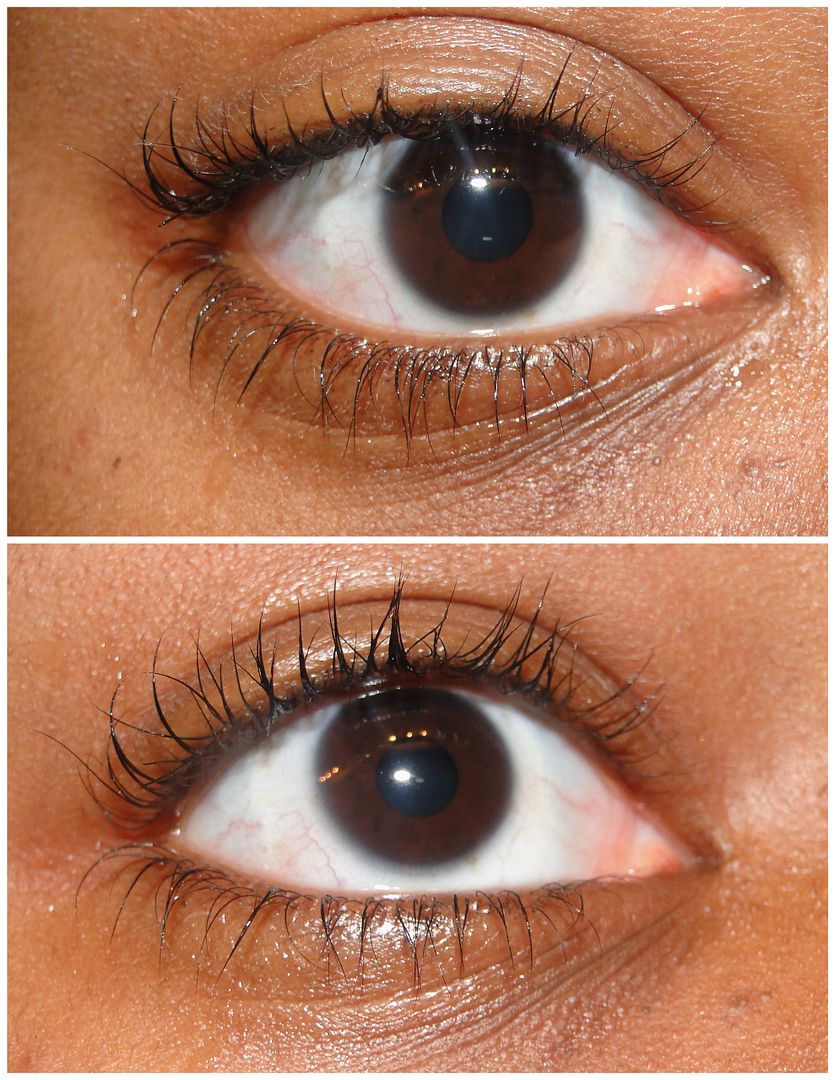 Although you can't tell MUCH of a difference, gotta admit that the separating and glossy power is pretty stellar.
Do I recommend it?: Yep! It's only $1 so even if you aren't a fan, you haven't wasted much money.
It's hard to give a clear mascara bad marks. They do what they're supposed to do and you either like 'em or you don't. Any clear mascara lovers in the house? You can scoop this one up where ever e.l.f. products are sold and online here. Check out my latest video review for both the clear mascara. And keep an eye out for a review of e.l.f.'s Studio Lengthening & Volumizing Mascara.