No need to adjust your computer. These are actual glitter polishes. From Essie. Insane, right?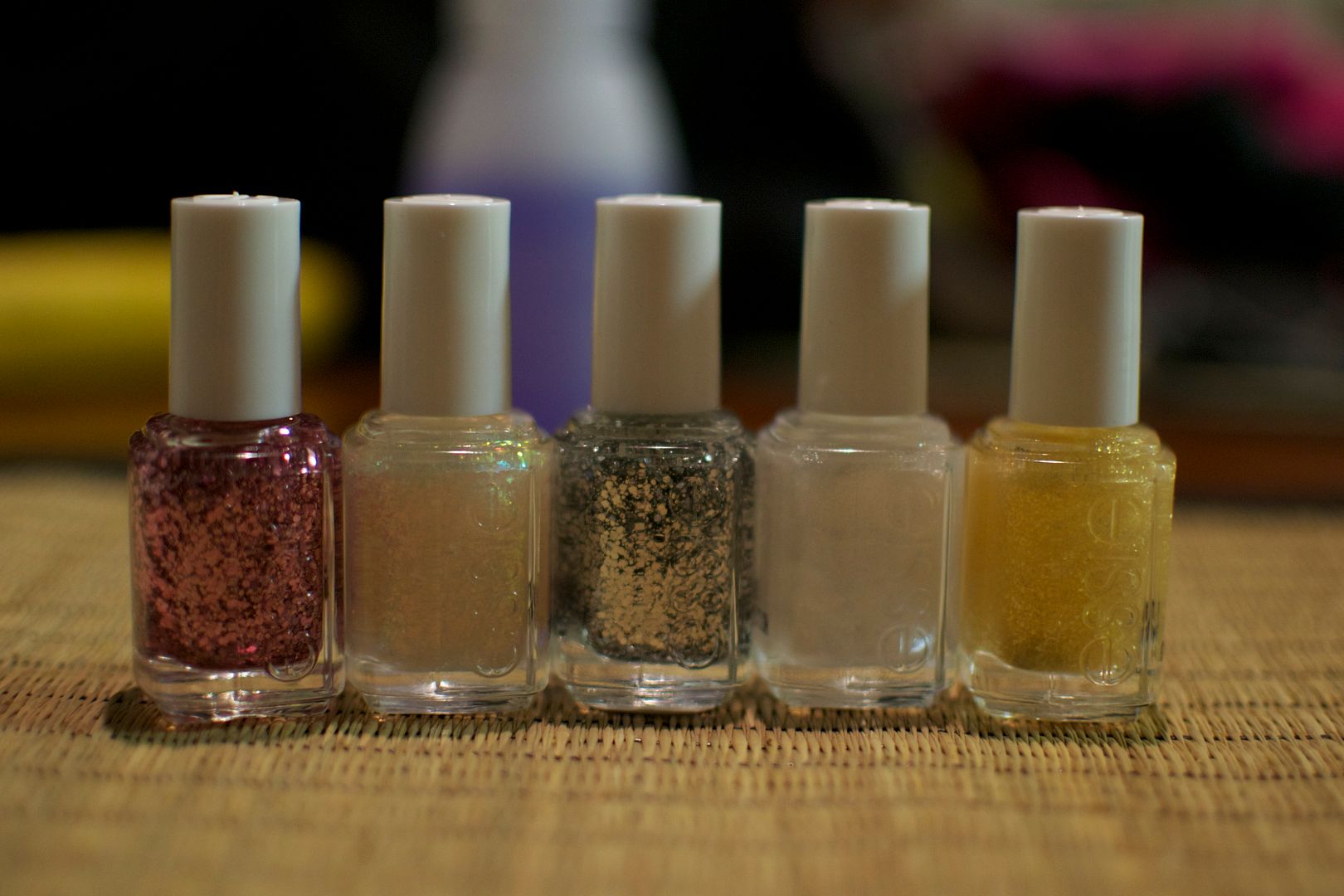 Essie does a lot of things well. When it comes to formula, bridal nail polish colors and shades that won't scare those who don't want too much bling on their nails, Essie rules. I would have never put them and glitter together. I am so excited to see this collection from them. While none of these glitters are groundbreaking, they are fantastic.
Because they are intended to be worn OVER nail polishes, I'm featuring each polish here over one coat of a black nail polish.
As Gold As It Gets is described as a polish with gilded lamé sparkles. Ooooh, fancy, uh? This polish has a nice combination of dense flakies and gold glitter. There's nothing too over the top about it but I really love it. I can only imagine how beautiful this would love layered over an orange or red.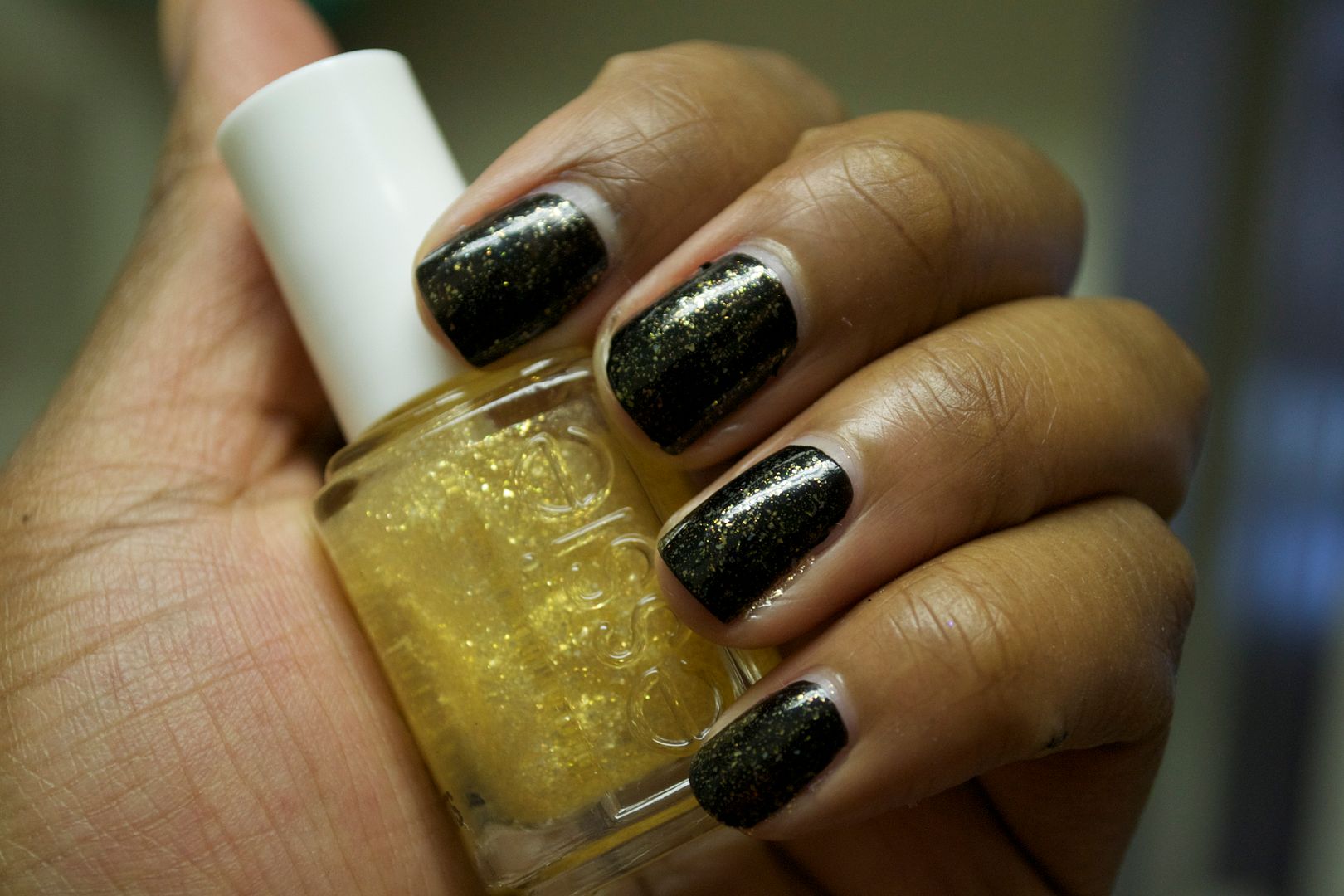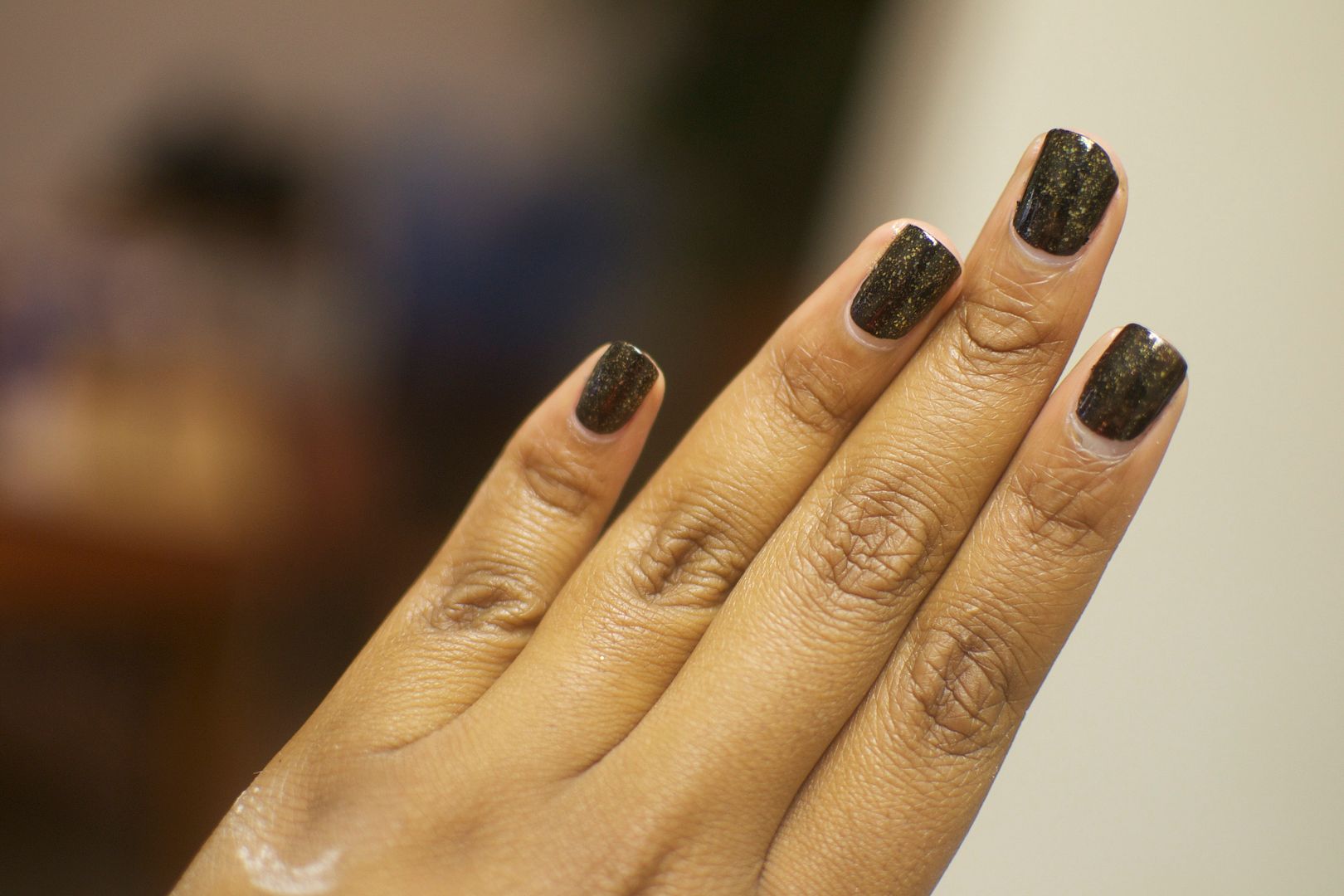 Shine of the Times is an all too popular flakie polish that Essie describes being scintillating opalescence. We've seen this before from Nubar's 2010 and Sally Hansen's Hidden Treasure. So yeah – this isn't unique, but I'm glad to see a flakie like this again. You can never have too many of them. It turns any polish into such a majestic look. And how cute is Shine of the Times as a polish name? Loves it!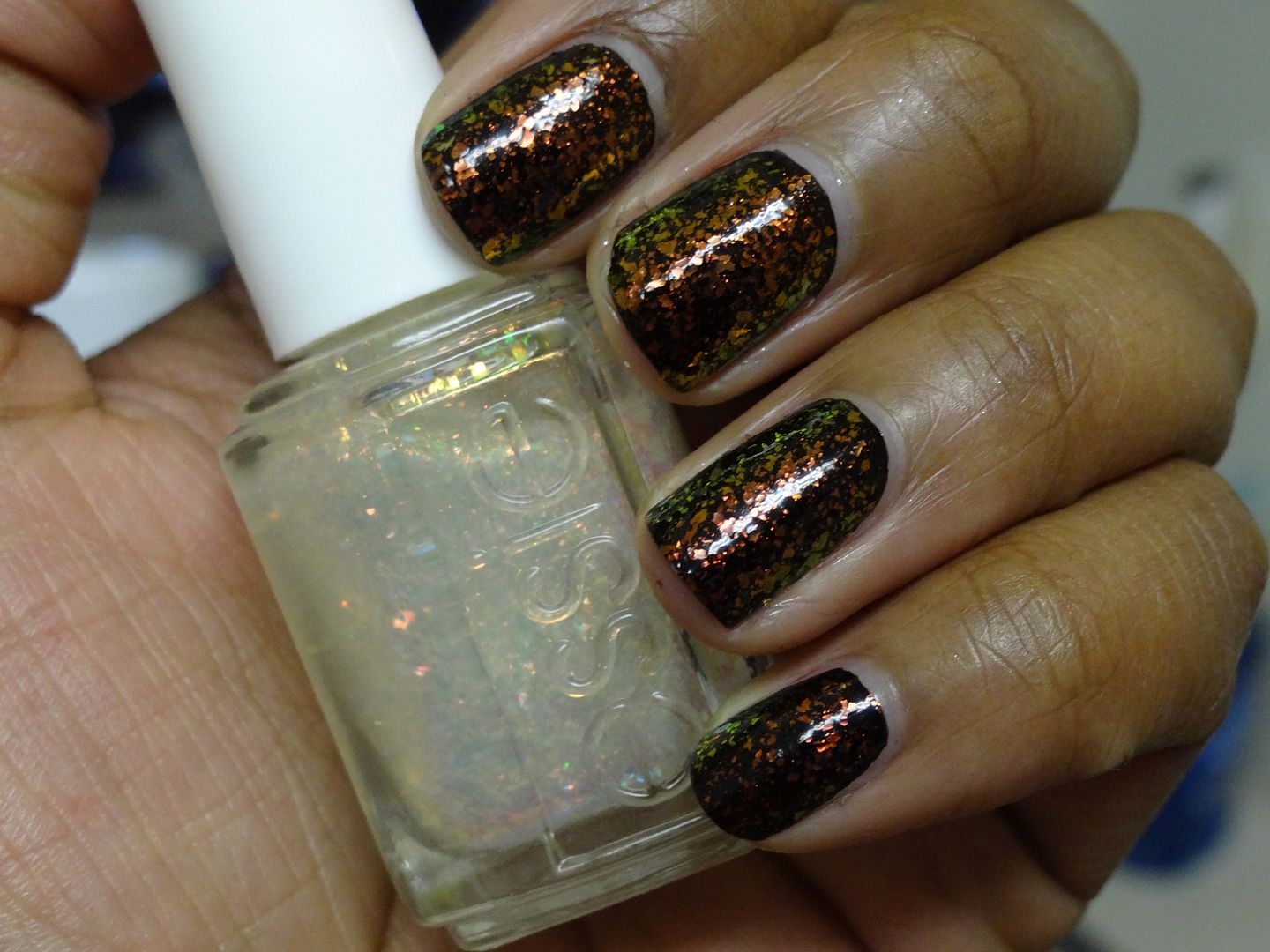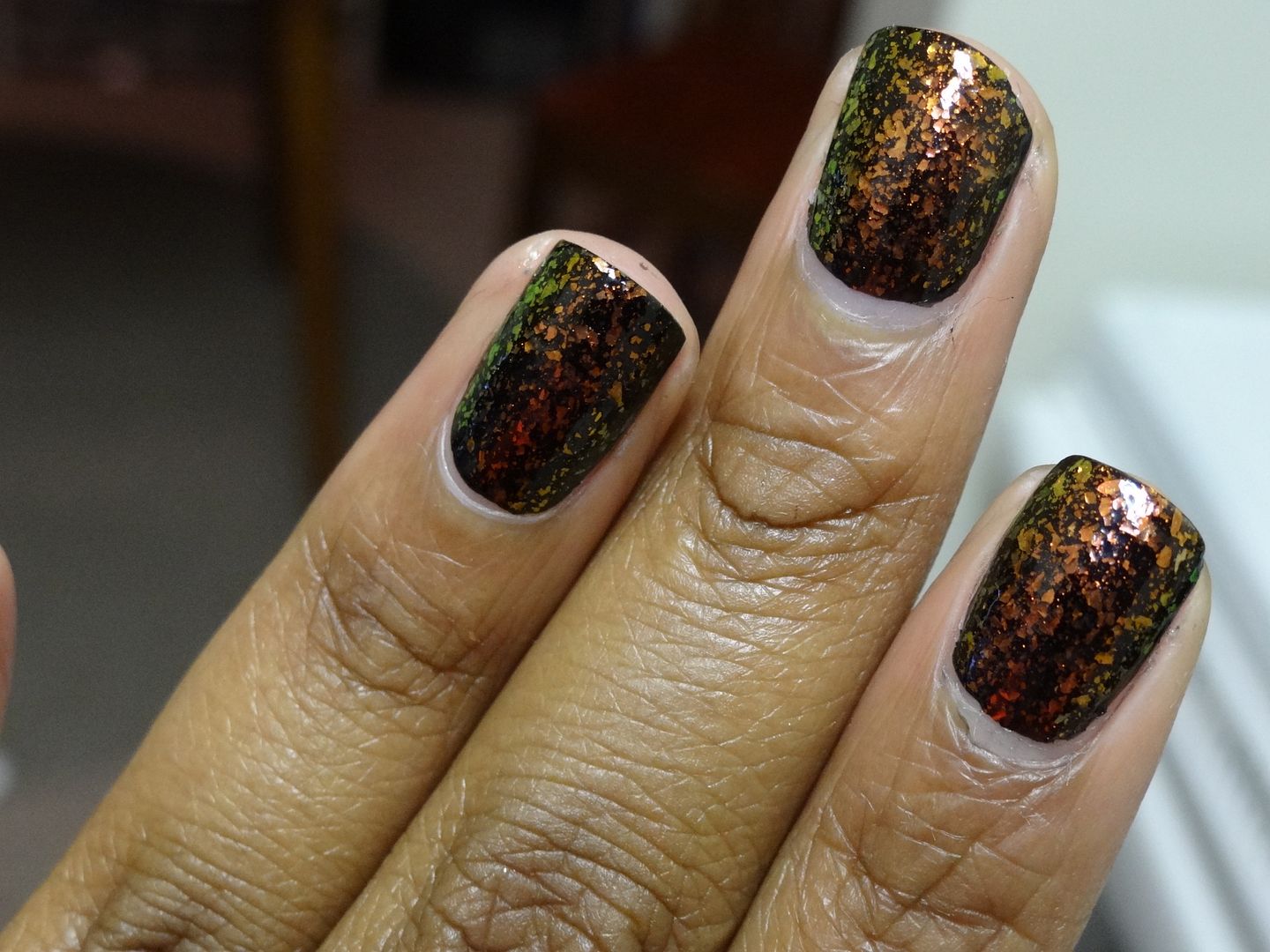 A Cut Above is a shattered pink diamond glitz that adds a pinky pop to any polish you've got. I spy some hexagon glitters and love how one coat of this polish gives such a beautiful display of pink glitter. I'm not a fan of pink and I love this. So girly!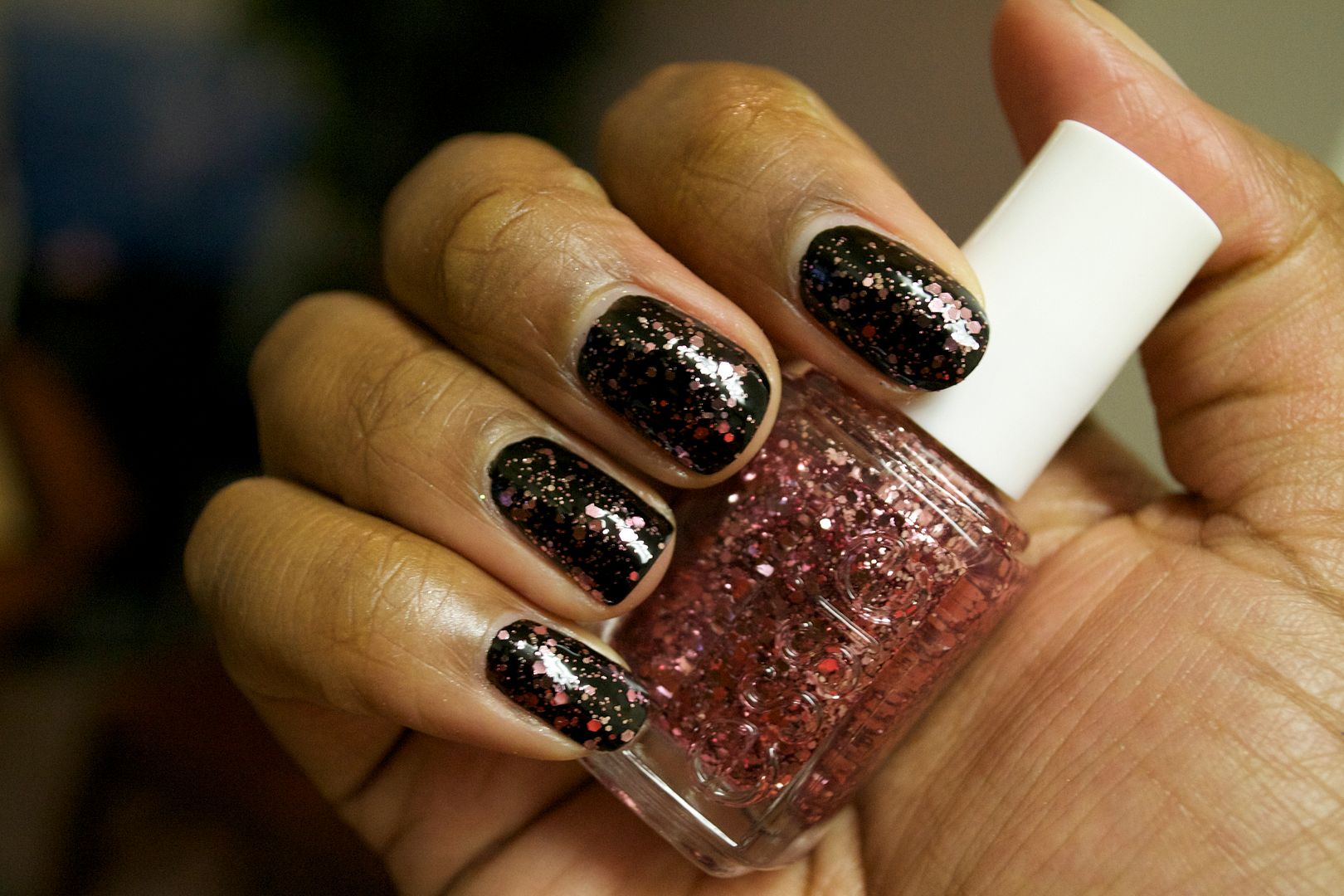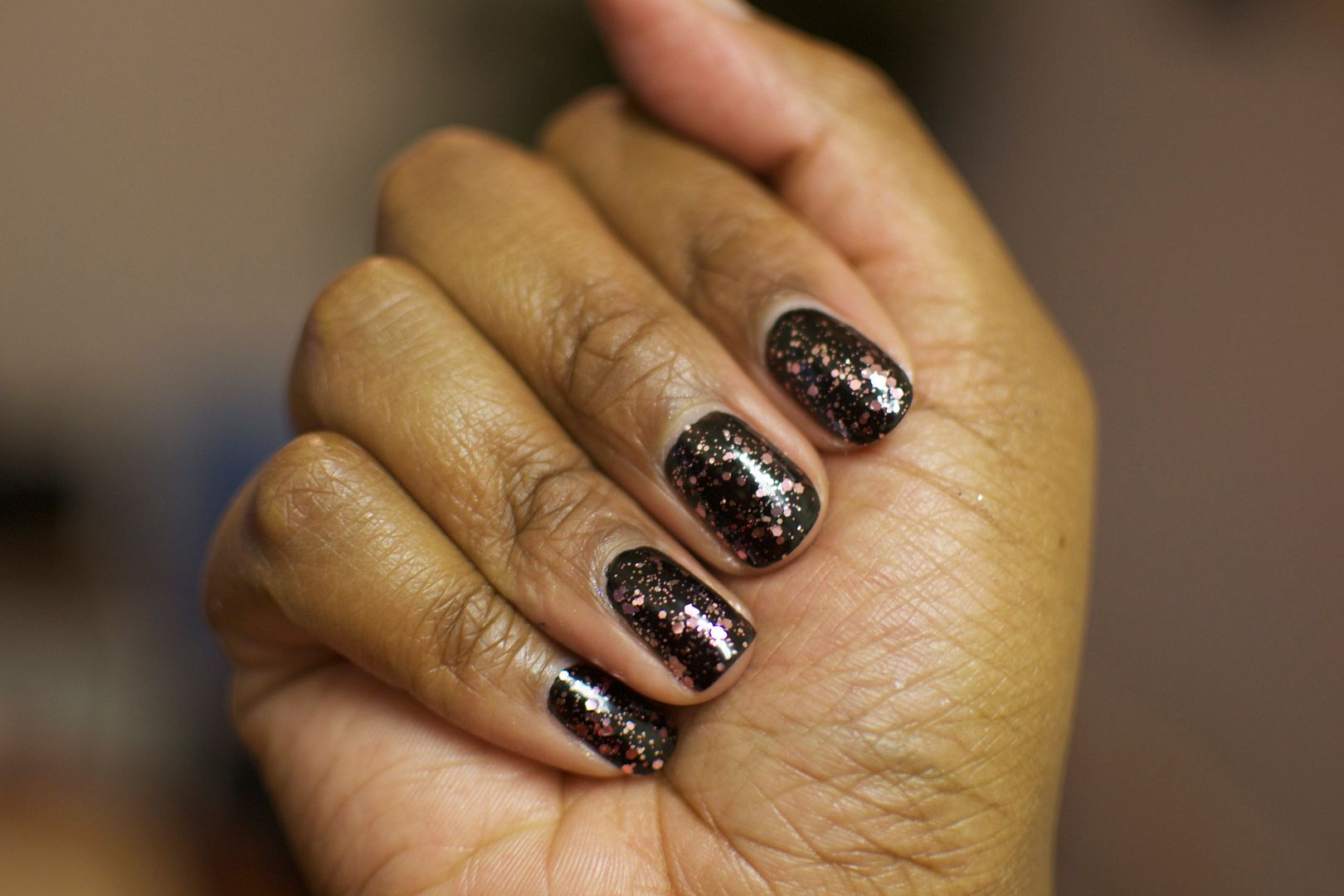 Set in Stones is just the silver sister of A Cut Above. It's just as pretty and I don't mean to play favorites but I think I love ACA better.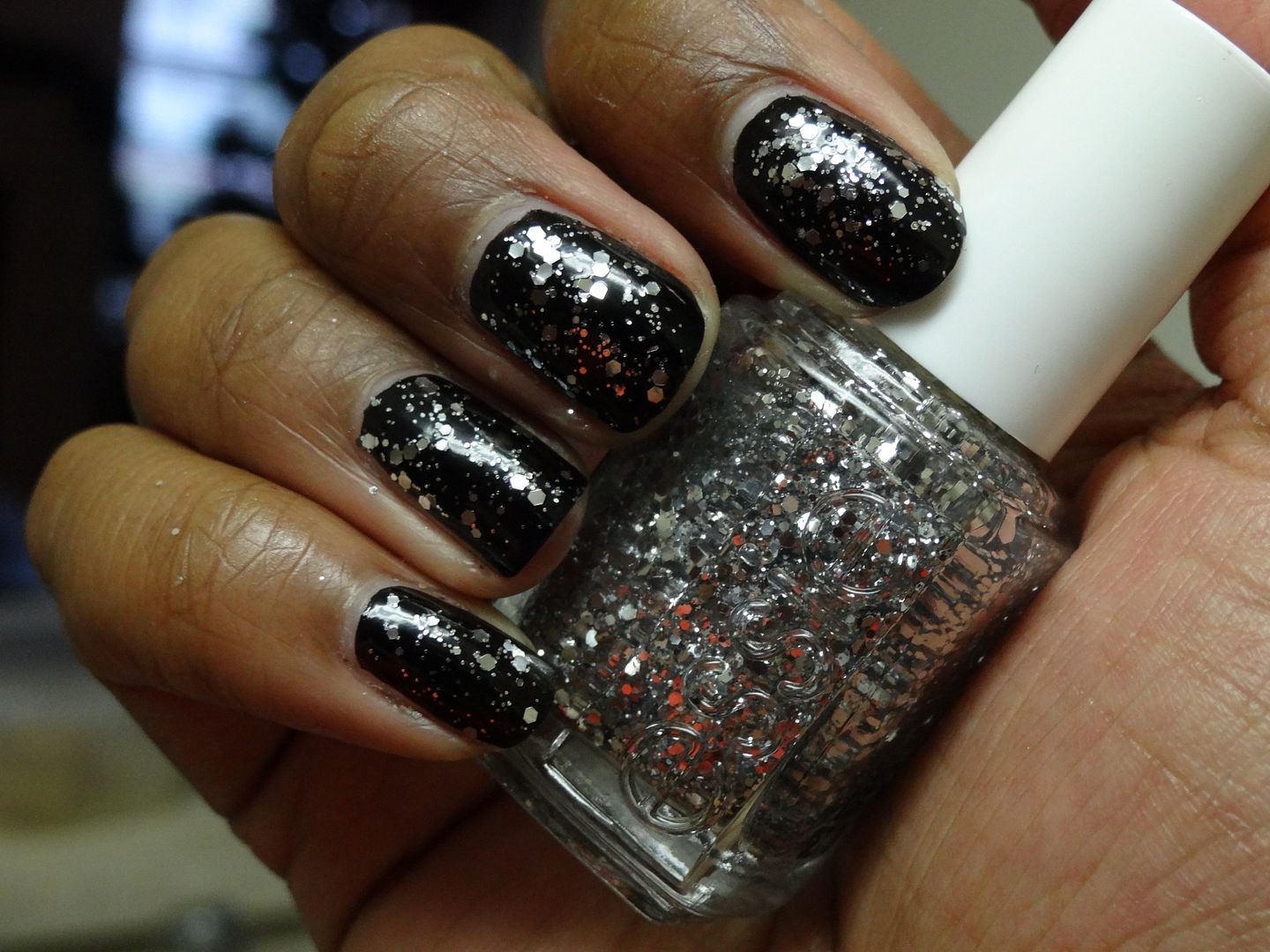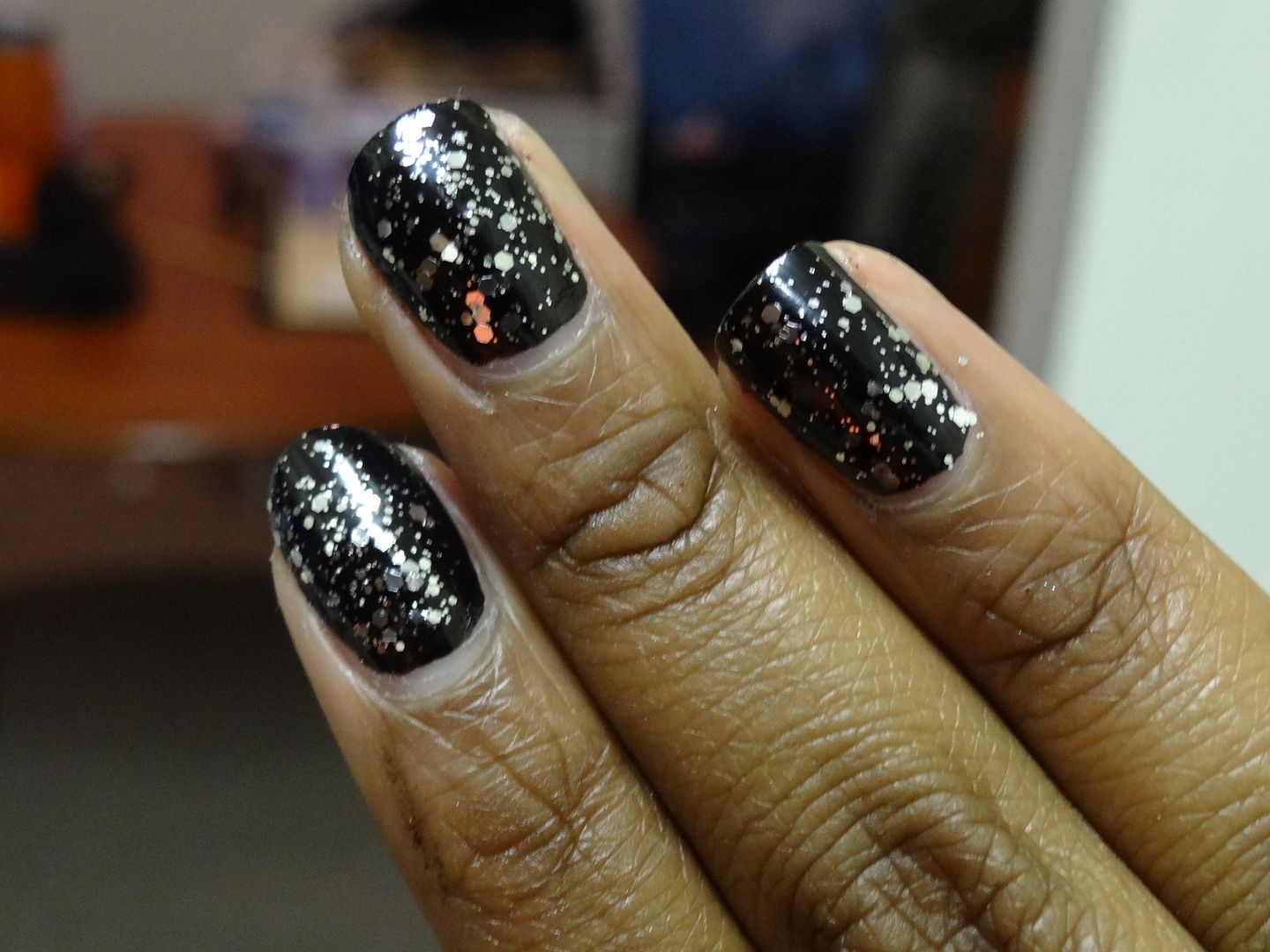 Pure Pearlfection is a disco mirror ball chaos. Yep, that's what Essie says. I agree. While this polish looks to be pretty blah in the bottle, I actually really like it. The subtle blue micro shimmer looks fantastic layered over darker polishes.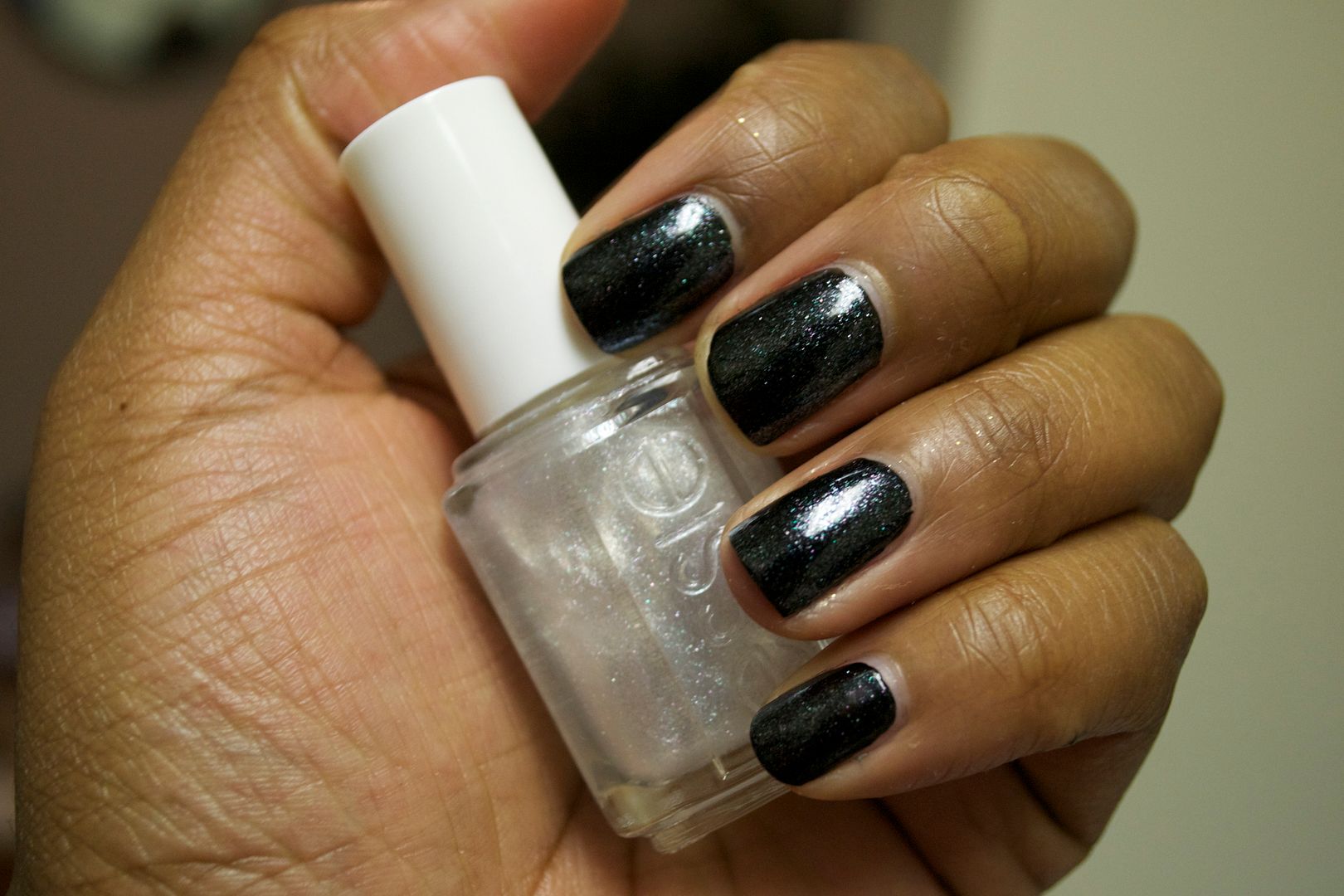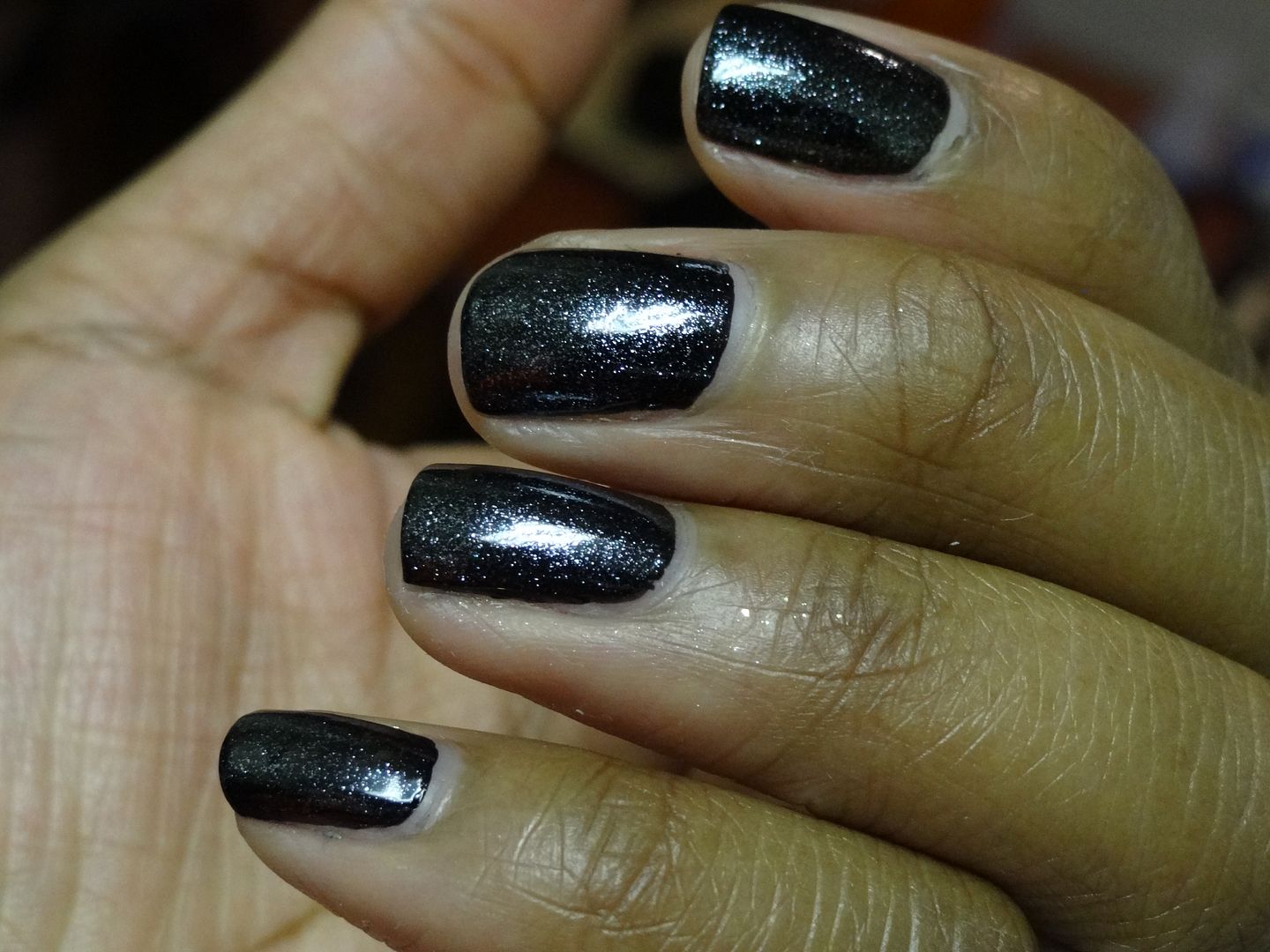 Must Haves:
-Shine Of The Times: Only if you don't own any flakie top coats.
-A Cut Above: It's just soooo pretty. And if you're into making your own polishes, this polish will be a nice addition for mixing.
Pure Pearlfection: It's just beautiful.
I used one coat for each polish and while I used black as a base, I think these will be great over any shades. Shine Of The Times does a darn good job layered over orange and I can't wait to see how Set In Stones will look over Essie's Mesmerize. I'm so proud of Essie. They stepped outside of the box on this one and I couldn't be happier.
Had enough glitter polishes or are you liking these too?
Amor de Lacquer….the series all about nail polish and nail care! Send your requests,
suggestions and ideas to Brittany@ClumpsOfMascara.com.