For the record, y'all…I really don't know if it's "smokey" or "smoky". And apparently the rest of the world doesn't know either. I'm just going to stick with smokey since that's what I've been using all of these years. But it bothers me…I sit up late at night wrecking my mind over smokey and smoky. Bahhh!
Anywhoovers, my homegirl from the great state of Ohio (as Mama Clumps would say) has requested that I do a brown smokey eye. It's been a few months since I've loaded THIS much make-up on my face but here we goes….

Can I give tribute to my brows real quick?

These kids are finally where they need to be and I couldn't be happier. Much much love to Rashmi at Rashmi's Boutique here in Orlando. Having her thread my brows every week and a half has done wonders! I think I'll do a post on her. Whatcha think?
As always, I prime my lids with Too Faced Shadow Insurance eye shadow primer.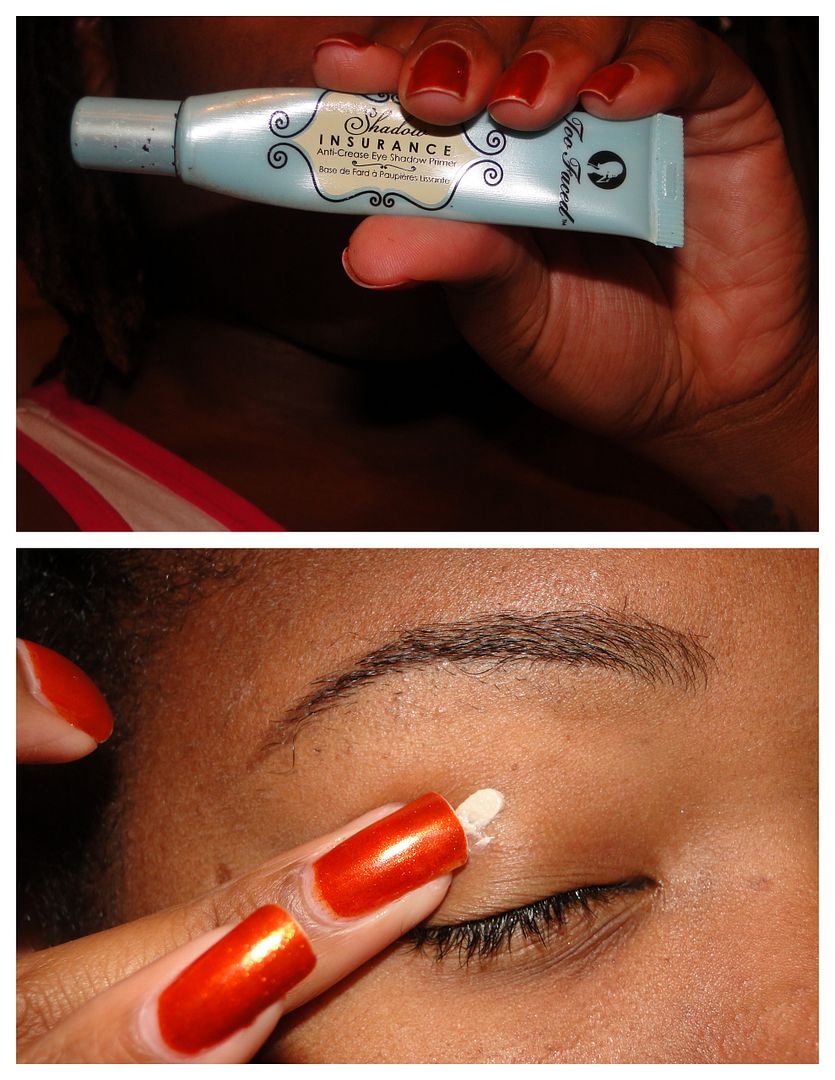 I think I've had this one tube for over a year. As a matter of fact, I've only purchased eye shadow primer TWICE in the 3 years I've been into make-up. This stuff lasts foreeeeevah!
Taking the brown gel liner from my Physician's Formula trio, I used a concealer brush and applied it all over the lid. I didn't worry about it being perfect as I was going to smooth it out later.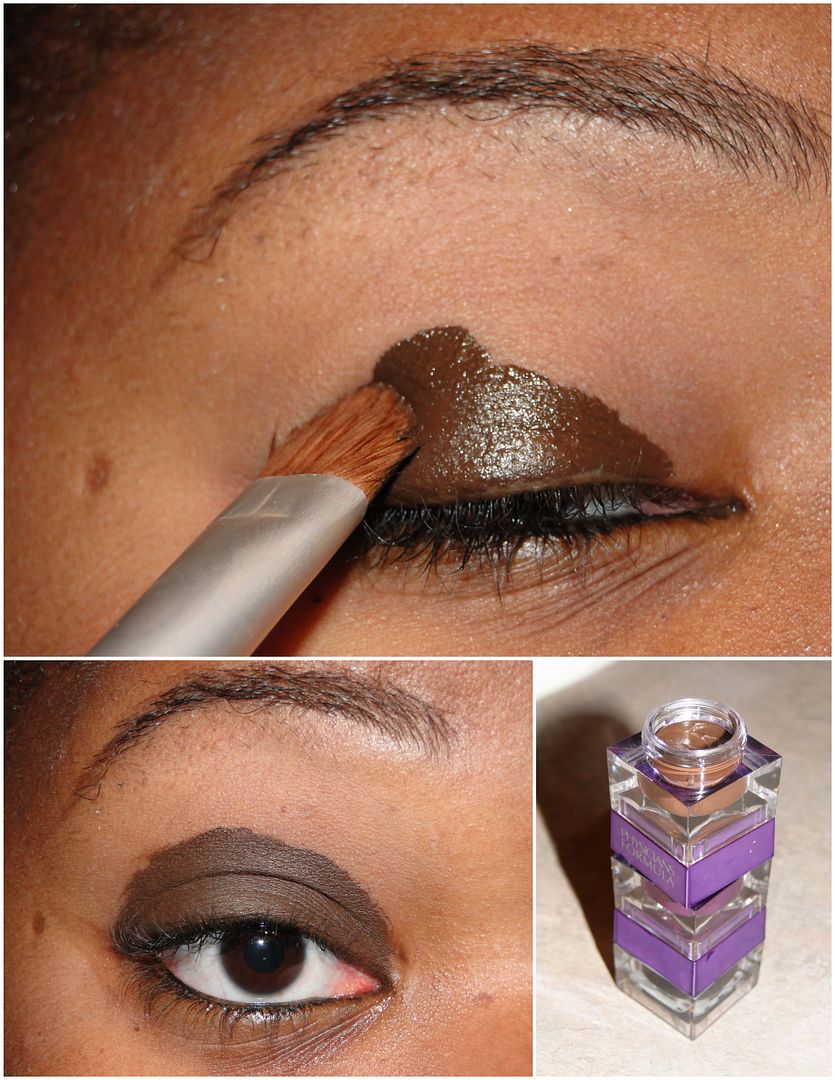 I have never used this gel liner as a base but I am SUPER impressed. It was easy to work with, dried quickly and didn't crease my eye shadow throughout the day.
No need to adjust your computer settings on the next pic…I was in such a rush and didn't realize how blurry it was. Ack! I placed Lancome's Vintage eye shadow right on top of the brown base.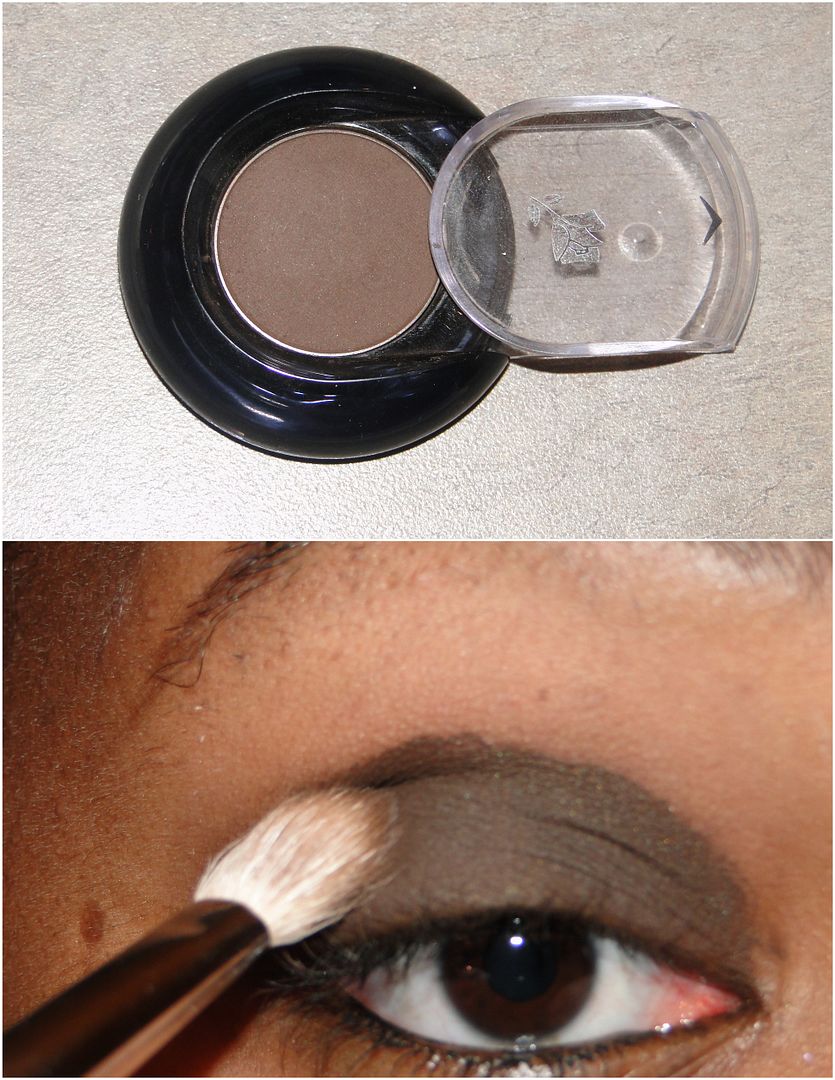 Of course you can use any kind of brown shadows that you have. I find that matte works really well though. Next up is THEE most important step: smoothing out harsh lines.
I took NARS Edie eye shadow to buff out the harsh lines of the brown base. The goal is to allow the colors to flow together without any stark lines. At the same time, I didn't want to be TOO tough on the lids. Remember, crows feet at 25 ain't a good look.
This took the longest as the brown base settled quicker than I thought but alas, I've finally smoothed out the edges and applied a matte white eye shadow to the browbone…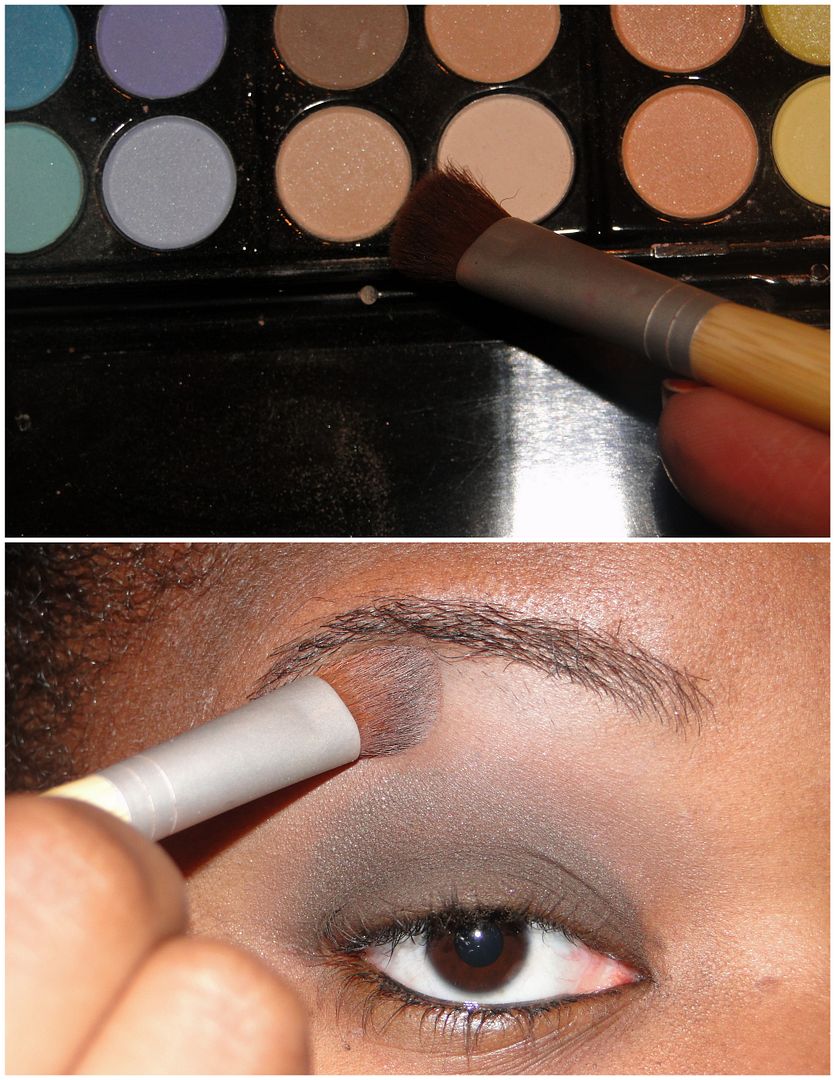 But something was missing. So I added a bit of MAC's Sketch eye shadow in the outer-V up into the crease.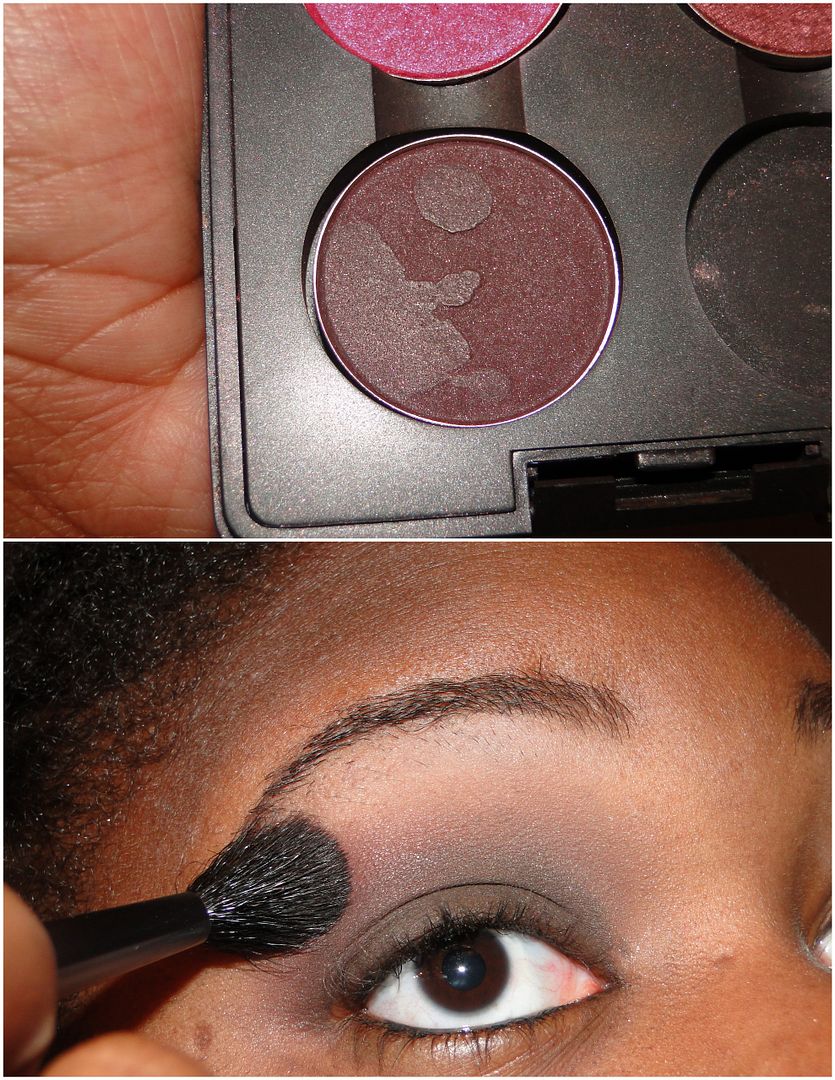 If you don't have that shadow, get it NOW! It is one of the most versatile eye shadows ever. I've used it in so many looks and it always takes the look up a notch. I love you, Sketch!
A bit of a blue liner to had some, liner on the lower lash line and mascara and bam!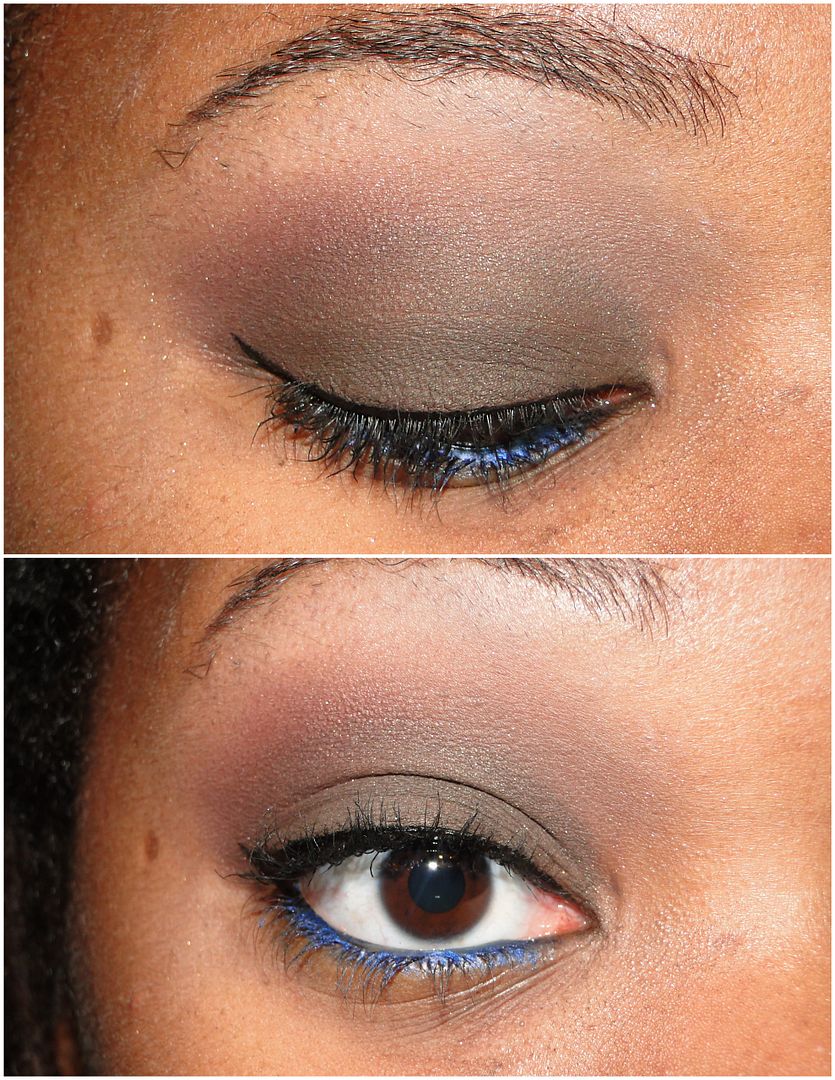 I will forever credit Kia from Yummy411 who taught me how to do a smokey eye. She's the bestest!
I've always get flustered when it comes to doing lips when I rock a smokey eye.  Naturally, I love rich and bold colors but I think they can be over the top when the lids are already dark. So I settled for Lancome's Pink Preview  and paired it with MAC's Vino lip pencil.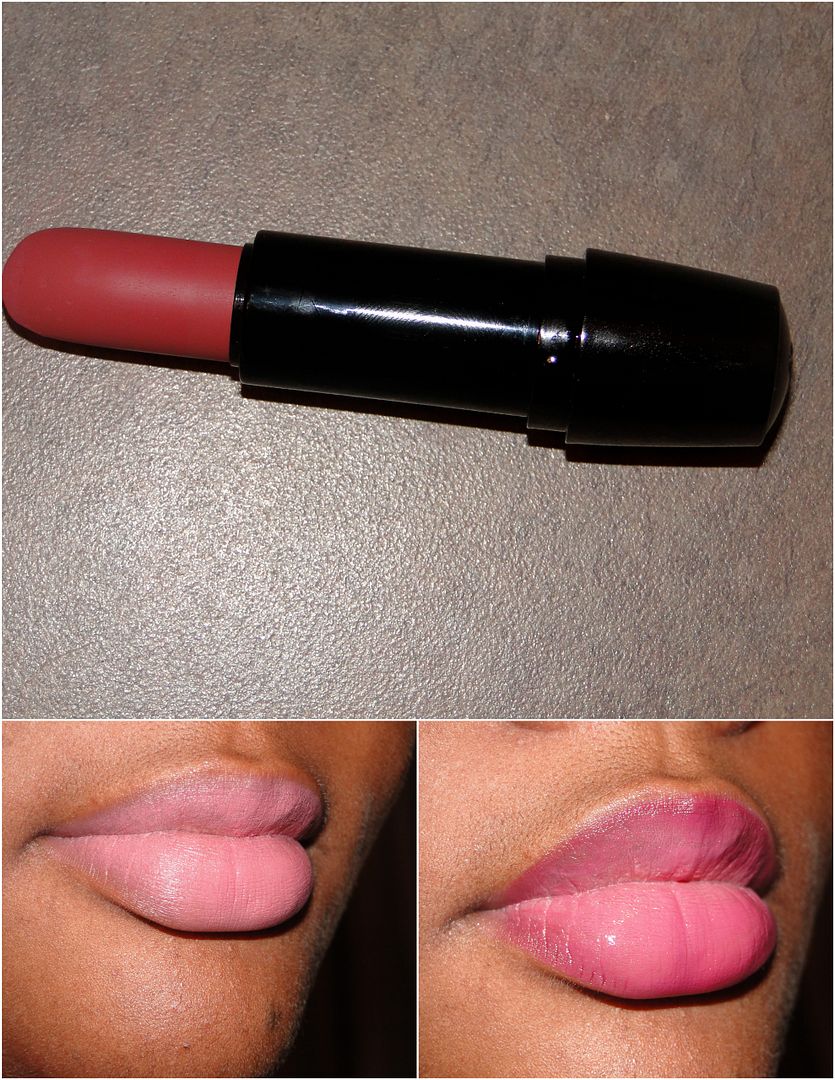 I didn't super blend because I wanted the liner to pop just a wee bit.
Not that I mattered because after I ate, it was practically gone. Ha!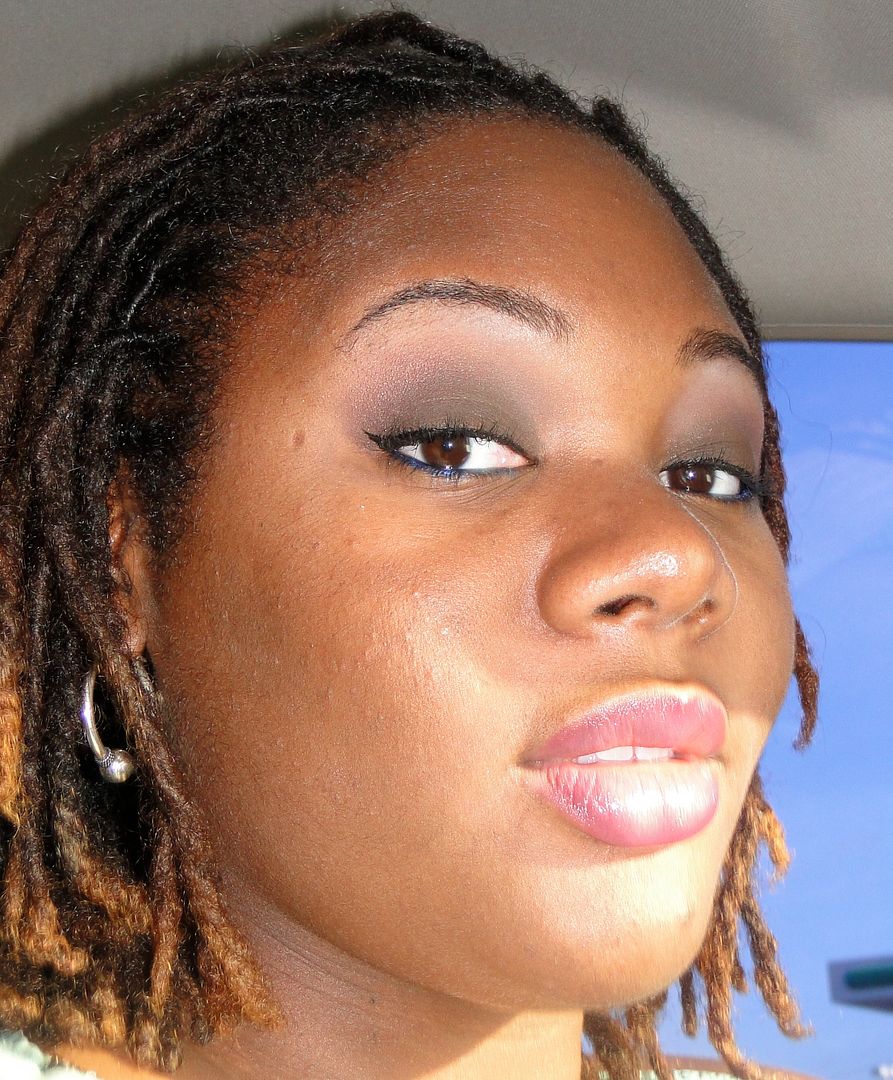 I like smokey eyes and all but I felt some kinda way about wearing in the day time. And quite frankly…it's just too much make-up. I don't know how Kim Kardashian does it. These days I'd much rather go without eye shadow than load it up like this. Look at me becoming a less is more make-up snob. But it was fun nonetheless!
For other smokey eye attempts of mine click here and here.
What are y'all doing this weekend? I've got some major catching up to do with Fashion Week news. And I may even crank out a YouTube video. Although I'm sure my subscribers probably hate me now. Shooting and editing a 10-minute video takes like 3 hours. Mannnn….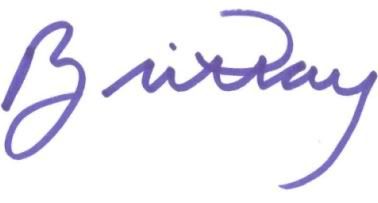 This post contains a sample product sent for post consideration. Read our disclosure policy here.