Happy Friday, lovelies! So the other day a friend of mine told me that she would love to rock a yellow eye but didn't know how to make it work-appropriate. Even anyone can turn a crazy color into something subtle and work-safe, it would be I. And so I dedicate this post to Ri. And to the color yellow.
Because it's a freaking awesome color. Two of the products that were the heavy hitters in this look were MAC's Chrome eye shadow and NYX's Jumbo pencil in Milk.
So here's what I did…
I applied Milk all over my lid. This stuff is tricky. You really have to be sure to blend it out to create a nice and smooth base. But you have to work quickly as it dries and becomes un-blendable in a matter of seconds. Next, I applied MAC's Chrome Yellow right on my lid.
I've had this shadow for quite some time and love how it pops! Especially with a white base. Next up was NARS Edie, my absolute staple.
I call this my bridge shadow. It bridges that 3 mile space from my crease to my brow. I normally don't apply it until AFTER my crease but I had to do things a little differently with the yellow. And whoosh…there goes NARS Albatross highlighter under the brow.
I also penciled in my brows a bit.
P.S., I usually don't like to touch my brows. I don't care how un-even they can be, I much prefer the look of natural brows. But I sculpted them this time.
Lancome's Vintage eye shadow is becoming one of my favs. I used it in the outer-V and blended like a mofo.
After liner and mascara, the lids were done!
I kept the cheeks down to a minimum. The acne medicine that my dermatologist prescribed me is working (I guess???) but is leaving my skin super oily and out of sorts. And for whatever reason, I've been getting cluster acne all over my forehead. Not a good look. So when it came to the face, Tarte's Hotel Heiress topped on the cheeks was all I felt like doing.
And the lips was Inglot's matte lipstick in 09 and MAC Super Dazzleglass in Totally Bang!.
Crazy hot combo, uh? This super pink lip makes the look a little less work appropriate but it was a Friday and I was feeling *snaps* fierce.
So yes, my sistas. THAT is how you can make yellow lids safe for work. And if you really want to block the color of sunshine, sport your eye glasses until you get off from work.
Yep! Been absolutely loving Nubar's Arencia on my nails.
Looks like Mercedes-Benz Fashion Week is popping off again! Yours truly won't be in the spot but I have the Clumps of Mascara team attending events and they will reporting back with all of the happ'ns going down in NYC.
Oh! And Happy Birthday to my baby cousin and Clumps intern BriAna.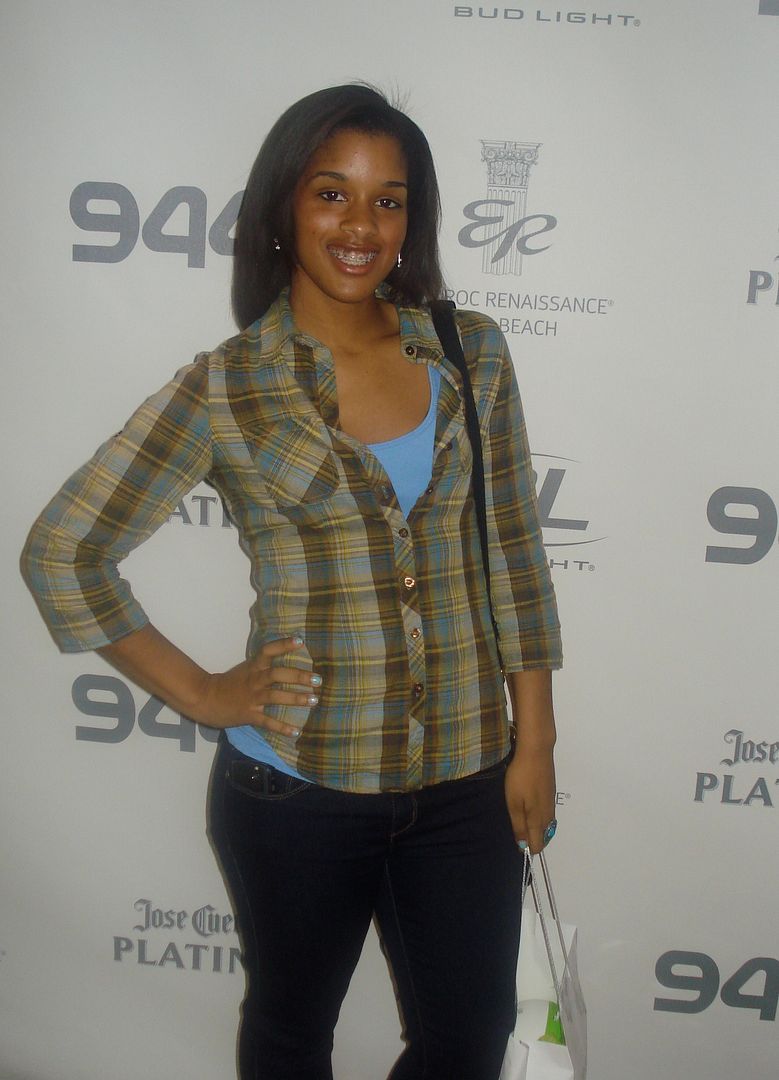 My baby turns 17 today. Bri plays such a huge part in Clumps as she assists me with every Miami industry event that I attend. We love you, BriAna! Continue representing us Bri's well. If you made me any more proud, I would burst into glitter.
Loves y'all!
Have a fabulous weekend,