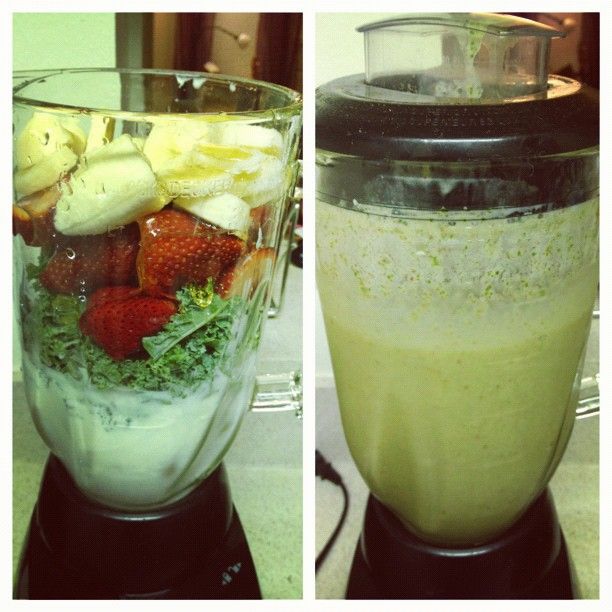 Greeeen smoothies. They are no strangers to Clumps of Mascara. I am forever tweeting about these glorious beverages. And when I'm not tweeting about them, I'm encouraging people to drink them. I could very well be a Green Smoothie Ambassador. If such a thing existed.
Actually, it does now. I just made it up. Yeeeep!
As your resident Green Smoothie Ambassador, I think I'm going to start blogging more about the green smoothie recipes I'm whipping up. Whatcha think? I get SO many questions about 'em (most of which I covered here) and instead of being redundant, how about I do weekly posts on 'em? Or maybe bi-weekly?
In addition to posting recipes, I'll be sure to provide alternatives. I only drink dairy-free (with the exception of Greek yogurt sometimes) smoothies but I know some of y'all don't mind cow's milk. Also, keep in mind that these recipes are from a result of my own experimenting. Unless otherwise noted. You may or may not receive the same results.
The above smoothie was one that a whipped up a few days ago. I knew that I was going to have a serious day at the gym the next morning and wanted a smoothie that was filling and gave me protein. And sooooooo here's what I mixed up.
-A handful of kale
-1 cup of coconut milk
-1/4 cup of almond milk
-A few ice cubes
-1 cup of fresh strawberries
-1 package of Chobani yogurt (vanilla)
-1 small banana
-2 tablespoons of honey
-Dash of ginger
This smoothie was deliciousssss. Some of my Instagram friends give me some recs for protein powders and I'm going to pick some up this week. My workouts are become more and more intense and I'm going to need as much protein as I can get.
Yay for green smoothies!