Who wants to see another beautiful eyeshadow palette? The last time I played around with Laura Mercier was when I dabbled around in the foundation and I was in love. I've heard great things about the eyeshadows and haven't had a chance to test drive them until now.
How stunning is the Limited Edition Luxe Eye Portfolio?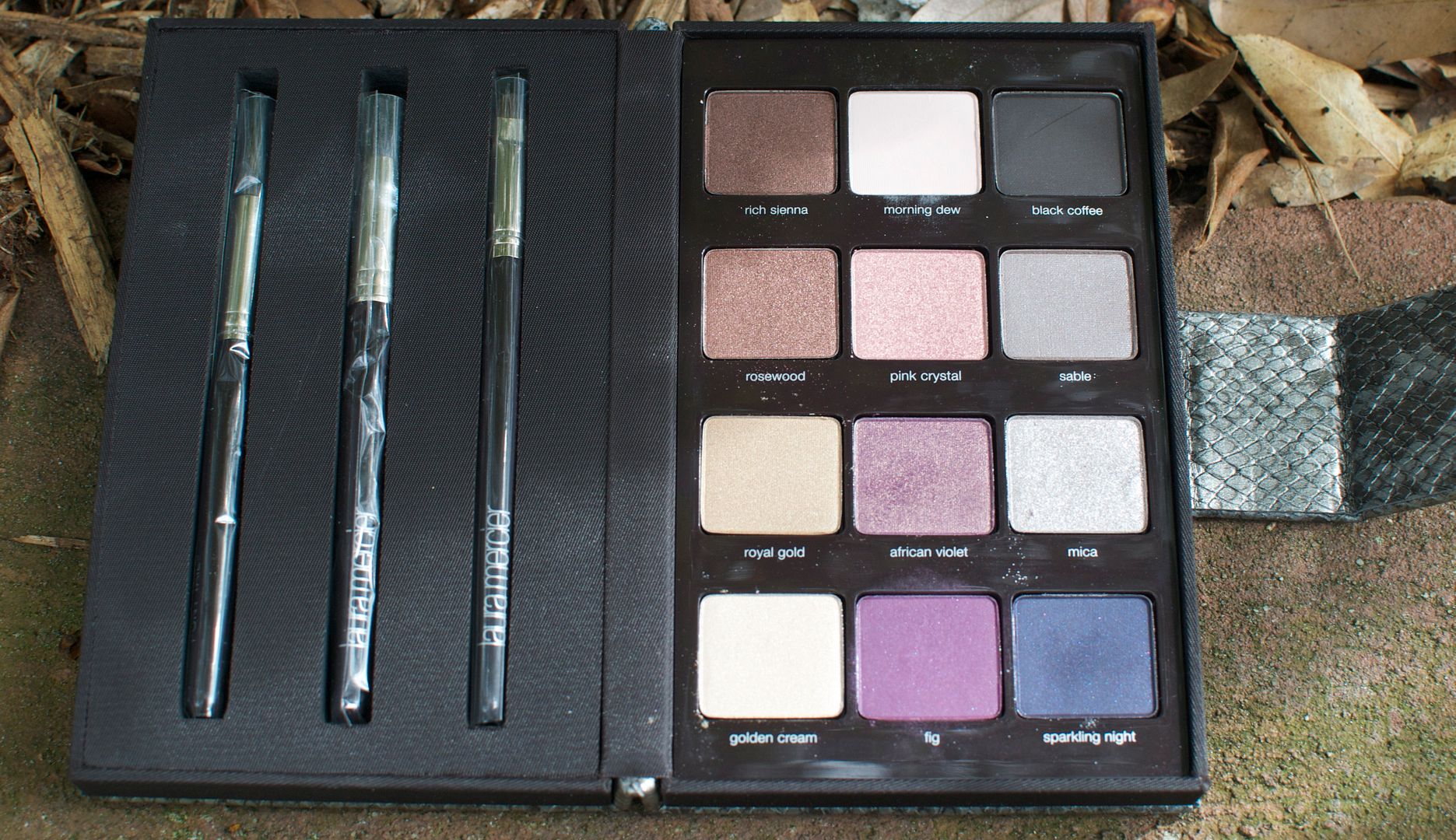 Okay, so as pretty as it is, it comes with a price. Literally. This baby goes for  whopping $98. While some of y'all may be gasping in horror, some guys and gals out there have no problems spending close to $100 on an eyeshadow palette. Just because you may not spend as much on a beauty product, doesn't mean someone else won't, ya know? The good news is, if you do spend your pennies on this palette, you won't be disappointed.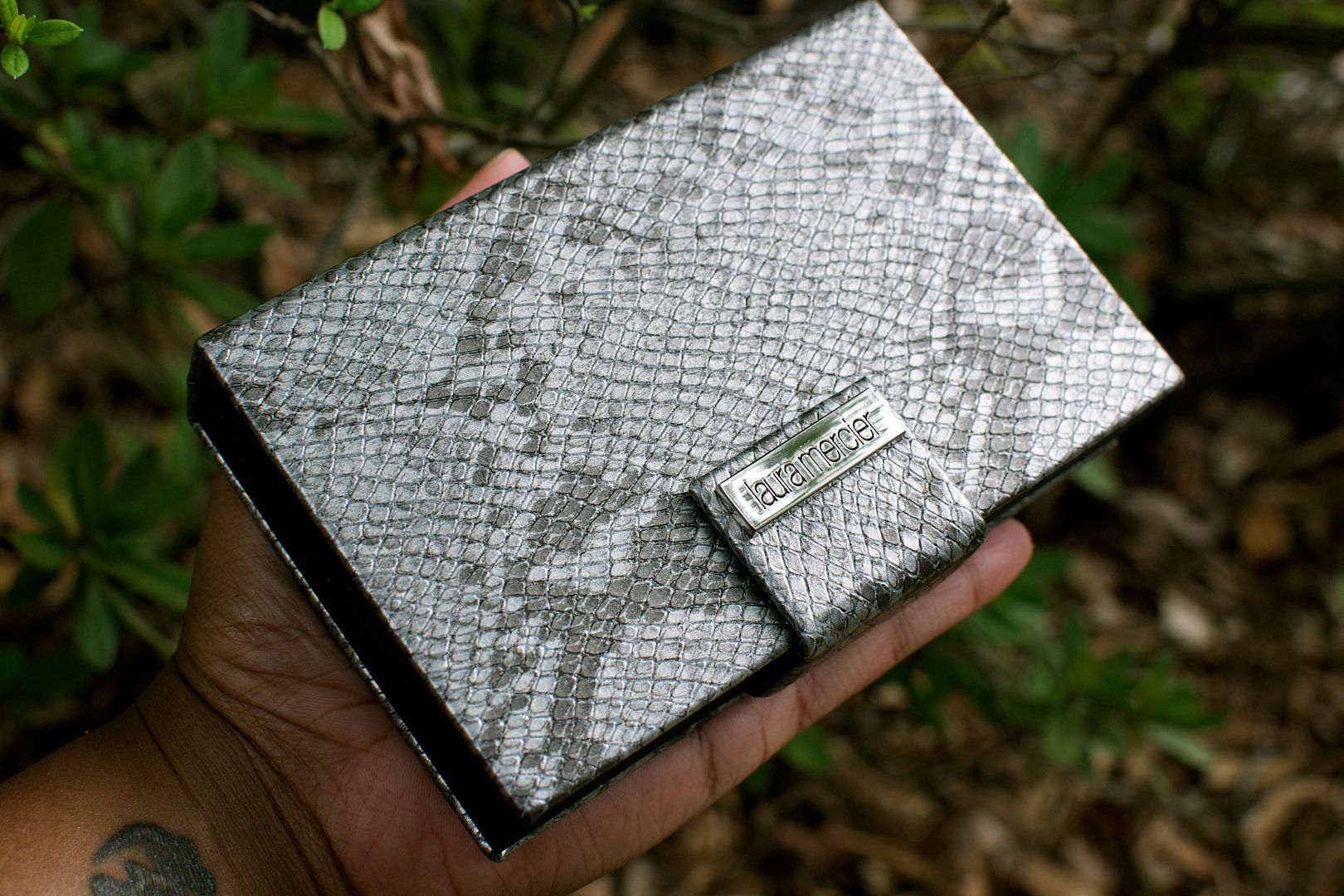 What LauraMercier.com has to say about the palette:
Perfect for home or travel, this beautifully packaged faux snakeskin organizer includes a collection of twelve new, exclusive and top selling Eye Colour shades, plus three mini professional Brushes that allow you to mix and match shades to customize your look.
The faux snakeskin portfolio feels nice and extra luxe. No cheap material here yo! And I love how totable and small the palette is for throwing in a purse, bag or suitcase.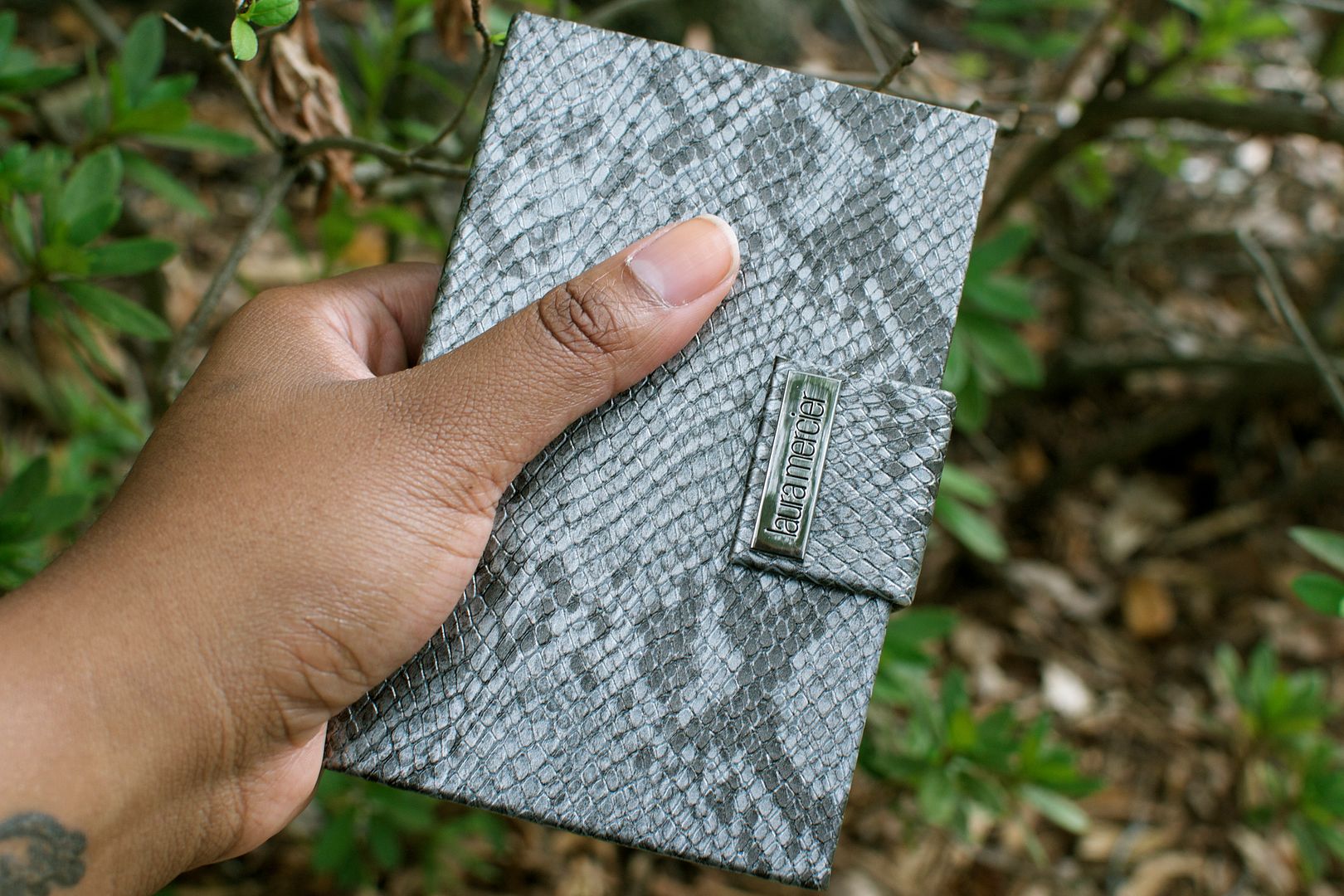 Y'all know how I feel about traveling with extra bulk so this palette is the perfect size for me. Aaaaand, it's small enough to sit snuggly where ever you store your makeup at home. To the left of the eyeshadows sit 3 travel size makeup brushes.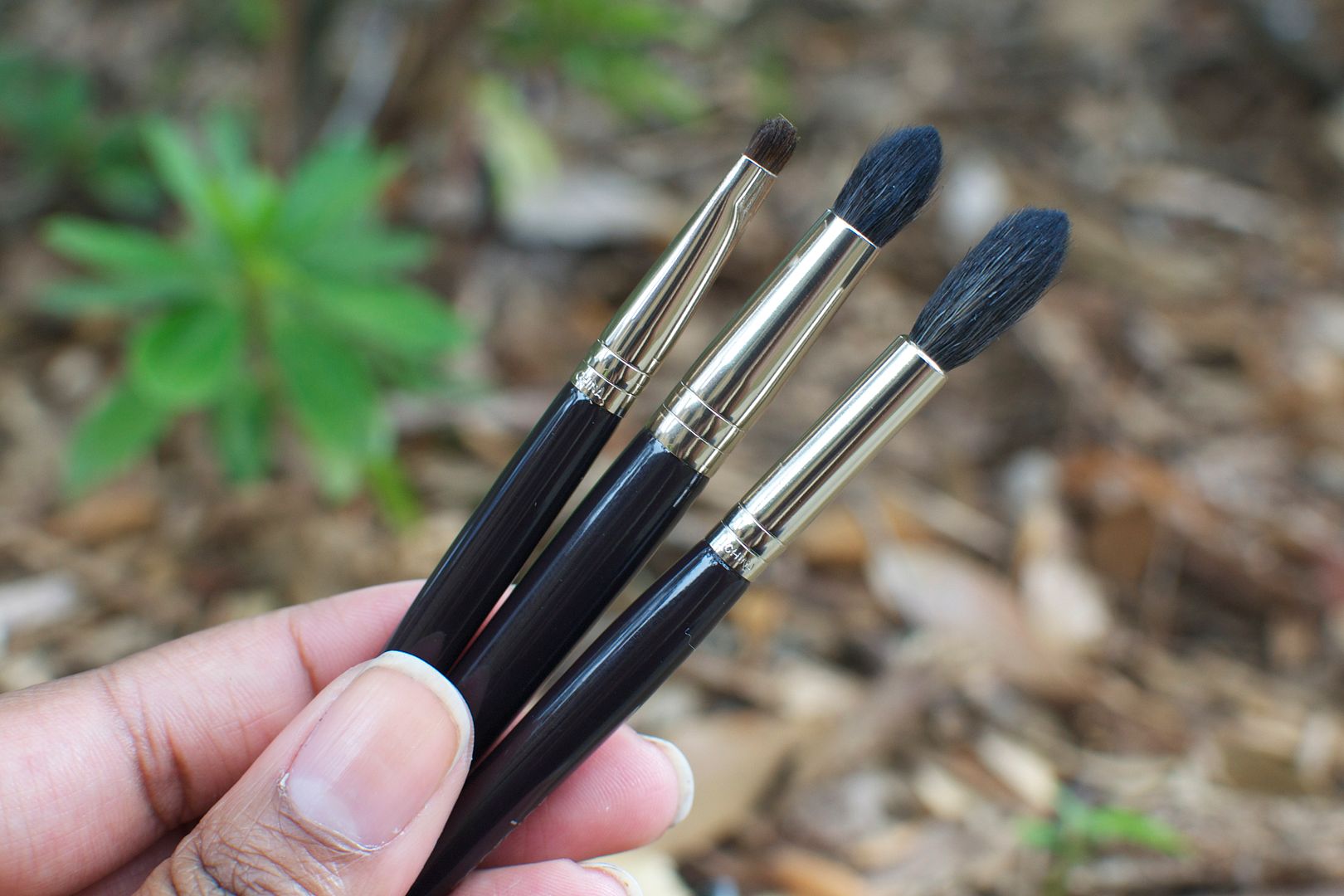 It took me a second to figure out what their functions were until uh…I flipped 'em over.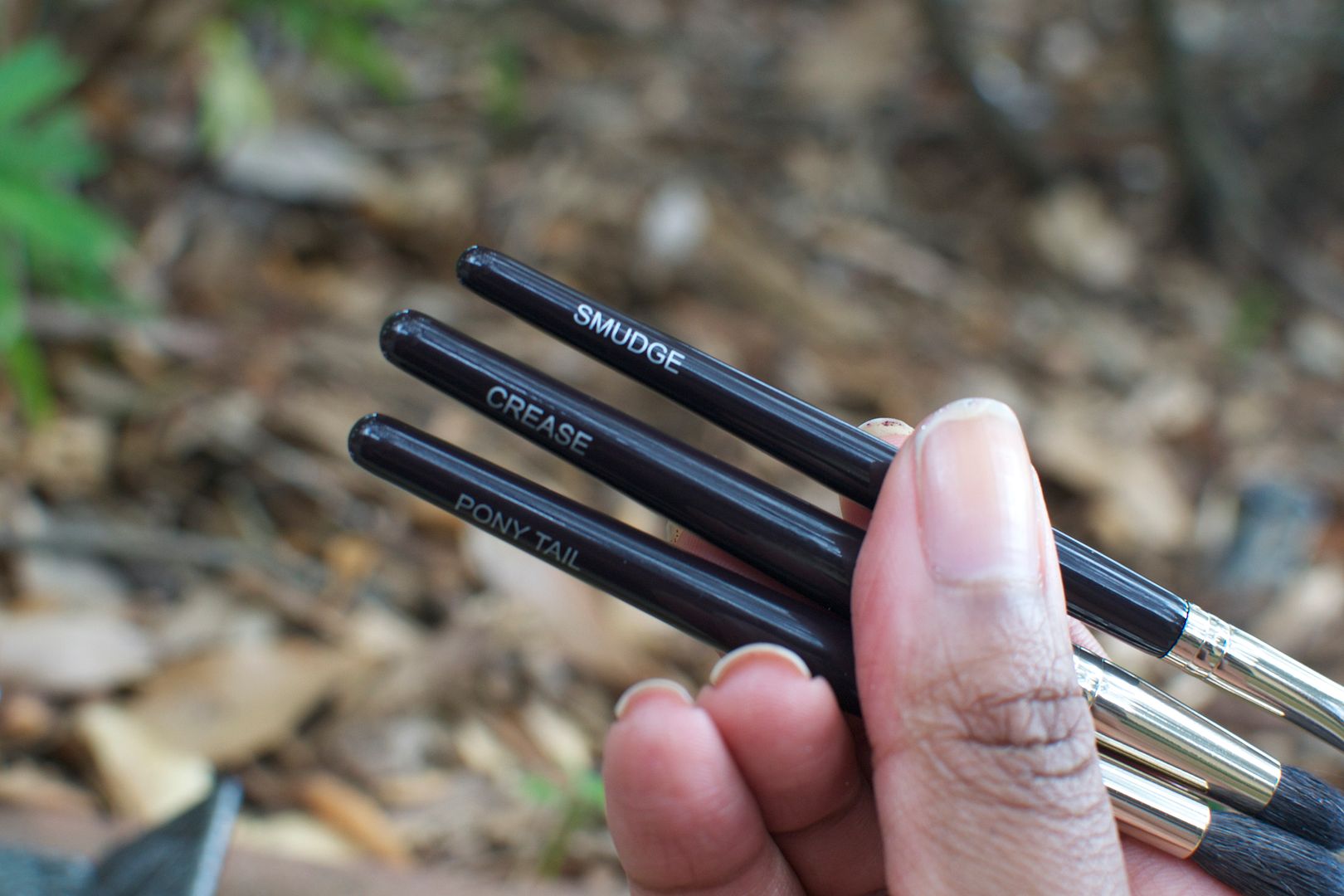 Each brush is stiff but I didn't find any of them particularly useful for applying eyeshadow. The crease brush is great for applying eyeshadow on the Crease and the Ponytail brush seems to be a longer version of the Crease brush. So yeah…I can pass on the brushes. The shadows totally make up for the brushes' disappointing marks.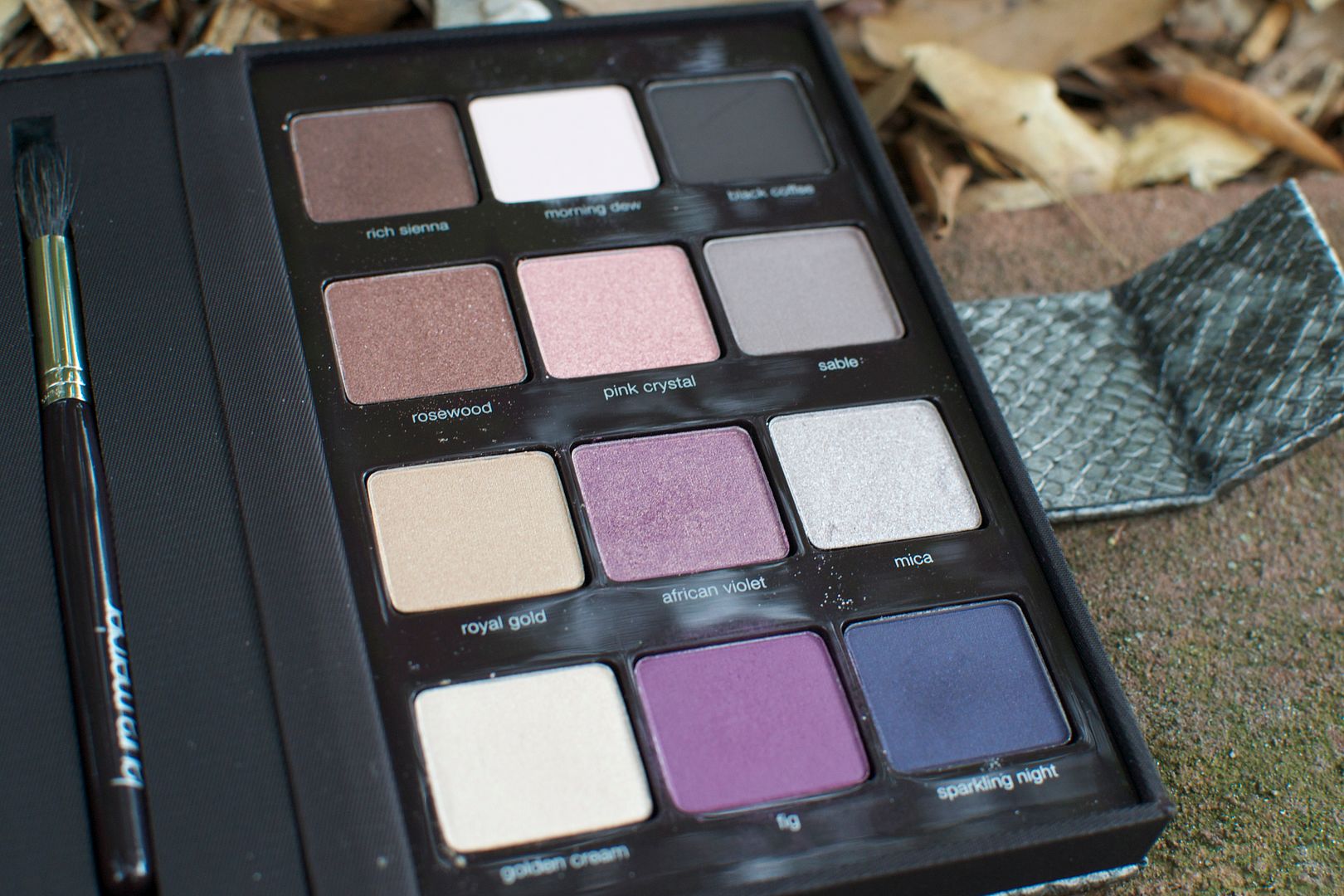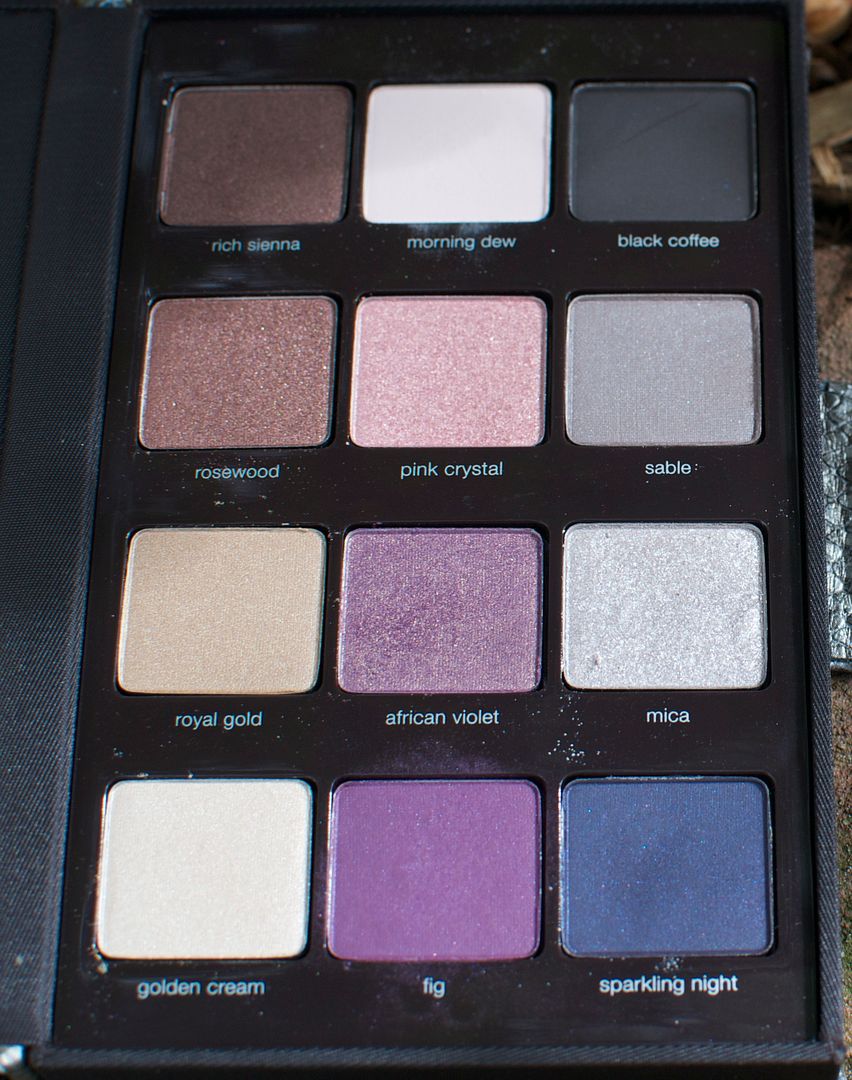 The color selection and textures in this palette is superb. You've got good selections for highlighting the browbone, good neutral shades and shades that can create a bangin' smokey eye. As far of textures, you've got mattes, shimmers and frosts. And do you see that matte black? Yes! I always jump for joy when I see matte black eyeshadows in palettes. Laura Mercier must have had beauty bloggers in mind because the shadow names are listed on the palette. I love that!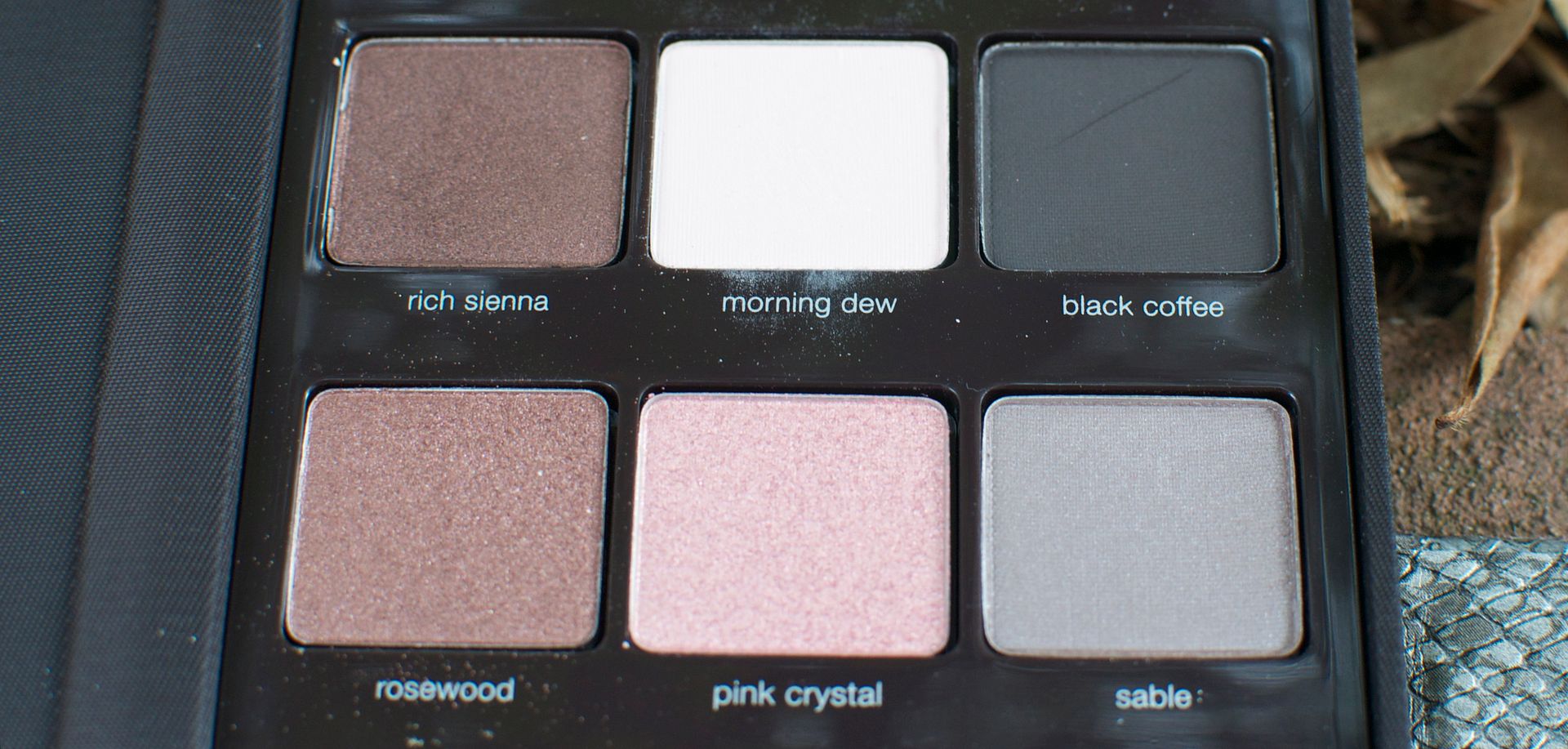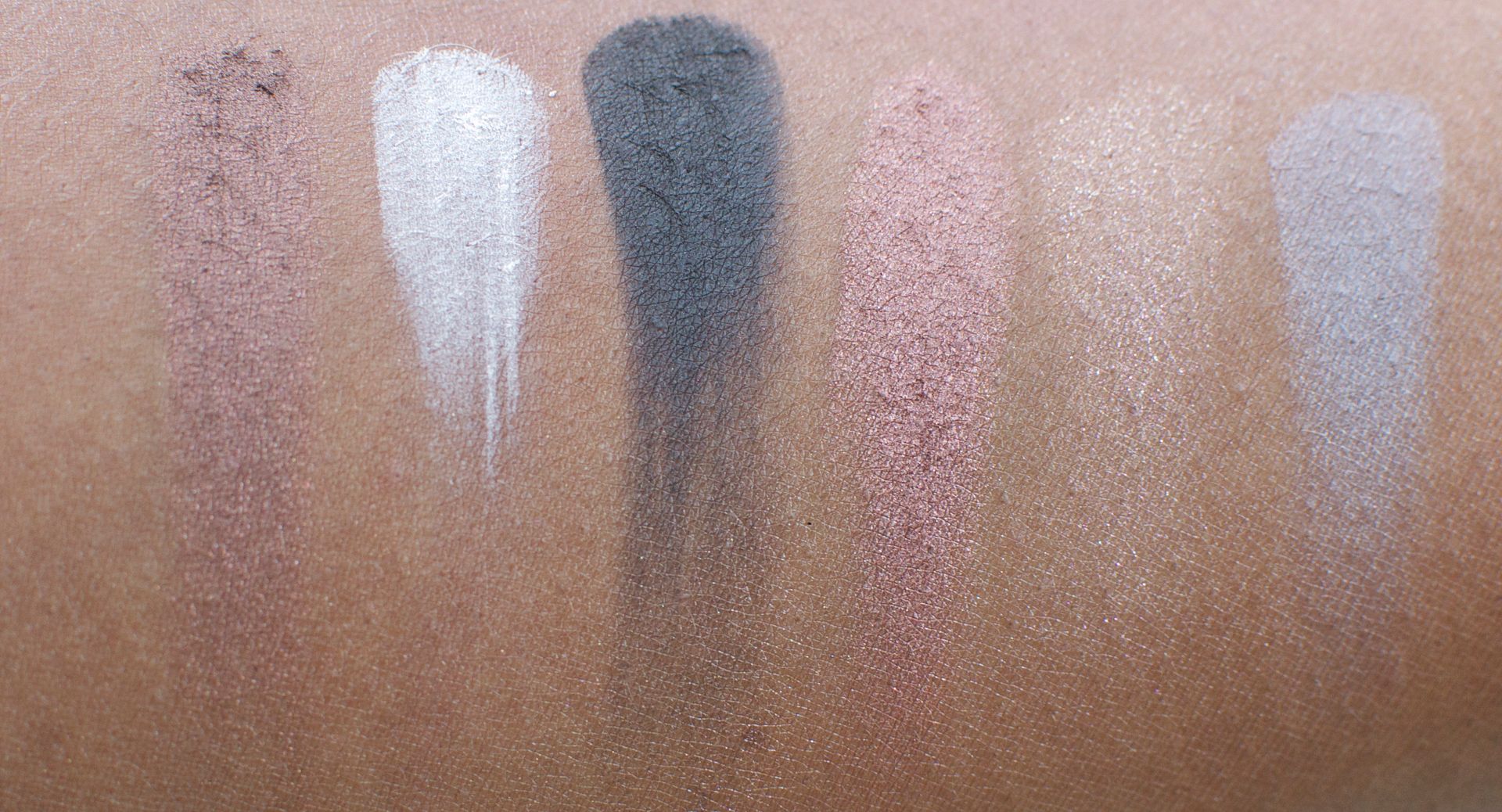 Rich Senna : A fantastic muted brown with subtle shimmer that will be great for work looks.
Morning Dew: A matte white that is great for sweeping under the browbone.
Black Coffee: Ahhh, the wonders you can do with a matte black. This one is silky and lovely.
Rosewood: Another great shimmer with a rosy touch.
Pink Crystal: This is the only shade that will require some packing on.
Sable: A gray-ish purple that isn't as pigmented but nice.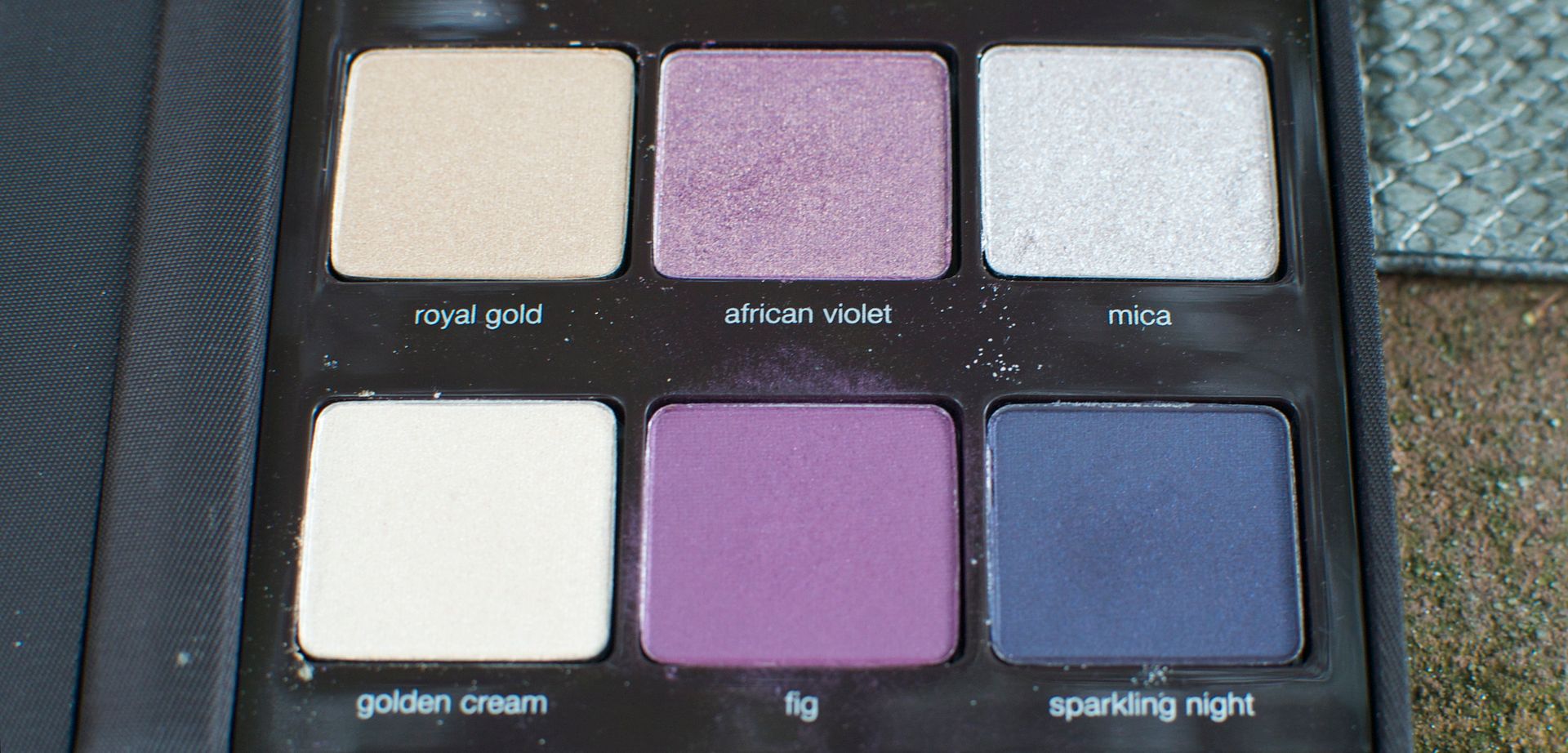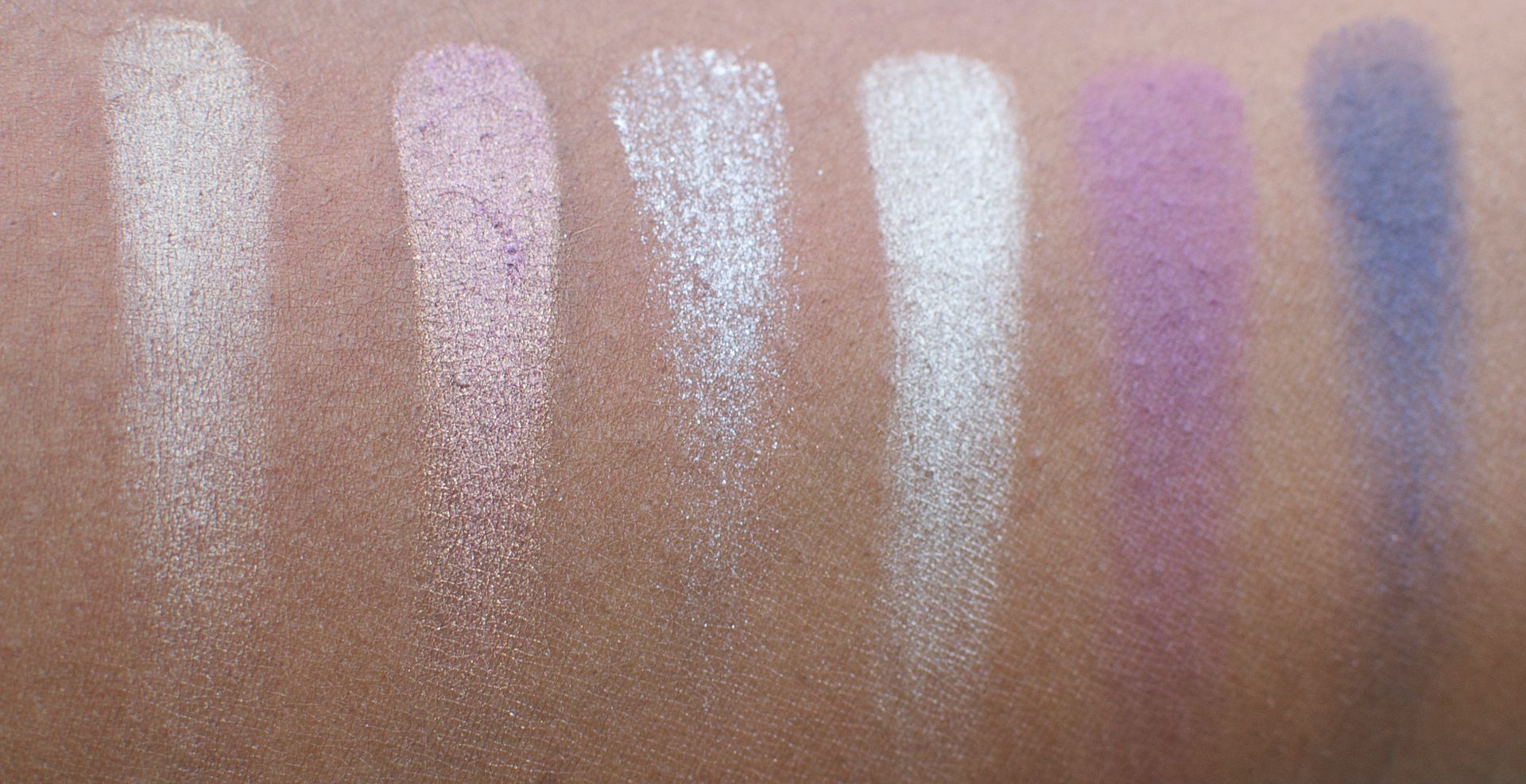 Royal Gold: A muted gold great for applying right on the lid.
African Violent: A purple and gold wonderland of a shadow. This baby has lots of personality.
Mica: A pleasant glitter bomb of a silver.
Golden Cream: Another great shimmer to apply under the browbone.
Fig: A matte violet that that takes a bit of applying to really pop
Sparkling Night: A beauty navy blue.
These shadows really surprised me. Even the ones that were just so so at initial swatch really  came to life with a bit of packing on. I didn't experience any fall out from these shadows either.
Perfection, I say. Perfection.
Who is this palette for?
Those who want an all-in-one palette.
Those who don't mind spending close to $100 on a palette.
Super duper Laura Mercier fans.
So yes, the price point is up there but with MAC eyeshadows going for $10.50 a pan, getting these 12 shadows for under $100 isn't a bad idea. If you just HAVE to get this palette better get it quickly. Remember, it's limited edition! Snag it from
LauraMercier
.