L'Oreal's newest mascara has hit the scene and I can't even begin to tell y'all how many emails I got about it. You must trust me, darlings. If you see that a new mascara has hit the scene and I have yet to review, trust and believe that a review is in the works. I be on it, mannnn.
Okay, let's get serious. While I've always been a fan of L'Oreal Voluminous (I think it's better than DiorShow), I didn't think that L'Oreal could tweak it to make it any better. Unless, of course they changed the formula to make it less thick. Which, of course, would mean…lesser or no chances of clumping.
The mascara crew at L'Oreal listened to my inner thoughts and viola—Million Lashes was born. Is it a winner?
L'Oreal Voluminous Million Lashes
Price: 4 out of 5
Packaging (brush wand): 4 out of 5
Overall: 3 out of 5
What It Claims: It's a mascara that defines volume. Well, obviously…it does have "voluminous" in the name. 🙂 Check out the packaging…
The Truth: Eh, well…
What I Loved About It: This mascara has what's called a Millionizer brush and I absolutely love it.
What I Didn't Like: There were several things that I didn't like about this mascara. I know, I know, hate to be so negative but y'all know I like to kick the truth to you. So here goes…
Overall: First, let's talk about the best thing about this mascara: the wand. It rocks. I love mascara wands like this. Those tiny bristles allow you to comb and separate with ease. However, I find that wands like this only work well if you are looking to lengthen your lashes. They don't seem to be as effective with volumizing. We will leave plusher wands for that task. That said, if voluminous lashes is what you're looking for, despite the name of this mascara, you won't find it here.
Now, I WILL give it to L'Oreal, the outer packing of the mascara is great. It's pretty and shiny and get's an A+ from me in the Bling Department. I also dig the excess wiper. Click here to see a video how this works. Essentially, a narrow part of the top of the mascara tube makes it so that you don't pull out a mess load of mascara. Which is supposed to mean, less clumps. The theory makes sense and it actually works. I didn't find myself pulling out a ton of mascara and there wasn't any extra on the tip of the wand. Perfecto!
But all can't be good in the hood. I found the fomula to be TOO thin. And unpleasantly so. It was almost…watery. Ain't that irony for you? The original Voluminous is too thick and now this one is too watery? You'll get it right soon, I hope, L'Oreal.
And then there's the smell. Yes, I said it. It smells…strange. Or is it just me? While the smell dissipates after it dries on my lashes, the fact that I actually SMELL my mascara is just weird to me. No me gusta.
Let's let the pictures talk.
Bare Lashes
(did not curl lashes)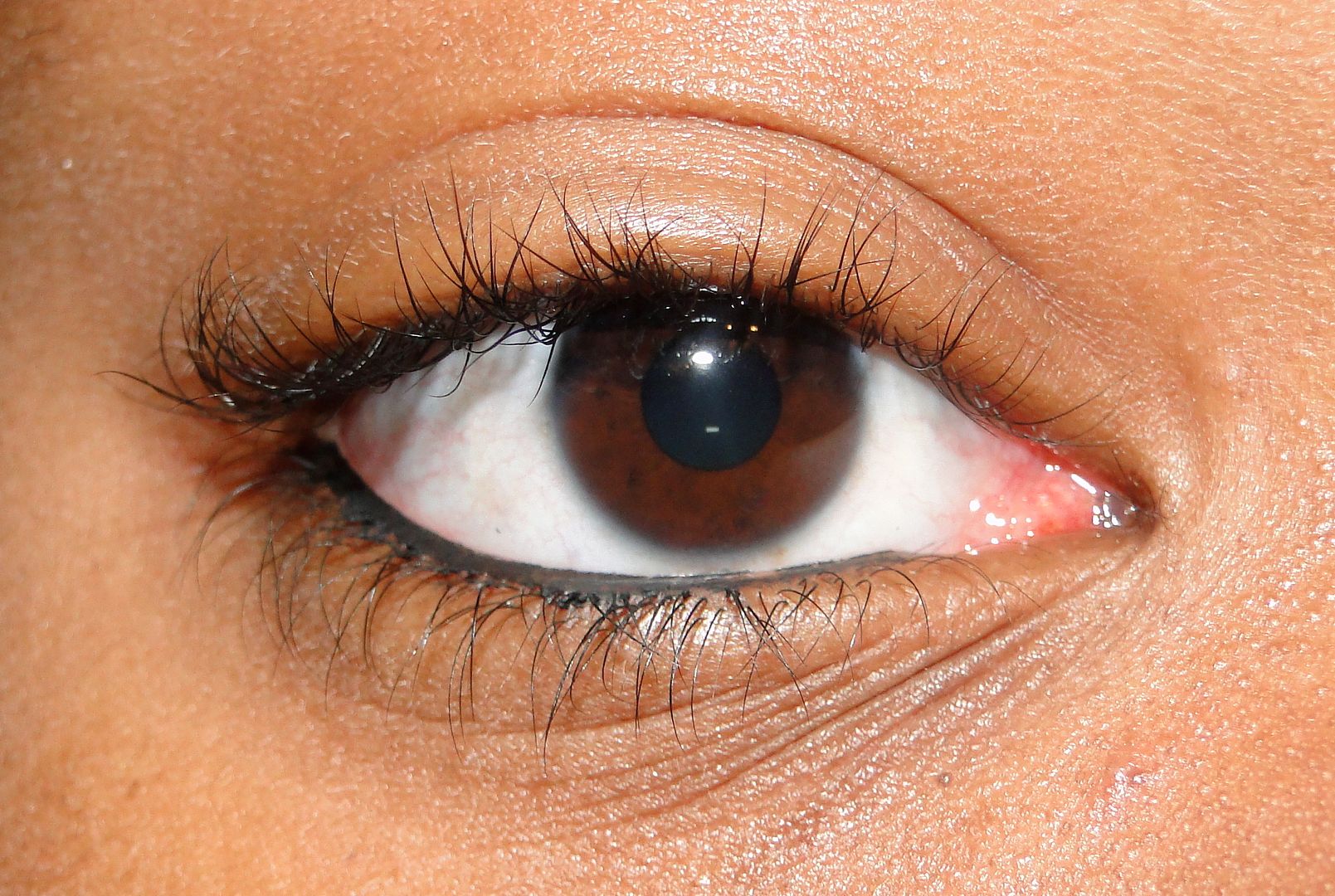 Lashes with 2 coats
While it lengthens, the volume is just not there. A third coat would have sent me to crispy Clump City. That's right, crispy. This mascara made my lashes too stiff.
Would I recommend it?: Only if you're looking to try a new mascara for fun. If you already have a favorite, chances are this one will not top it. And speaking of fun…or fun-nny rather, check this out.
What are lash inserts? False lashes? Sooo, in order for my lashes to look like Eva's, I'll have to use Voluminous Million Lashes inserts on TOP of lash inserts? Hmmm. Yes yes, I know that MOST (if not all) mascara advertisements are of ladies wearing false lashes but this is the first time that I've seen a brand be open about it. What do you think?
Have you tried this mascara yet? Love it? Hate it? Could care less? Let a sista know!
Your favorite mascara reviewer,