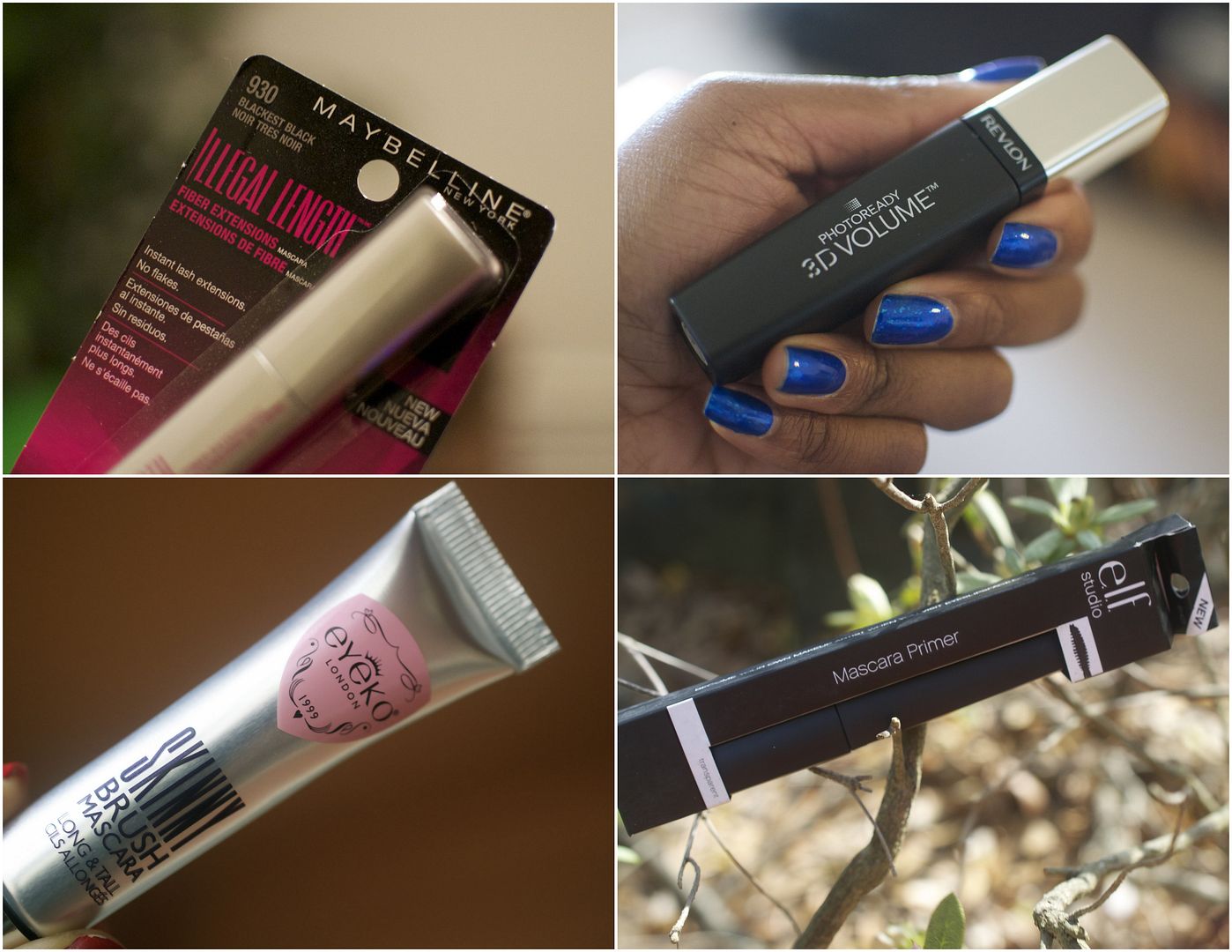 Wanna know a secret? Sometimes I don't want to wear mascara. Actually – that's not really a secret. I'm probably the only beauty blogger that doesn't regularly beautify. I mean – even getting me to put on eye shadow has become a feat these days. What can I say? I love writing about makeup and playing in makeup but wearing makeup? Meh. Sometimes I'd rather not.
I'm giving my lashes a break this week and so instead of Mascara Monday, I'd doing a mascara mash-up. Below are some of the best, worst and most interesting mascaras that I've reviewed in the past few weeks. I'll show you what reviews you can look forward to and the comment section is open to your mascara suggestions. Yep yep! If there's a mascara that you think I should try and review, let me know and I'll add it to the list.
Hollerssss!!!!
The Hotties
–e.l.f. Studio mascara primer – What's not to love about a mascara primer that costs a whopping $3?
–Maybelline Illegal Length Fiber mascara – Fiber mascaras are the hottest things on the beauty markets these days and it was great to find a drugstore one that actually performed nicely.
The So So
–Noir G de Guerlain Exceptional Complete mascara – This $50 mascara is costly and fragrant but for me it was just…okay.
–Eyeko Skinny Brush mascara – This baby gets an A+ for unique packaging but the teeny tiny wand and underwhelming formula gave it an overall C.
The Memorable
–Urban Decay Lush Lash mascara – Not only was it a good mascara but it marked the 150th mascara review on Clumps of Mascara. Woo hooo!!
The Shocking
– Revlon PhotoReady 3D Volume mascara – Could it be? Did Revlon really have a mascara that didn't make me gag? This is like….a first!!
– Hourglass Film Noir Lash Lacquer – Because have you ever really heard of a lash lacquer before?
–COVERGIRL Lash Blast 24HR mascara – Wait. A mascara that lasts for 24 hours? How is this even possible.
Schoolin' Ya
How To Apply Fiber Mascara Effectively – An expert post by a fellow beauty blogger.
The upcoming mascara reviews….

Want me to review a mascara? Let me know in the comments! Please keep in mind that because I only have 1 one set of eyelashes, I can only review the highly requested and fairly new mascaras on the market.
Have a fabuuuuulous Monday!