You know what?  MAC Cosmetics gets an enormous fist from me. This mascara was listed on their website for months before it was released in store. No bueno for a mascara fiend like myself. Of course I could have ordered it online but who wants to wait THAT long? Well here we are, darlings….was this mascara worth the wait?
Packaging (Brush Wand):
3 out of 5

What it claims:
This two-in-one mascara is an innovative way to customize your lashes. Select and shimmy brush from root to tip for desired effect – naturally defined, or full-on dramatic! State-of-the-art conditioning and hydrating formula prevents parching and flake-outs.
(source)
The truth:
Soooo loving the drama!
What I loved about it:
The packaging. Gotta love the the two wands and their pink and purple handles.
What I didn't like:
Uh…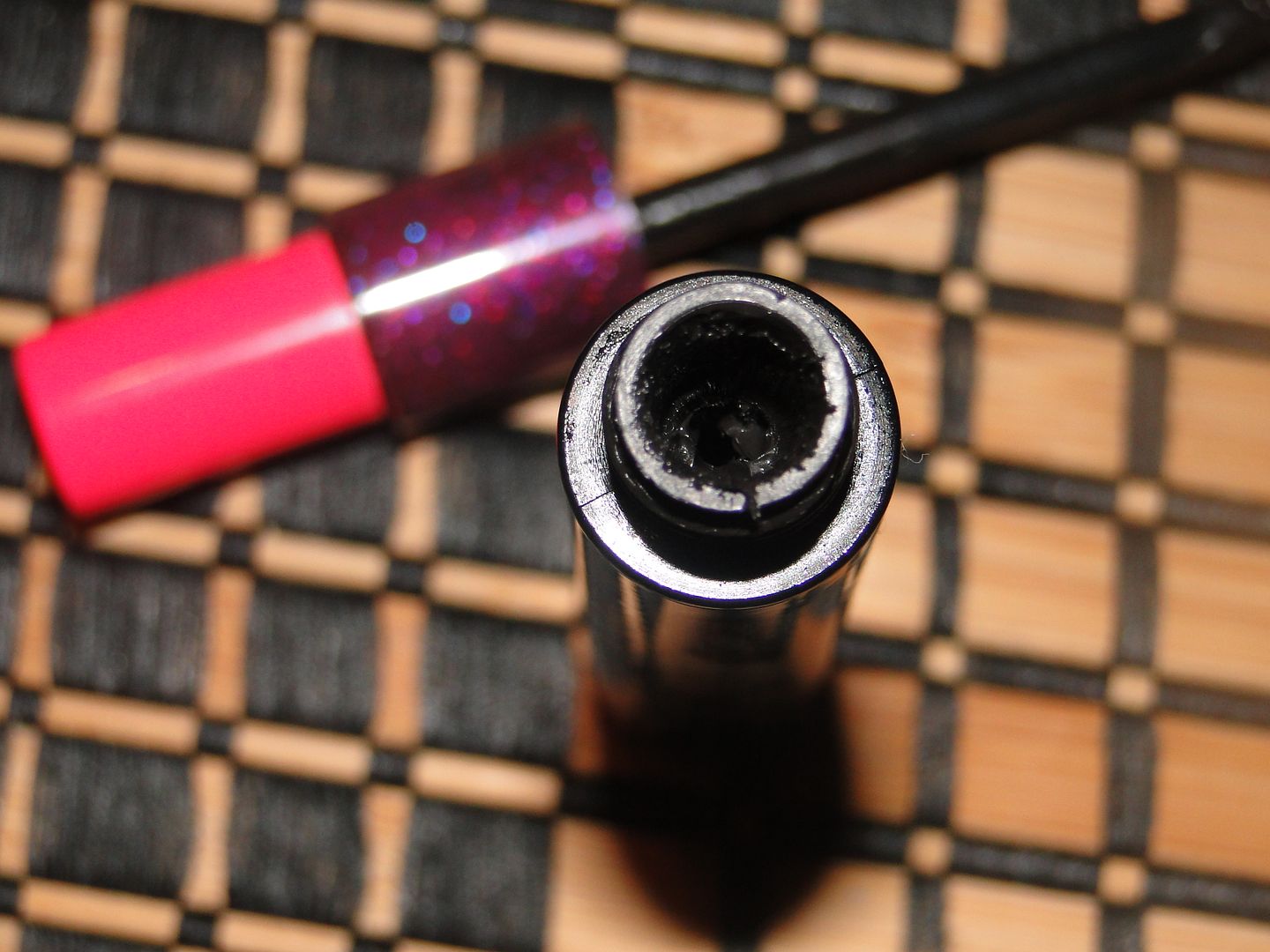 Yeah. That black hole frustrates me and can make the mascara a little goopy. Don't be like me and try to "investigate" the mascara and figure out how it works. Don't pull out both wands at the same time. Just use it and move on, sista. I wasted a ton of mascara by trying to pull out the wands at the same time. That's what I get for being nosy. 🙂
Overall:
Well MAC, I know that I trash talk you a lot. Which is crazy because I was beyond obsessed with you back in the day. But you know what? This is an awesome mascara! I am very impressed. The drama is intense and super dark. Before you freak out over the price ($18 compared to MAC's regular mascara which cost $14) know that you're getting TWO mascara wands. I kinda dig this idea. I would have loved to see directions on how to use this mascara though. Which wand works for what? It takes some experimenting to see which one works best.
Just to make describing them easier, I've given the kids nicknames. Reppin' for the purple wand, we've got Big Purp.
I had a few problems with this brush. It isn't one of my favorites as I find that it collects a lot of mascara when you first take it out of the tube. Of course you can wipe the excess of the side but that's an extra step that I hate making when applying mascara. But despite that…it actually delivers. And beautifully! Ladies with smaller lids and lashes will have to be careful as a wand this large may inevitably end up on your lower lash line. Small strokes and wiggling can alleviate this a bit. The good news is, one coat does the trick when you use this wand. Watch this.
Bonkers right? And then there's the other wand that I nicknamed Pinky. Pinky's wand is more up my alley.
That's a little better. It isn't as loaded up with mascara as Big Purp is. Buuuuut….Pinky's flaw is that it is a wee bit flimsy. I find it harder to get control when using this wand. Not a big downer but for my newbie mascara users, Pinky may give you some issues. All in all, it still delivers in terms of how it looks on the lashes.
Truth be told, I can't find much of a difference from Big Purp and Pinky other than their appearances. They both give thick, lush and volumized lashes. The good news is, the results from both were done with only ONE COAT. Hollers!!!
But there is a downfall. I find that the mascara is a wee bit flaky. It removes similarly to a tubing mascara in that if you simply massage your lashes, it will start to flake off on your fingertips. I don't like when mascaras do this because the little particles always end up falling into my lashes. Especially while I'm doing things in which I can't rub my eyes. Like driving. Womp!
Would I recommend it?:
Fo sheezy. Despite the flakiness, I find that it is still a great drama mascara. I like that the two wands gives you options.
Have y'all tried this mascara yet?
A crazed mascara reviewer,