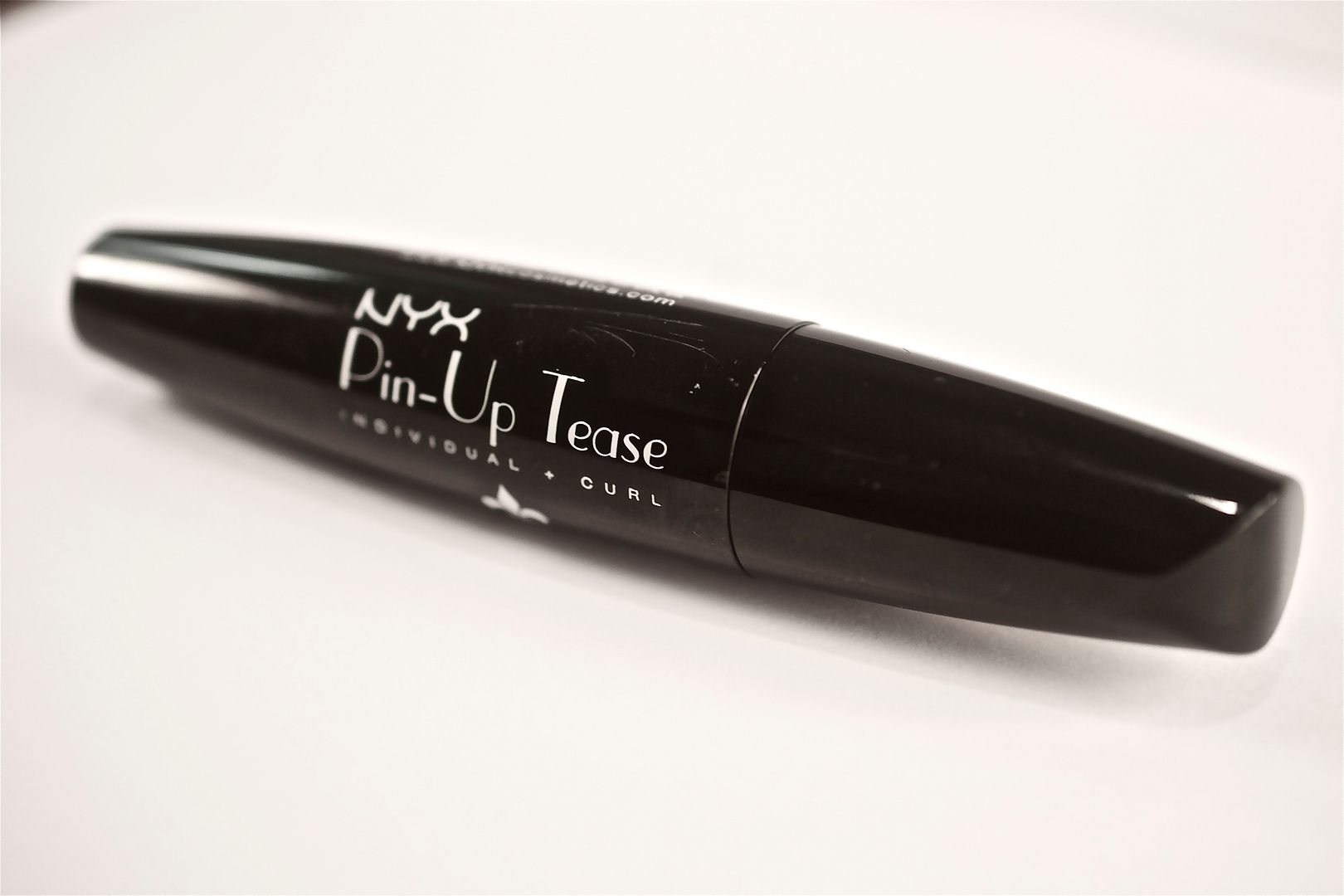 So. Check this out…NYX has recently released an entire collection of mascaras. And by "entire collection", I mean SEVEN! How cool is that? Even awesome-r is that each mascara has a special function. Some brands don't even release 7 mascaras in a year and they are hittin' us with lucky 7 in one collection. Very very cool of you, NYX. I've got my hands on all of them and will incorporate them individually in Mascara Monday posts. I won't review them back to back but I will sprinkle them around. While some peoples' professions require them to read thesis papers, perform heart surgeries or chase down criminals, part of my profession requires that I select which mascara (of 7) I will review first.
I know. Such a daunting task, right? Considering I'm down with the curves, I selected the curvaceous Pin Up Tease mascara.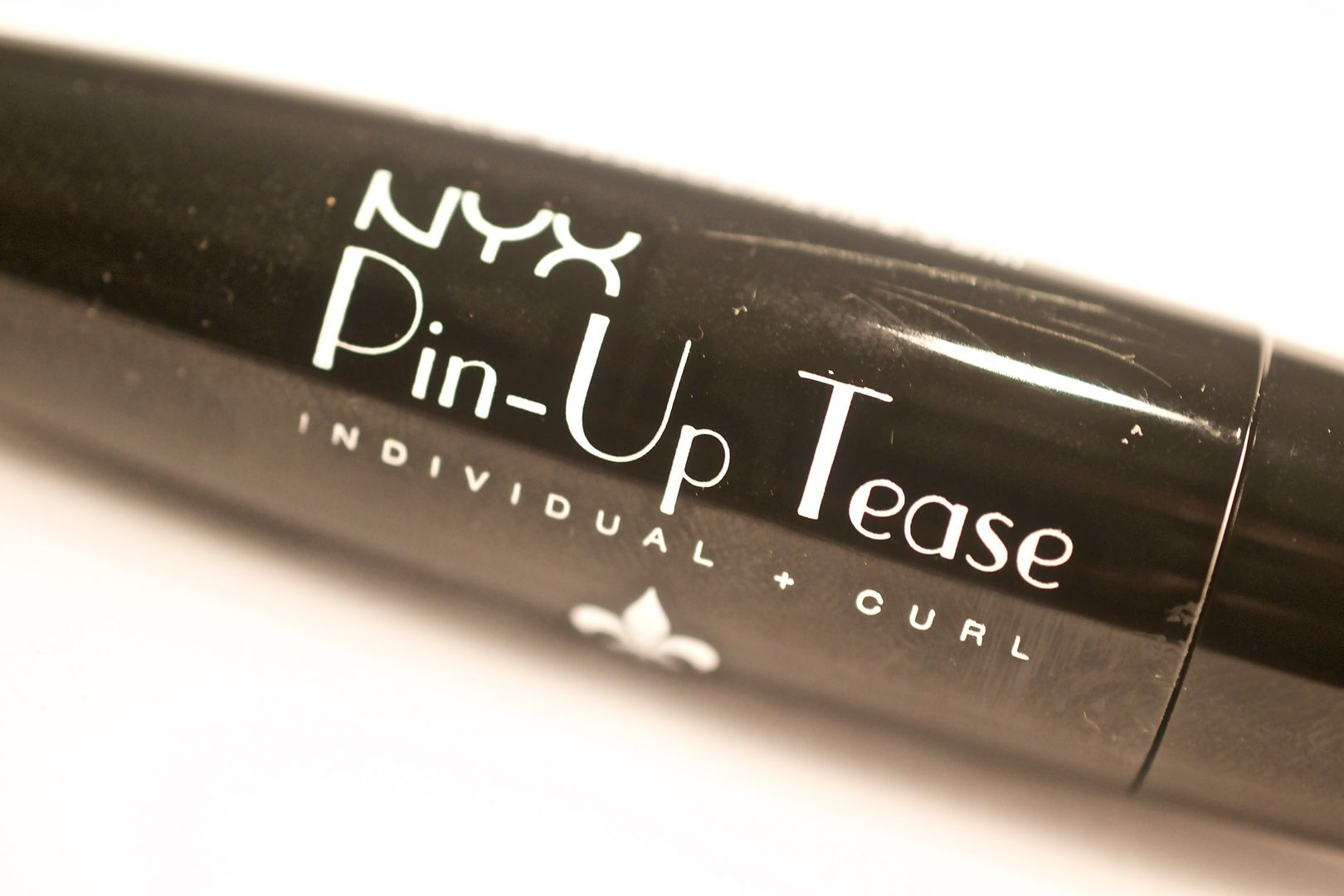 Price: $6 at Ulta stores and NYXCosmetics.com
Packaging (brush wand): 4 out of 5
Overall: 4 out of 5
What It Claims: "To darken and curl lashes. Hard bristle combs to separate and curl lashes." (source)
The Truth: Niiiiiiiiiiiiice!
What I Loved About It: It gave me really nice separation.
What I Didn't Like: I found it a little difficult to remove.
Overall: This mascara reminds me so much of myself. Okay, wait…before you call me nutty, hear me out. I look at mascaras with packagings like this and always shake my head. I assume, "Large Tube, Huge Wand". And most times I am dead on with that assumption. But Pin Up Tease surprised me. Her wand is surprisingly slender. And it curls too!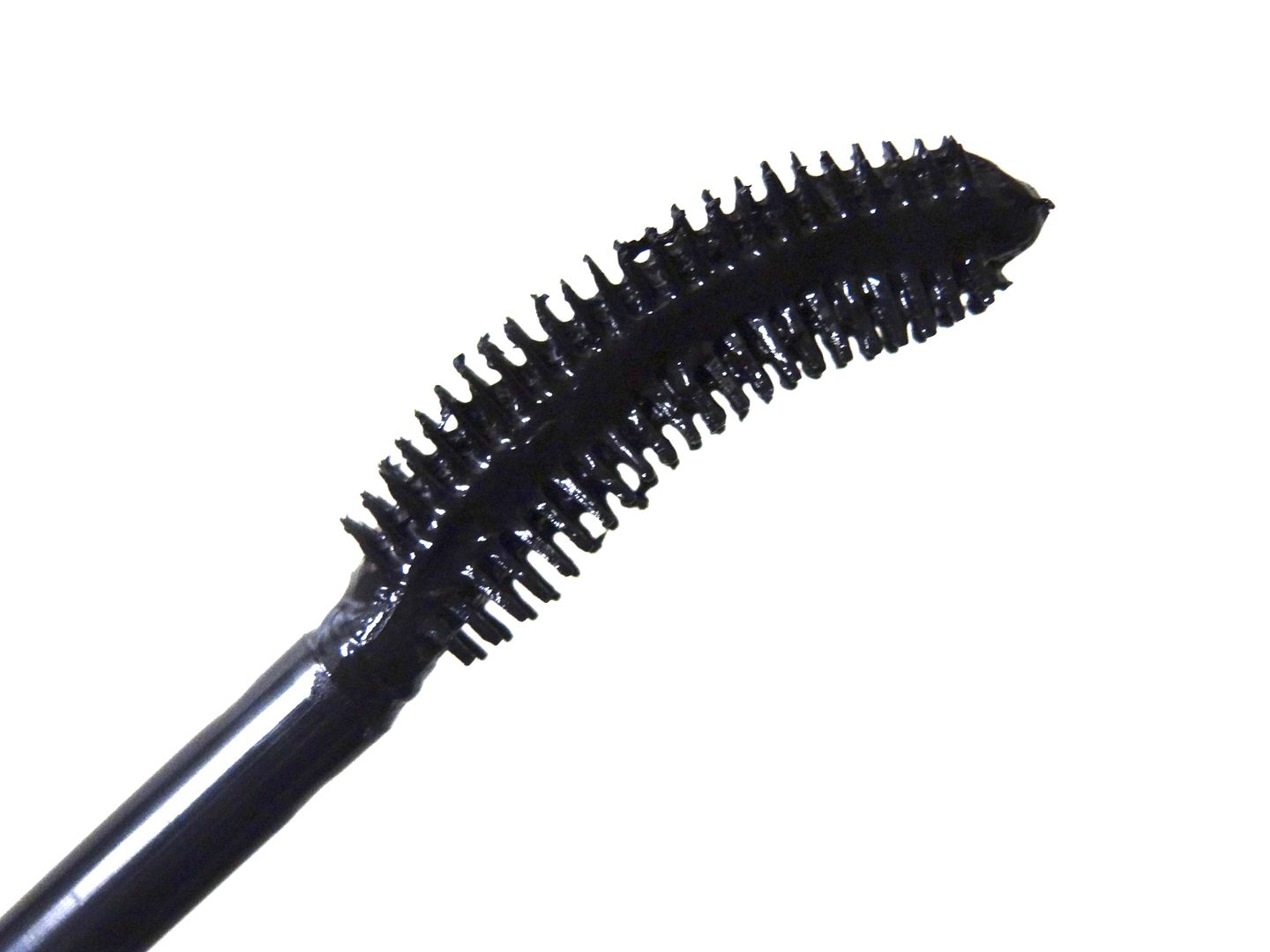 I mean, that is SO me. I'm like a size 12 14 (do I get a cookie for being honest?) and while you would think that my girth means I'm sluggish or anything but athletic, I am actually a freaking beast in the gym. So yes, Pin Up Tease. I identify with you. You are my mascara soul sister. But anyway…
Yeah. The wand totally surprised me. And in a good way. I mean, just look at it. It's got a nice sturdy shape and the bristles are long enough to breeze right through the lashes. I never find much use out of wands that do that loop-y U thing. I don't find them to be particularly helpful. But they aren't bad either. My theory is that brands make the wands look like this to encourage you to curl and HOLD your wand to give your lashes added curl. Do I think it works? Sure. But I do the same thing with regular mascara wands too.
Formula-wise, this baby was a beaut. She went on with ease and lasted throughout the entire day. If you're looking for a mascara that just won't budge,  consider this one. As far as curl, though…I'm a bit of skeptic when it comes to curling mascaras. I really don't think there is an ingredient that can lift your lashes into a curl. My belief is that the only way to really curl lashes is by using a lash curler and rolling the mascara and holding it in place. So no, I can't say Pin Up Tease gave me any extra curl alone.
But did she give me separation? Oooooh yeah! I love mascaras that separate well. I've got those crazy and wonky-kind of lashes so this is the ideal mascara for me. She separated the lashes beautifully and with ease. I didn't get a mess load of length or volume but sometimes I need just a darn good separating mascara and Pin Up Tease did it for me.
Removal was tricky. She didn't come off with a makeup remover. So I tried the same method I use for removing fiber mascaras. I wet my finger tips and gently massaged the mascara off. It worked! Pin Up Tease didn't "appear" to apply like a fiber mascara but considering removal was much like one, maybe there are some fiber speck thingies in there. You won't hear me complaining about that though.
Two coats should do it. Any more than that and Pin Up Tease starts clumping up. And as promised, it realllly darkens the lashes. So while I didn't get a ton of curl or length, I was impressed with how dark it looked on the lashes and how well it separated.
Bare Lashes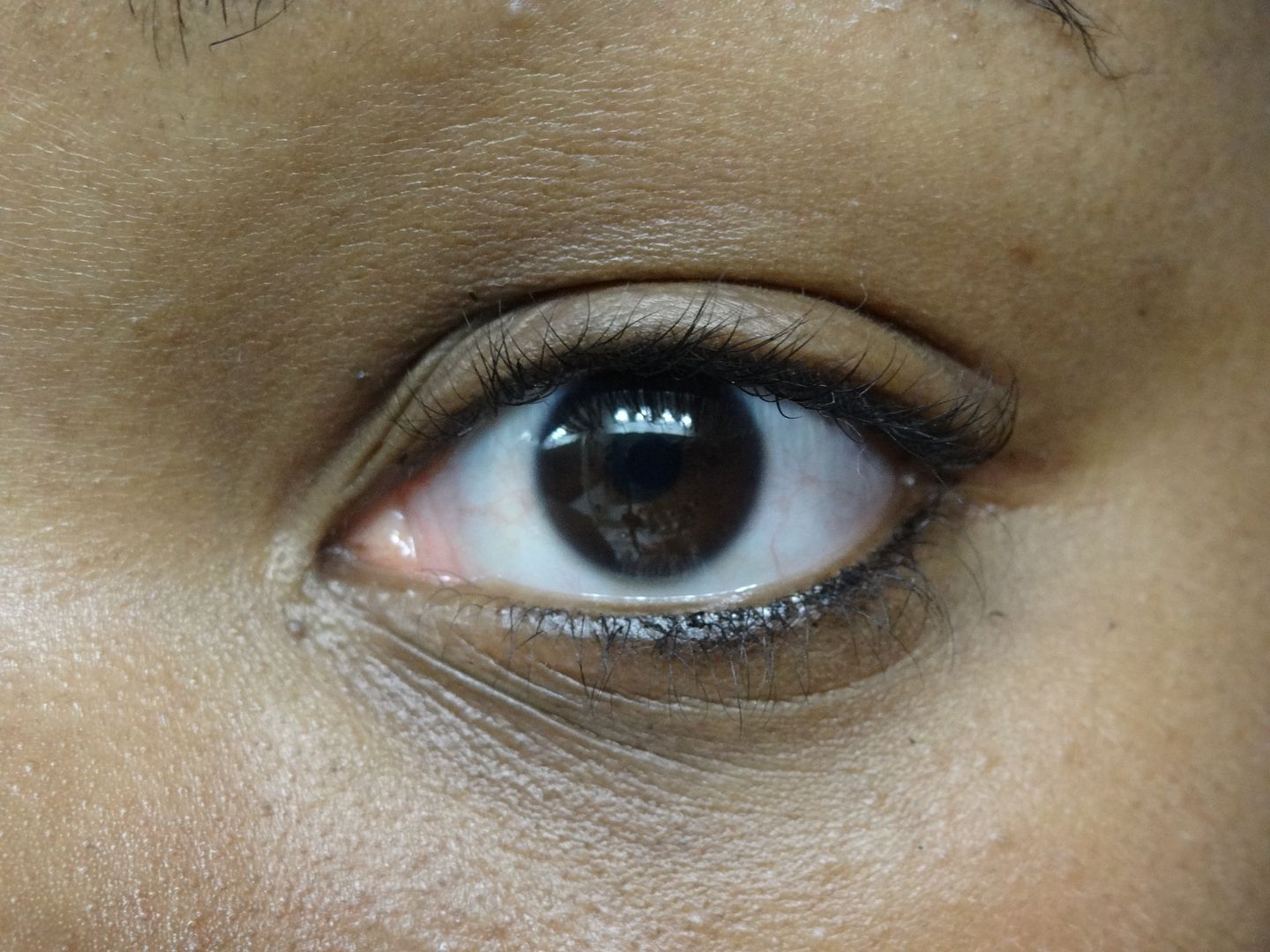 Lashes after 2 coats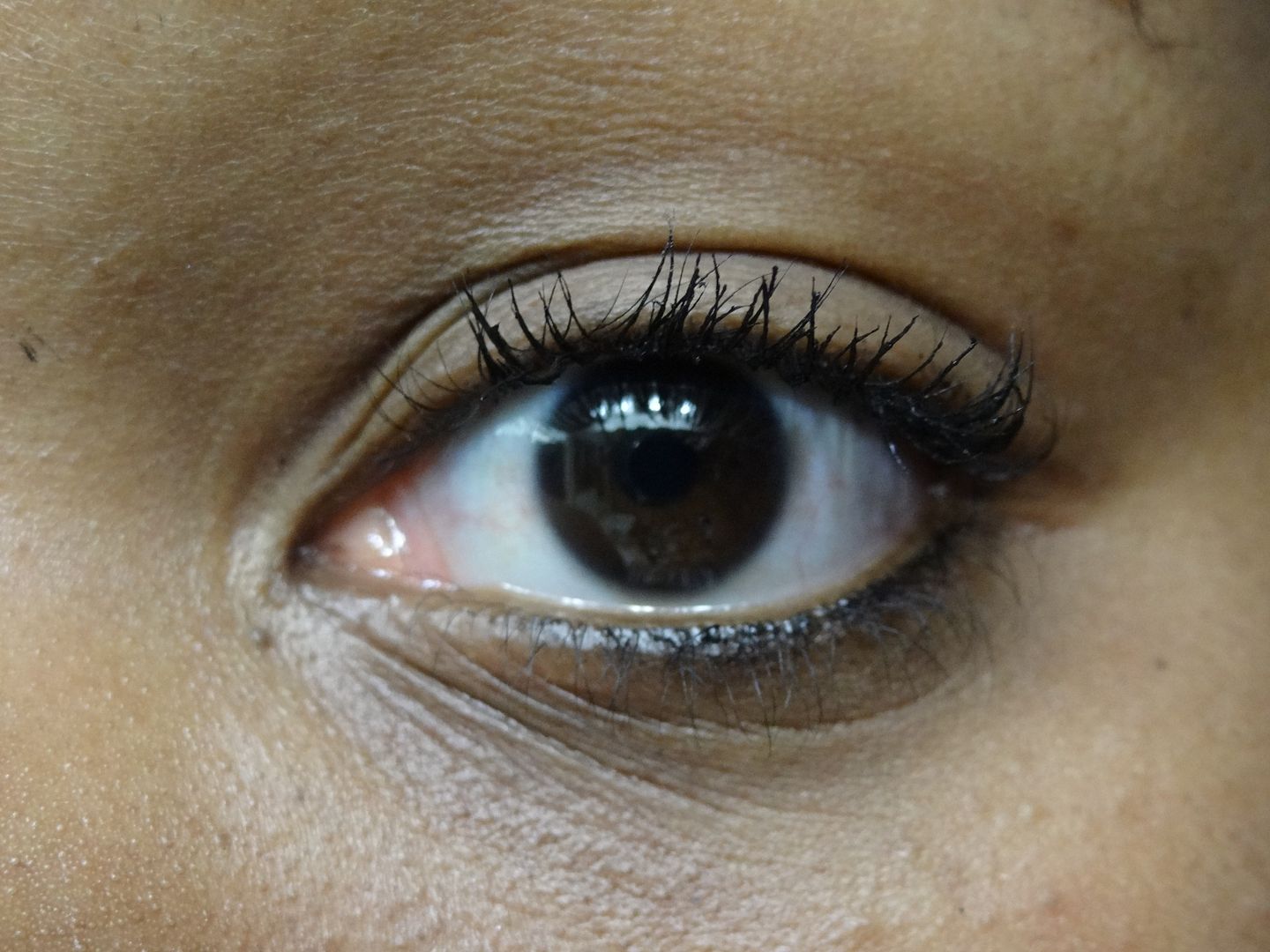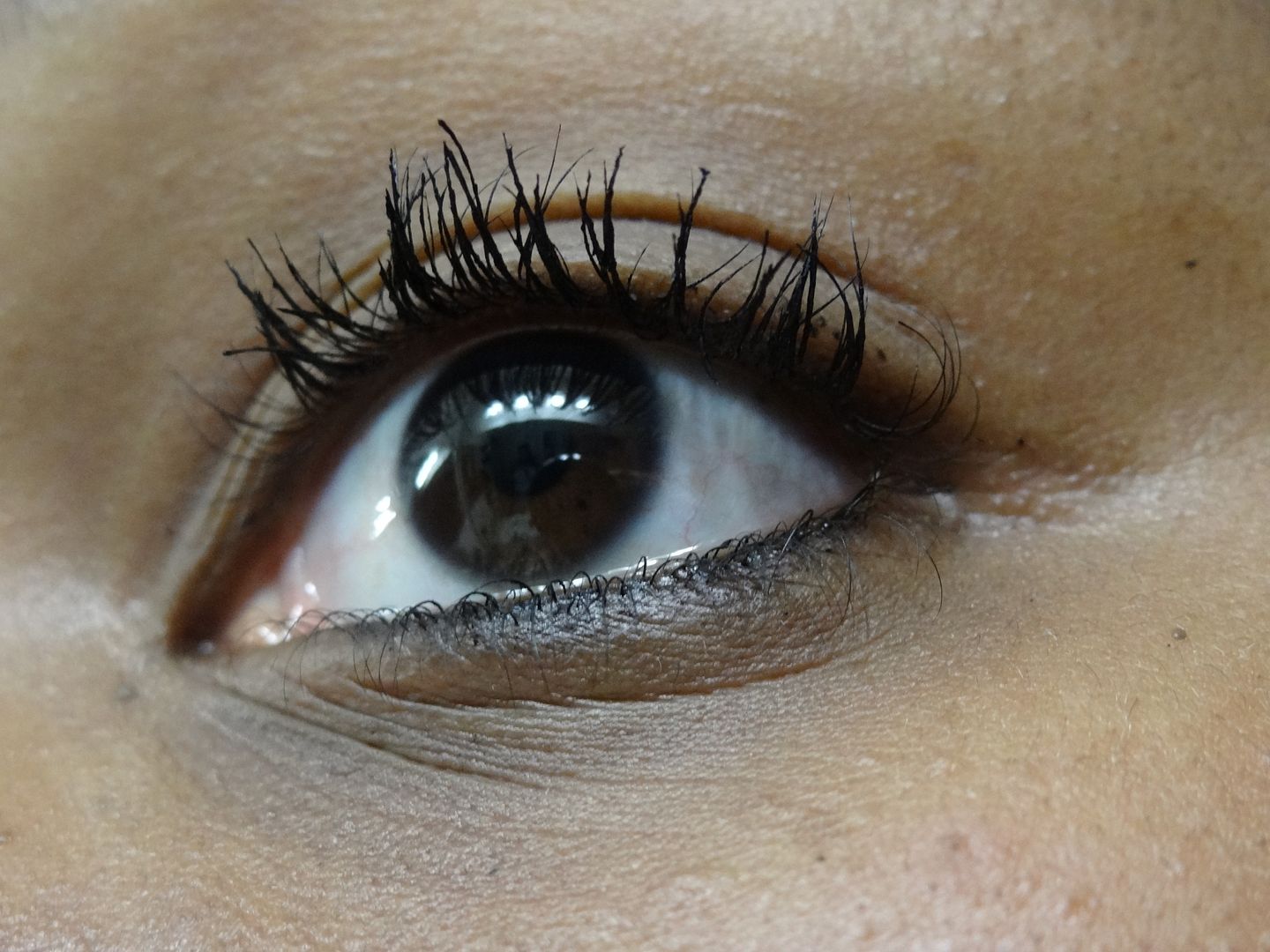 Do I recommend it?: Fo sheezy!  If you are looking for a dynamic separating mascara that will last allllll day, check this baby out.
Have you tried this mascara yet? What do you think?