I love tattoos, y'all. A lot. I call myself a tattoo rockstar because even though I have 5 tats, I want more. And I could care less about how "unprofessional" people may see them. Tattoos, like makeup, are accessories. It's self-expression. Granted getting a tattoo is 10x more painful than applying mascara but still….if I didn't already run out of "un-wrinkable" areas on my skin, I'd be saving my pennies for another tattoo.
But anyway…
My love for tattoos sooooo doesn't have anything to do with Maybelline's Color Tattoo 24HR Cream Gel Shadows. Don't you love how random I can be? 8)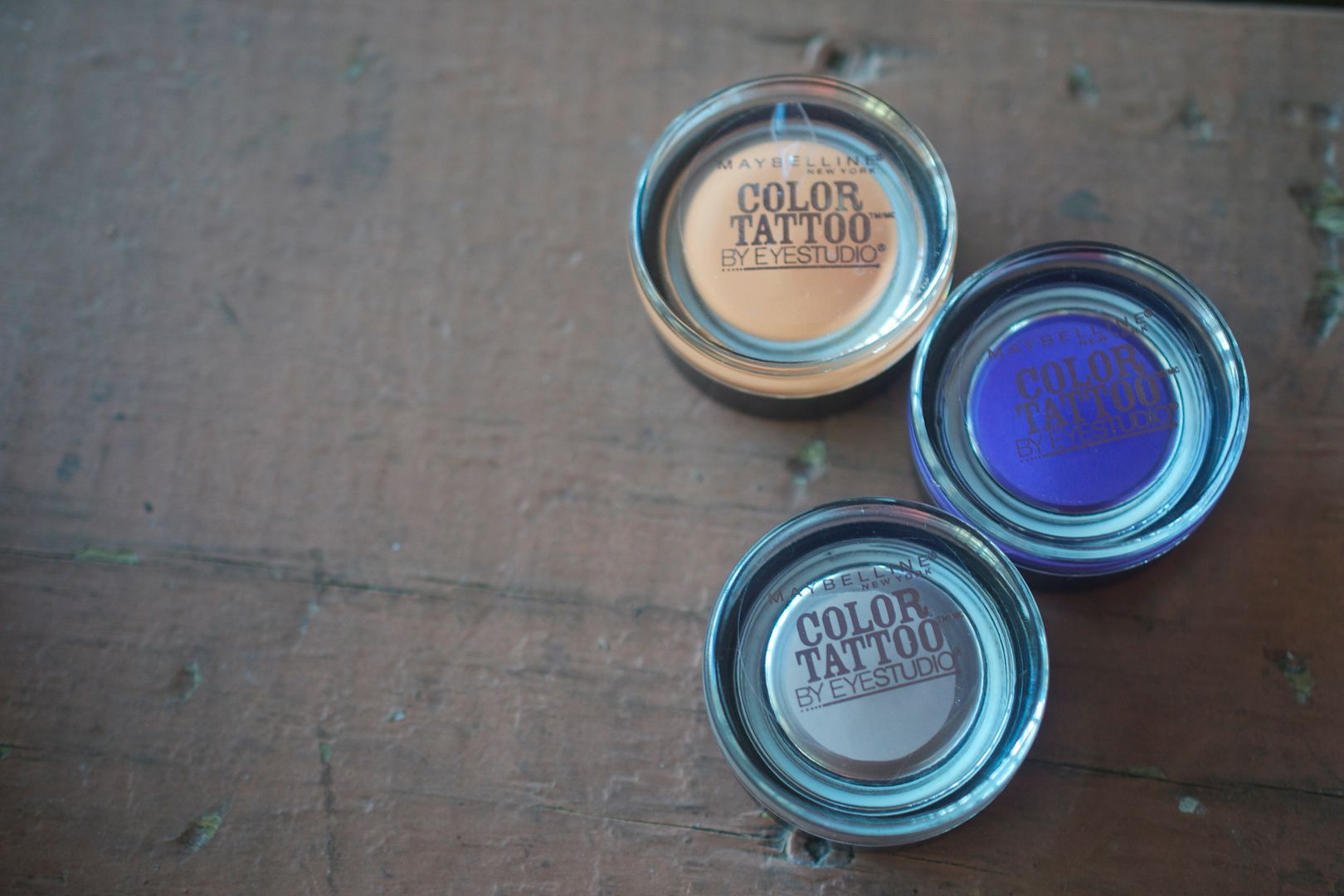 Have you gals seen these? I only snagged 3 but there are a total of 10 shades. They range from beautiful neutral shades to poppin' "in yo face" shades. If you're a fan of eyeshadow primers, you'll like these. They mimic the oh so popular gel eyeliners that L'Oreal HIP had some time ago. Only these are better.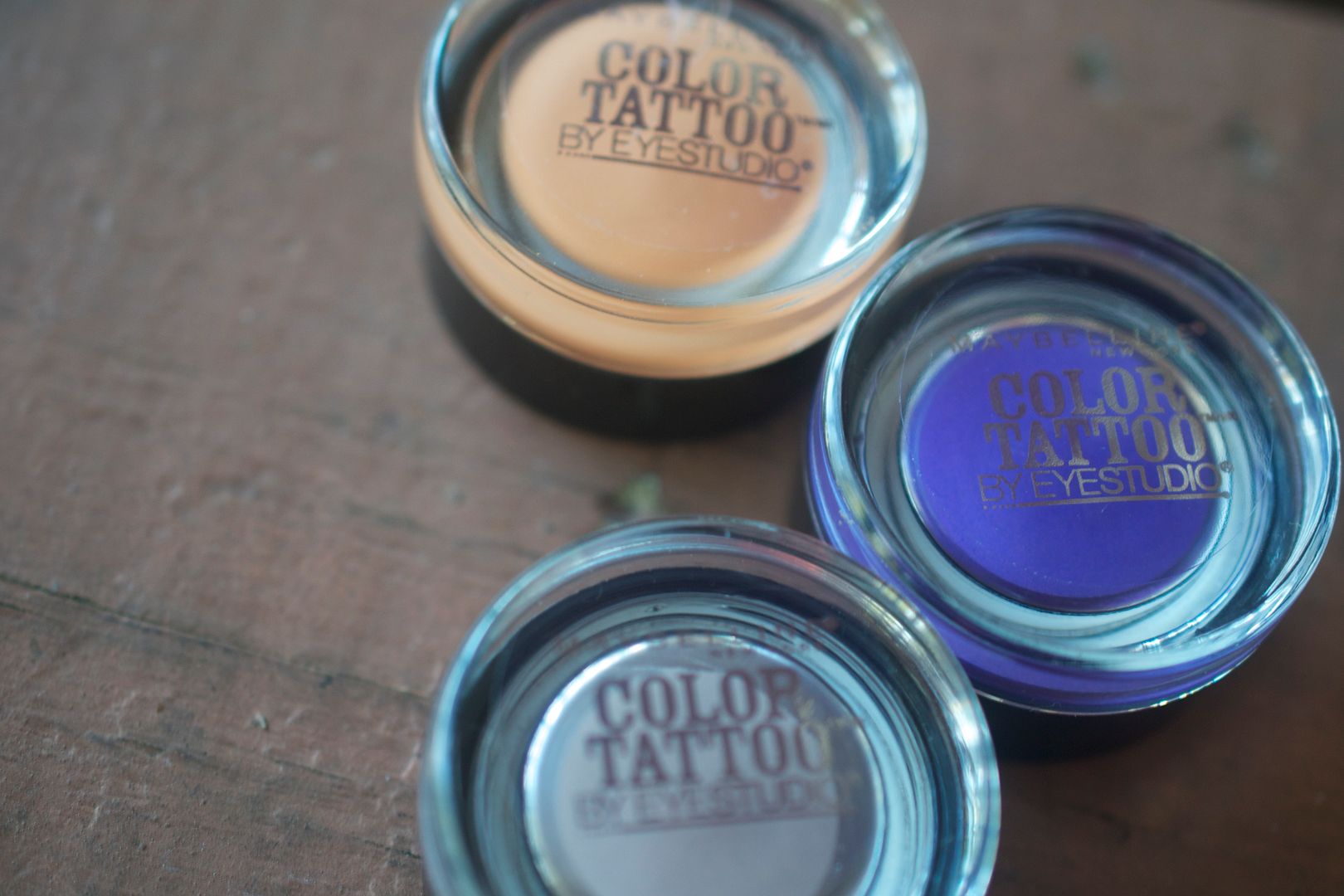 Much better. What Maybelline says about 'em:
"Dare to get inked with a super long lasting eye shadow. Maybelline New York has combined their intense pigment technology with flexible film formers to create a shadow that packs our most intense, saturated color. The semi-permanent gel-cream smoothes on for vibrant, crease- resistant color that doesn't fade away– wears for 24 hours."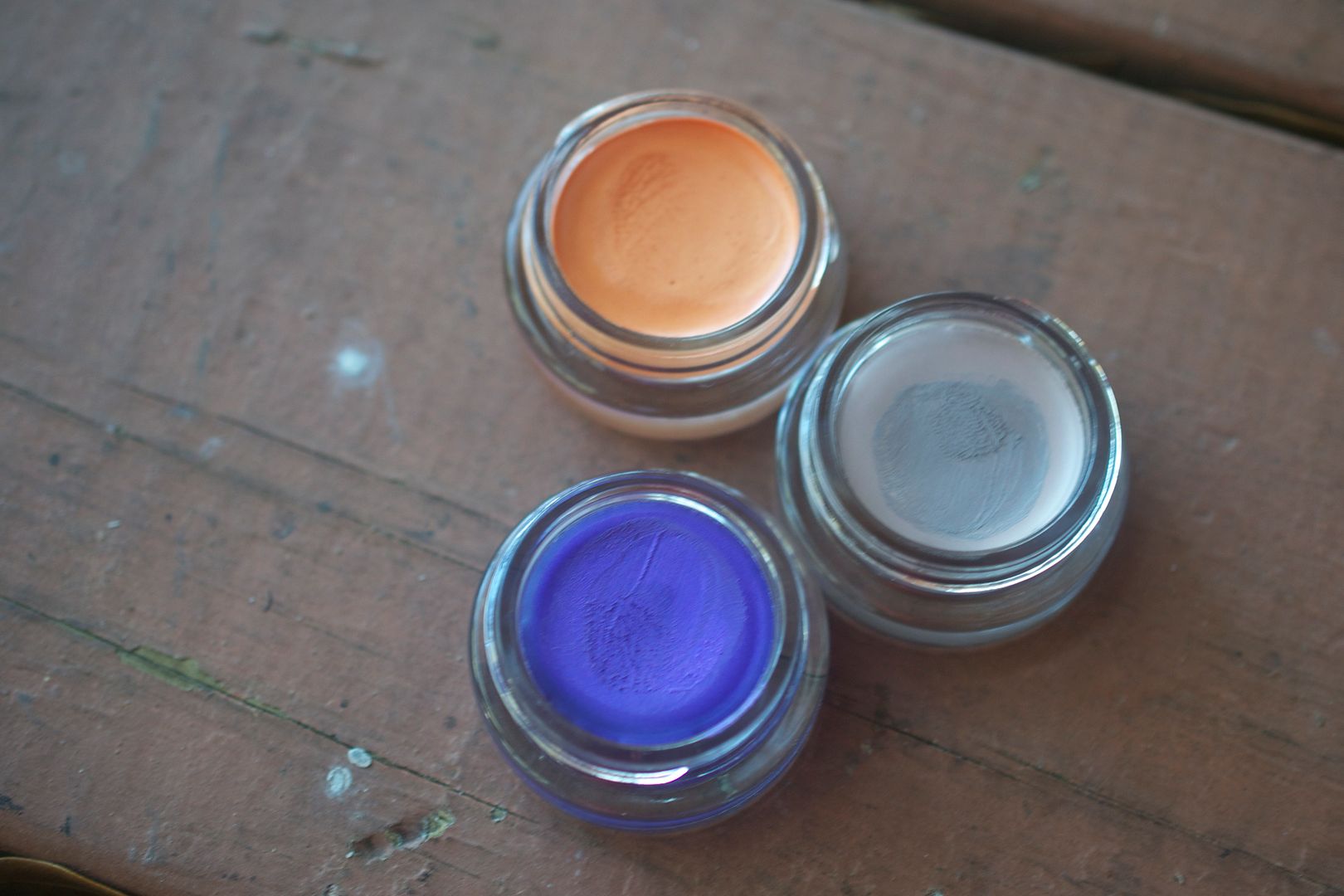 Okay…for the record, I don't recommend wearing anything for 24 hours. I know they weren't being literal with that claim, but still…wash your face, dolls. I really like the consistency of these. They aren't super emollient and gel-like but they aren't hard to work with either. In fact, I don't even use a brush to apply them. I use my fingers. The three I have do a darn good job at showing up beautifully on my skin.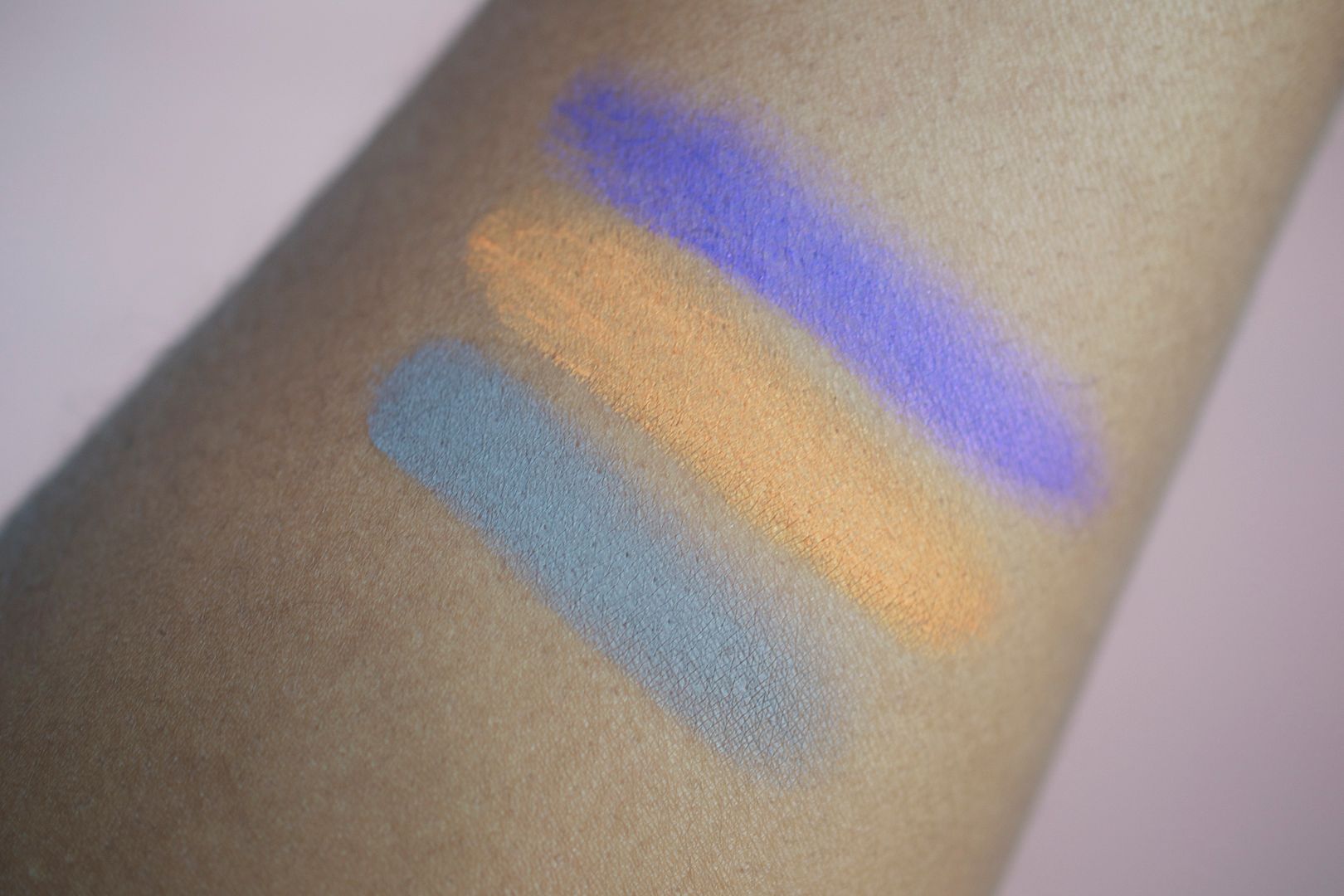 Tough as Taupe…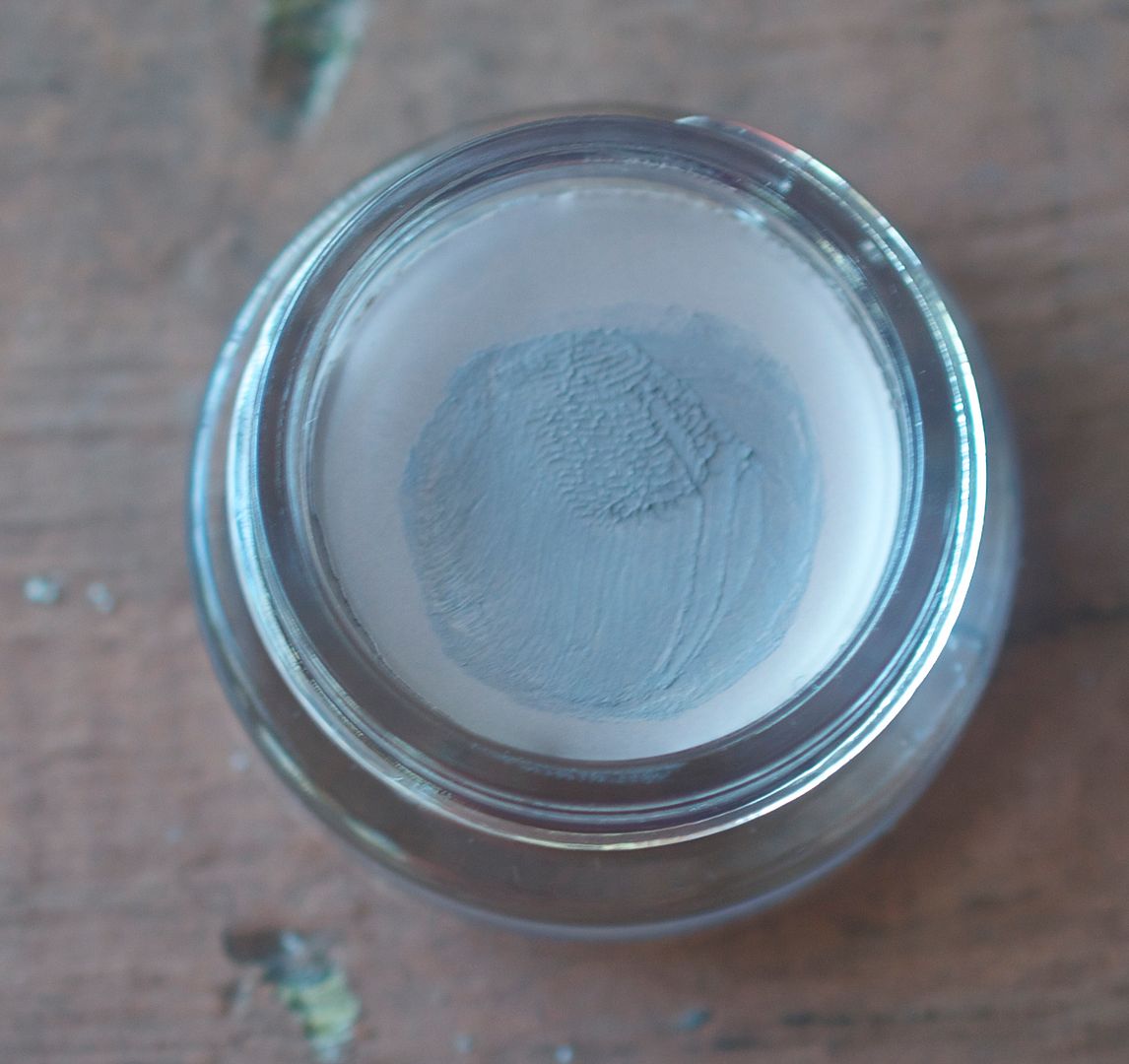 I like this one. The color was a little off though. In the pot it looked to be a "lighter" putty but when I dapped my finger in it, it darkened up a bit. Not a total deal breaker as I still think it works nicely as a neutral base. I dug the lighter putty more shade more though.
Painted Purple is actual a little less blue and more purple. My camera is being a butt and not showing you how awesome this shade is in real life.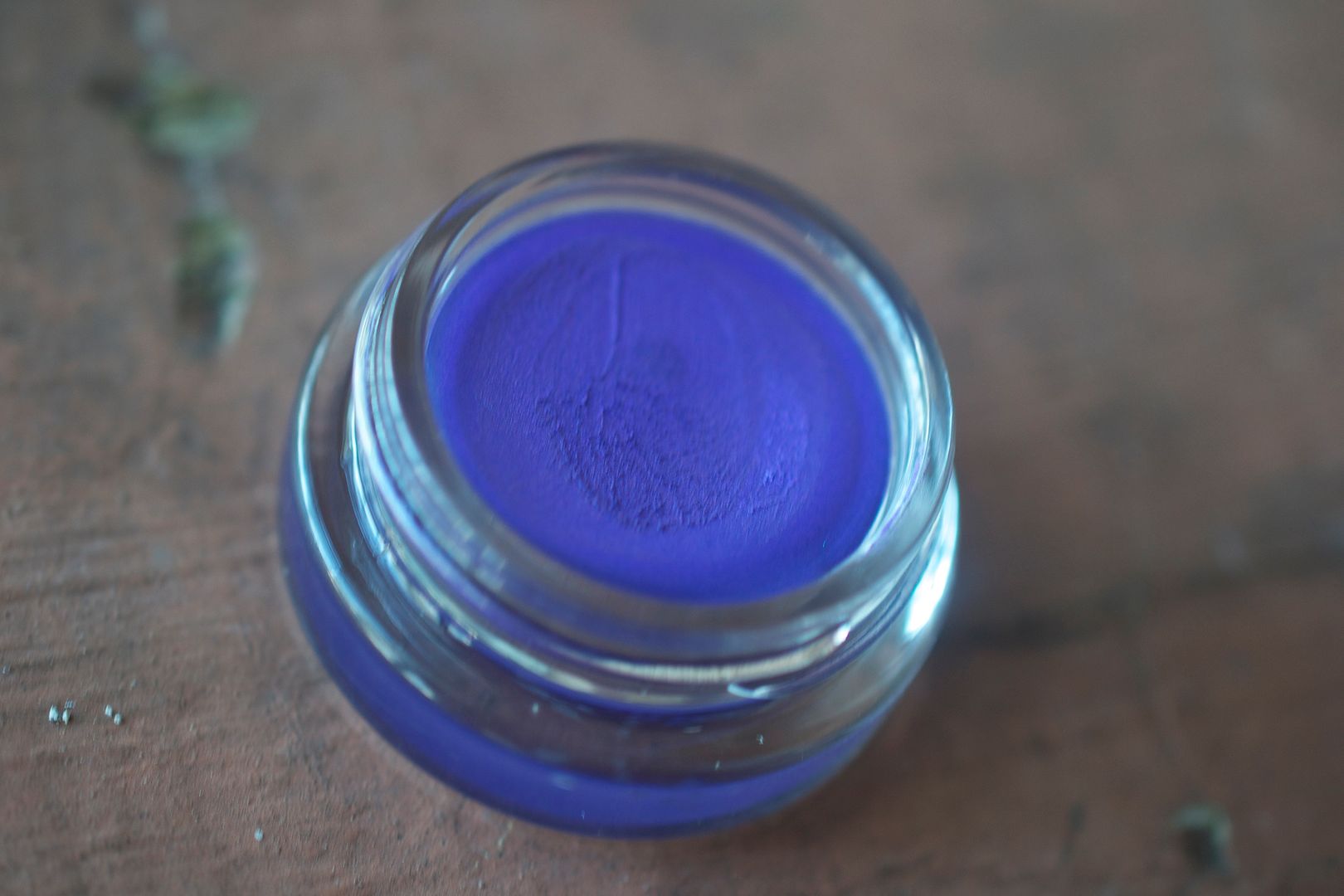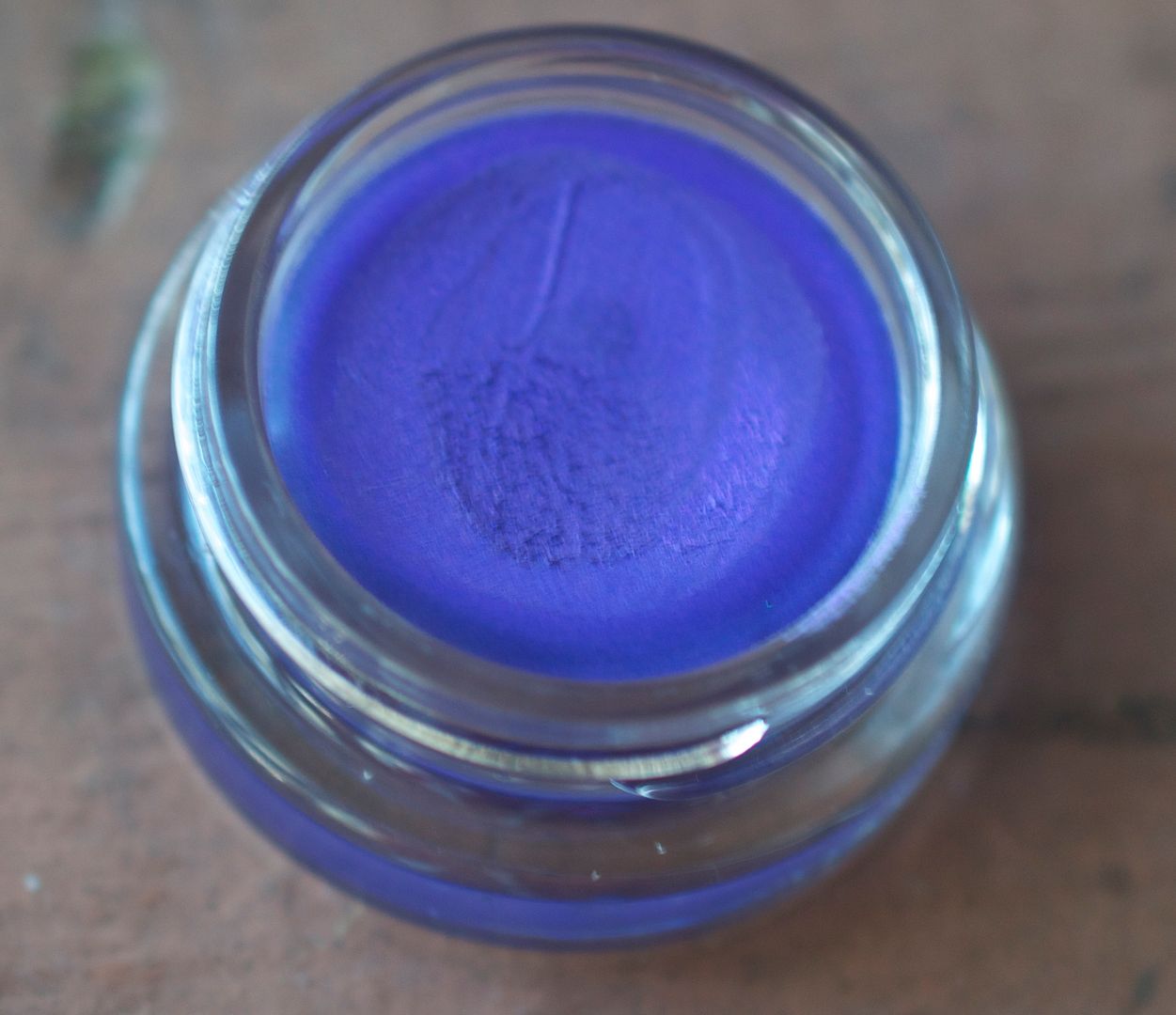 It's my favorite of all of the Color Tattoos but mainly because I LOVE rich purple-almost-violet kind of shades.
And then there's Fierce & Tangy.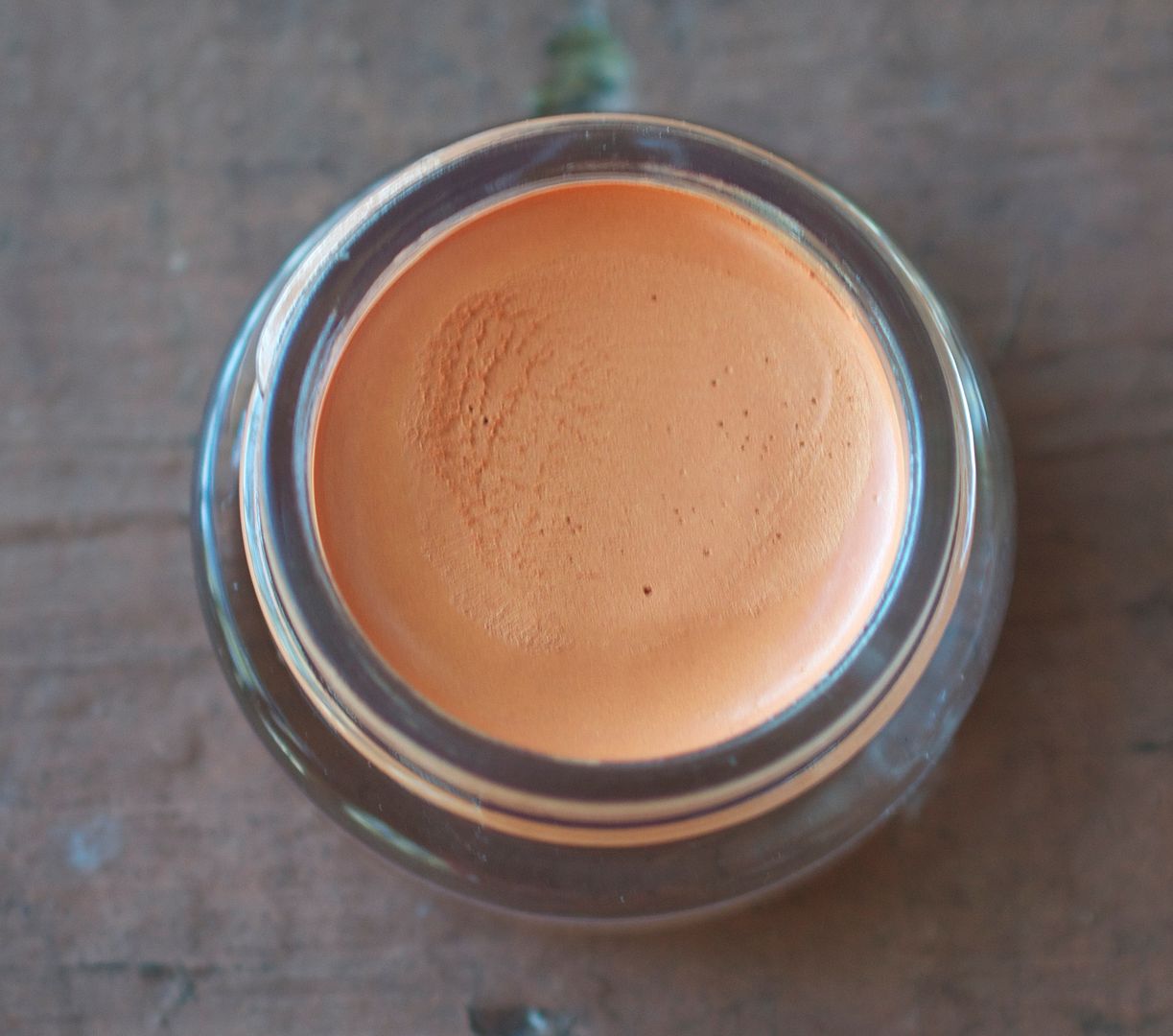 Orange is another one of my favorite eyeshadow shades because it's so unexpected. I wish more brown girls wore orange.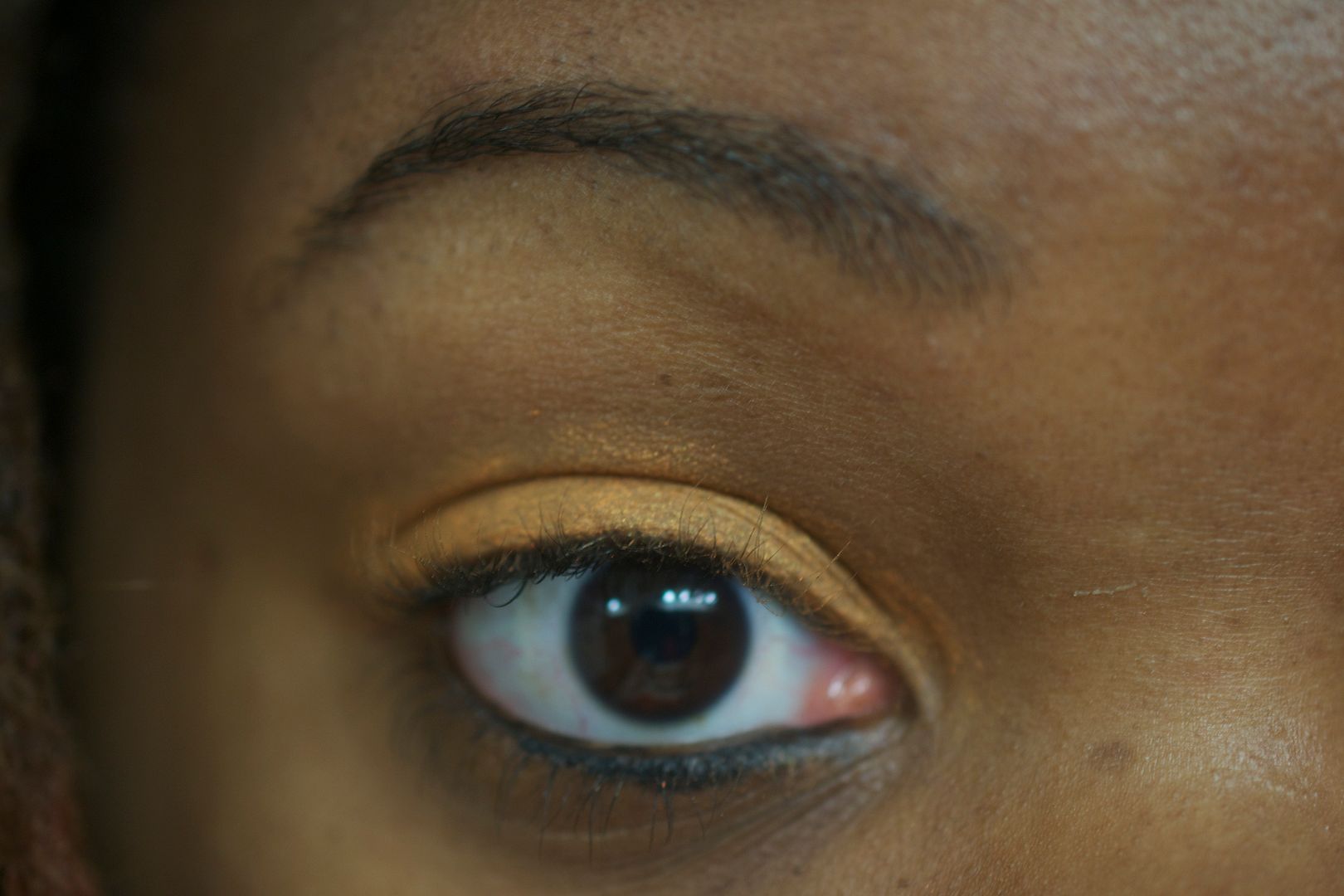 I loved this baby so much that I cranked out a look with it.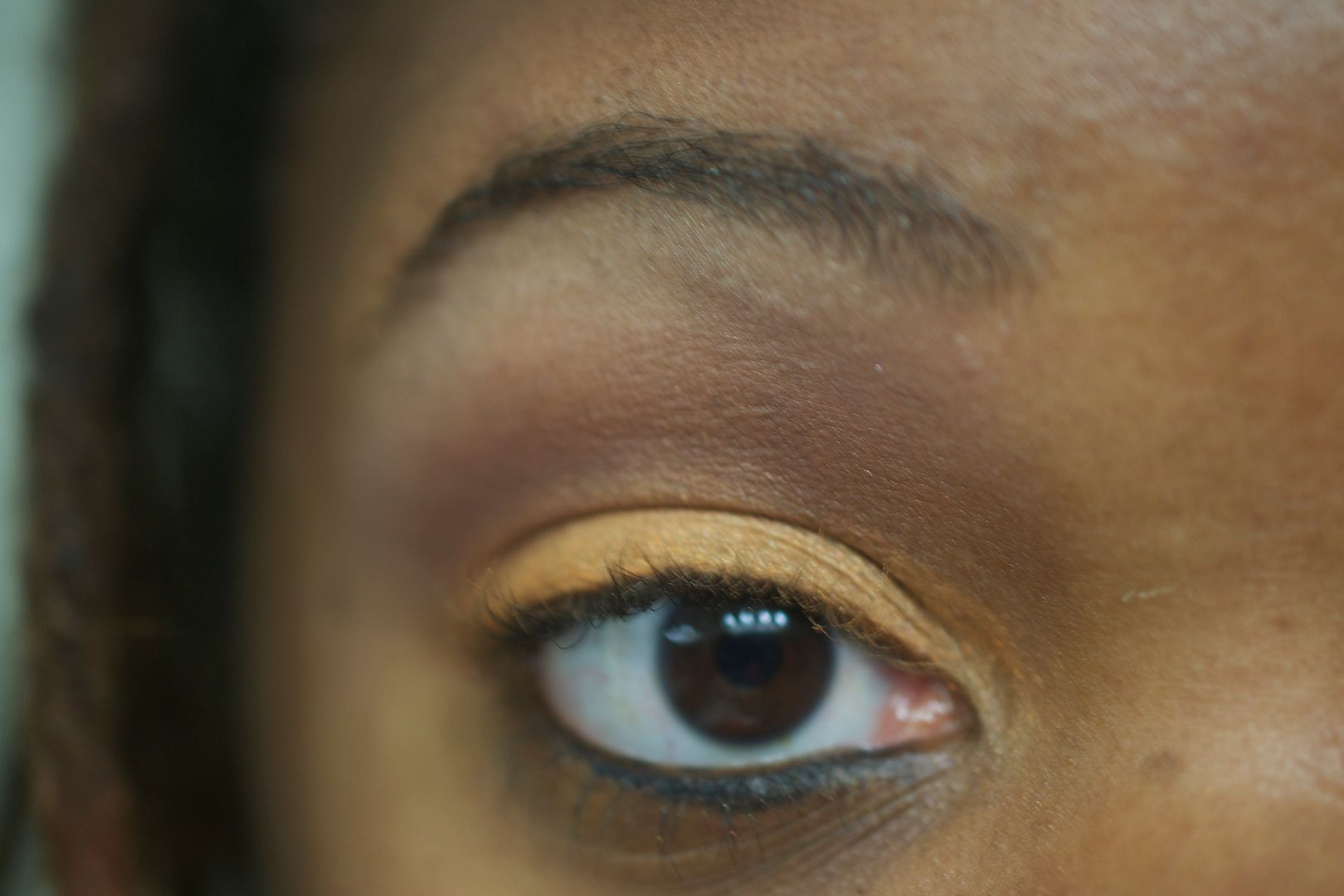 Who knew orange eyeshadow could actually be work-appropriate, right?
Pro's
-Lasts ALL day.
-Priced relatively well at $6.99.
-Comes in myriad of gorgeous colors.
-Easy to find in drugstores in the U.S.
-Buildable.
Con's
-May be tough to apply as some of the shades are a little tougher to get on your fingers or brush.
-If you have SUPER oily lids, you may still have to wear a primer under these.
-Dries out quickly if you leave top off. Even for a few minutes.
-They don't always dry with an even finish. When packing on, you have to be sure to do so with precision.
I'm lovin these and if I didn't already have enough color bases, I'd be hauling them all. I do have my eyes on Pomegrante Punk, though. That cranberry shade has been calling my name since I left her stranded at Walgreens. Whatcha think? Have you tried these babies yet?
P.S.
Happy Valentine's Daaaaaay!!