I totally love how this event is combining all of my loves. Mascara, Twitter and parties. *squeals* Are you going to be there? Please say you will! I mean, let's face it….a party ain't a party until you roll up in the place.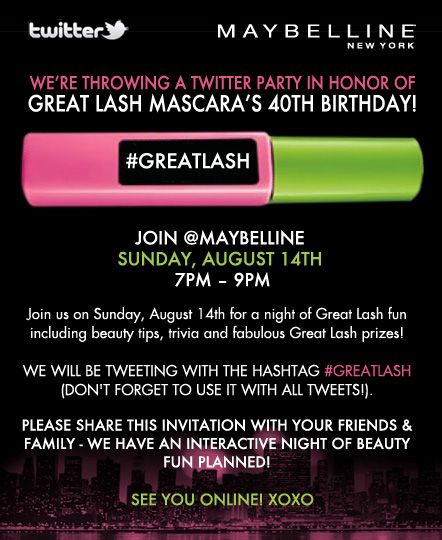 Maybelline is hosting this Twitter party in honor of Great Lash mascara's 40th birthday. Can you believe that? Great Lash is 40? 40 and still fine, baby. The evening will also celebrate the launch of the Great Lash Limited Edition collection designed by Max Azria, Vivienne Tam and Tracy Reese available exclusively through Target. The three new mascaras will be available starting August 14th through Target.com and available in Target stores nationwide on August 21st.
Sounds groovy! Be sure to follow Maybelline on Twitter as well as ClumpsOfMascara. We'll both be tweeting using the hashtag #GreatLash.
If you're all like, "OMG, I hate Twitter. What's the point? This is stupid…", you may want to officially join Twitter or bring your account from the dead. This is one party that you don't want to miss.
Don't be a square, darling. See you there!