Yuuuuuuup! You guessed it. Maybelline has another mascara for us and it's in the 'Volum Express family. Okay, even if you have no intentions in trying out this mascara, you can't deny how adorable that packaging is. Ca-ute, right?
Price: $5 at Walmart and Walmart.com.
Packaging (brush wand): 5 out of 5
Overall: 4 out of 5
What It Claims: "Maybelline colossal volume gets a feline edge. Maybelline Volum' Express Colossal Cat Eyes Washable Mascara's collagen formula and claw brush plump and spike out lashes at the corners for a wild cat-eye look. Colossal volume with cat-like corners" (source)
The Truth: The truth is that as much as I love Maybelline (and I loooove Maybelline), I'm a bit over the Volum' Express bit.
What I Loved About It: That wand is dynamic, yo.
What I Didn't Like: It's a great lengthening mascara but if you're looking for volume, keep a lookin', sista.
Overall: For once I'll keep my mouth shut about how annoyed I am that I keep seeing 23,000 different versions of 'Volum Express. Please realize that this whole "not complaining" thing is so tough for me because I really do get annoyed at…okay, wait. Look at me. I'm complaining. Eek! Let's move on.
The wand. Yes! The wand!
The wand is something special. I love everything about this wand. I could do without its curvy nature but I love how nice and stiff the bristles are. This is the perfect mascara wand for people like me. My lashes go alllll over the place and this wand is great for helping to straighten them out. Wands like these are also perfect for those with super itty bitty lashes. You can coat lashes easily and don't have to worry about poking yourself in the eye because of the huge wand. WIN!
Now, let's get to the nitty gritty, if I was super over-ambitious, I would try to compare this mascara with some of the other recent 'Volum Express mascaras. But quite honestly, y'all…I don't own any of 'em anymore and I'm too lazy to even think of doing something like that. But hey – at least I'm honest, right? The best thing for mascara reviews is to just review them as if other mascaras didn't exist. And so for now, we'll forget about the other 98,000 'Volum Express babies out there, okay?
Formula-wise, Cat Eyes impressed me. It's got a nice and workable formula but after a few strokes on the lashes, I realized that its goal was to lengthen my lashes and not bring about volume. Okay. No biggie. The claims on the packaging are a bit confusing so we're not really sure WHAT this mascara is supposed to do but yeah, I'm pretty sure its main goal is to help elongate the lashes. Which is does so beautifully. Between the formula not clumping up on me and the stiff bristles of the wand, bringing those lashes out there was easy. And impressive! 1 coat was okay but 2 coats of this mascara really brought my lashes out there and helped to achieve that "wild cat-eye look". Whatever that means. So yeah, it's not a bad lengthening mascara. Keep in mind that it ISN'T a waterproof mascara so it does have some issues with lasting for a while. Especially if you have allergies.
And stick with just 2 coats. I found that the formula thickened up a bit too much and brought on some clumping when I attempted a 3rd coat.
Bare Lashes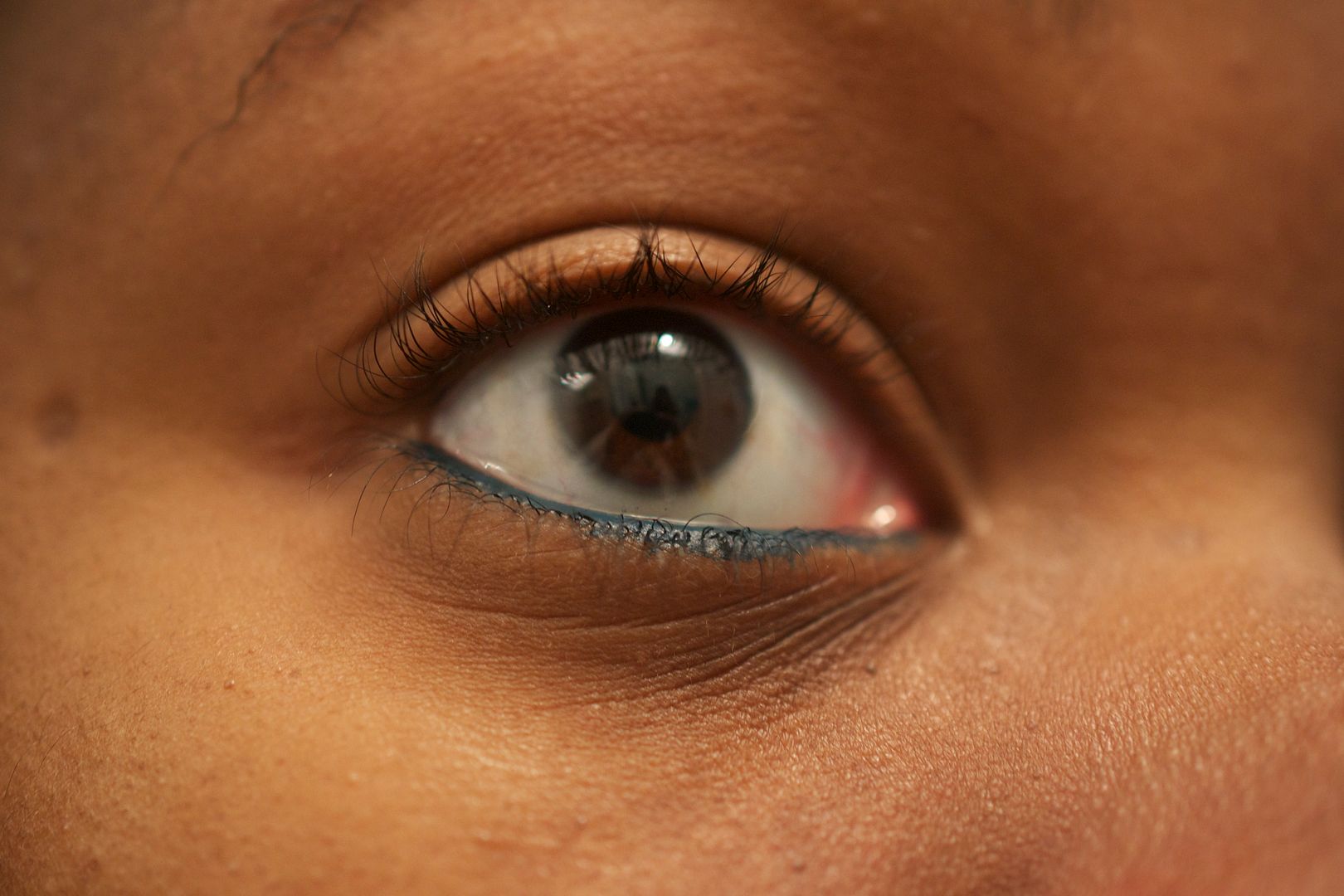 Lashes after 2 coats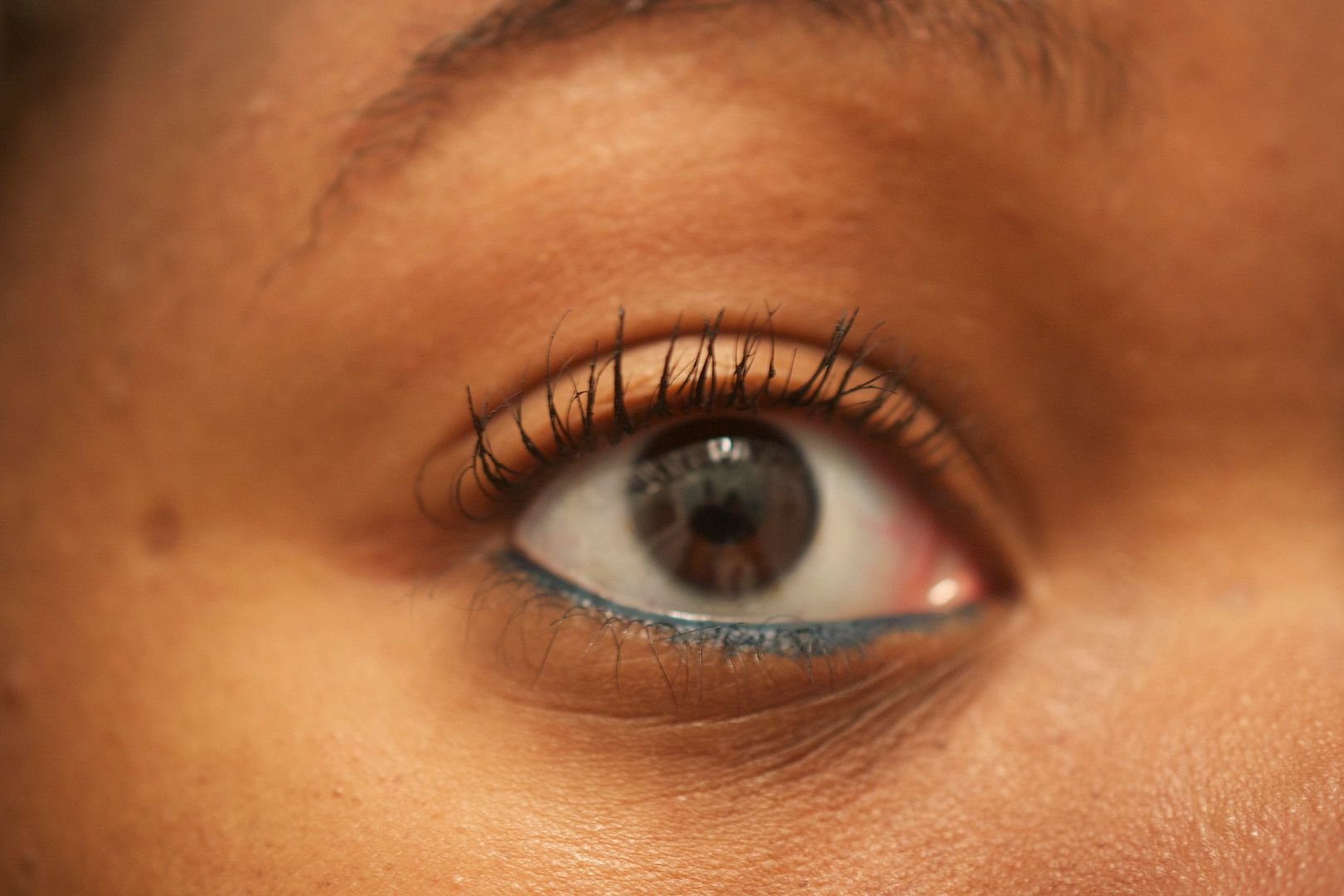 Do I recommend it?: The Falsies 'Volum Express is hands down my favorite because it's an intense volume mascara but if you're looking for something lengthening (or a really cute mascara), I don't think Cat Eyes will disappoint.
Okay y'all…who has tried this mascara? Whatcha think?