[Editor's note: This is a re-post from my natural hair blog Loc Rocker. The information was just too grand to limit to just one blog. Very rarely do my blogs cross paths but in this instance…it was inevitable. For all things natural hair, Loc Rocker (and the fabulous blogs on the site's blog roll) is the place to go.]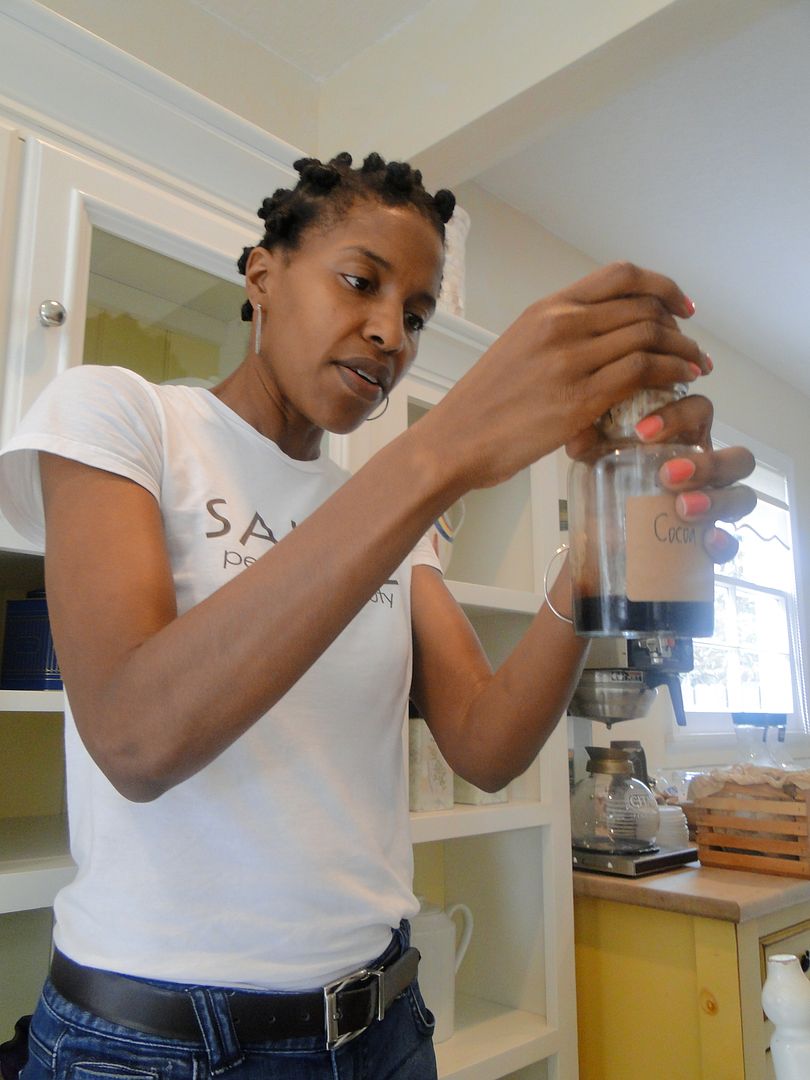 While I like to travel nationwide for beauty industry events, lately I've been wanting to be more active in the Greater Orlando community. It was at one of my Urban League Young Professionals meetings where I met Karen, the founder of Peace and Beauty Project. Karen's passion for helping young girls and natural beauty fell in line with so many of the things that I am trying to do. I feel so blessed to have crossed paths with her.
Two weekends ago I asked Karen if I could help with her Natural Beauty Lab event. I helped with the preparation and took photos. O.M.G….the event was a HUGE hit.
The event was hosted in the dining hall of a beautiful bed and breakfast in downtown Orlando.
The first thing we blended was a Black Cocoa Butter shampoo.
And yep, it smells and feels as good as it looks. We started off with unscented castile soap.
We then funneled a bit of black cocoa butter.
We dumped in some aloe vera…
And at this point, we were able to scent it however we liked. Cocoa Absolute was a huge hit among most of the ladies.
….I ventured more to the mint essential oil, instead.  I just LOVE how mint feels on my scalp.
And bam! A homemade organic black cocoa butter shampoo…
I haven't washed my hair yet (ironically I washed it the day before, womp!) but the next time that I do, I will be using this. Can't. wait. In the meantime, I've been using it as a hand soap and has been leaving my hands incredibly smooth…a rarity when you use castile soap solo.
We made other products but I don't think I took enough pictures of everything. I volunteered to be photographer but somewhere between laughing it up with everyone, live tweeting and mixing, I forgot.
Check out the darling baby beauty in the house. She is the daughter of a fellow blogger, Scottie…over at The Basics. Also in the house was Ortancis from The Orlando's Natural Hair meetup group and Fara from Pure Essence Body Care. I've raved about Pure Essence before when I discovered them at Whole Foods' farmers market. And Fara's locs…O.M.G. I'll be featuring her soon. On Loc Rocker, of course.
If you are in or around the greater Orlando area, shoot an email to Brittany@LocRocker.com.  The Peace and Beauty Project will be having more events. And did I tell you about Orlando's 1st Beauty and Natural Hair show? That's a post for another day but I am beyond excited.
Peace, y'all. And beauty.