So I've been getting a lot of TMI Tuesday suggestions that involve something I have zero experience in. Raising kids. I mean, don't get me wrong. I know how to change a diaper, hold a newborn correctly and can entertain toddlers into sugar-free naps. And while Clumps will never morph into a Mommy blog when I do have kids, I still love featuring Mommy-baby  topics because there are so mommies out there.
Plus, the more I learn from your mommies, the less of a screw up parent I will be. 😀
Okay, no. I'm kidding. My kids will be freaking awesome having a beauty bloggin' rockstar as a Mom and a musical computer geek as their Dad. But this post isn't about my uterus and its production of bebes. This post is about a penny pinchin' Mommy (and also one of my BFFs!) and her mission to provide her 13 month old daughter and 3-year old son with nourishing food.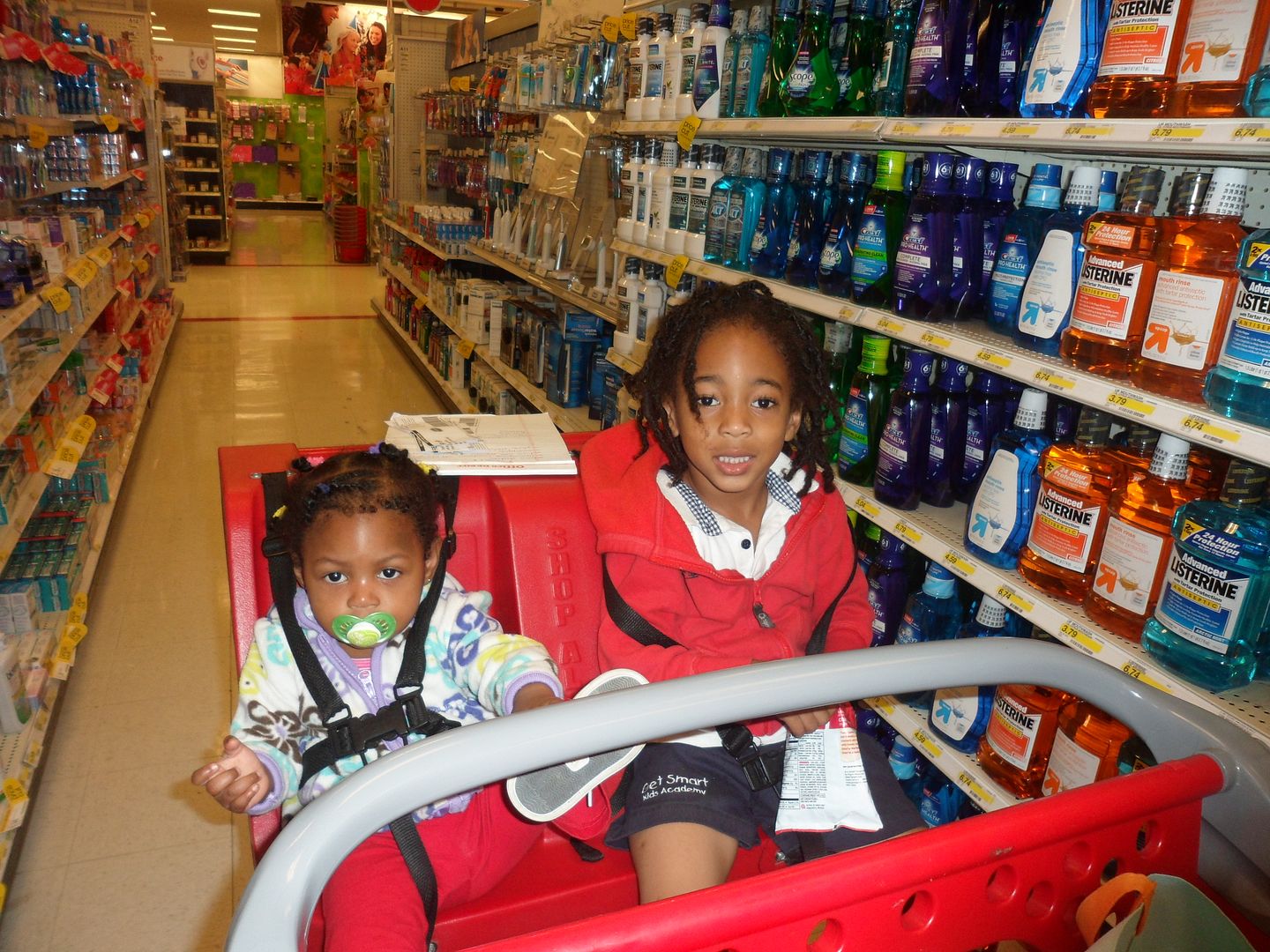 Gaetane recently launched her blog Seeds of Mommy Soul. Show her some love and tell her B sent you!
___________________
On Tuesday, I finally decided to buy a few grocery items for the kids. I simply do not like grocery shopping, especially with my two handfuls of children. Now that my daughter is mobile, she has a major issue with anyone trying to hold her hand in public. Little did they know, I had a plan AND I was sticking to it.
I buckled them into the double shopping cart of Target (which I love by the way) and after 1.5 hours we accomplished our mission. Being that we are a vegetarian-based household, we are limited (surprisingly, huh?) on organic vegetarian foods. Don't get me wrong, I do have my cravings for fatty foods like Burger King fries but we limit on what we buy in our household. Our children have a right to a healthy lifestyle. The kids are only accustomed to eating a very wide range of hearty vegetarian dishes and because they are kids, they are now asking for sweets and snacks. My son verbalizes and my daughter always simply wants what her older brother is having.
Addaeyomi and Anaiziya's top 5 snacks: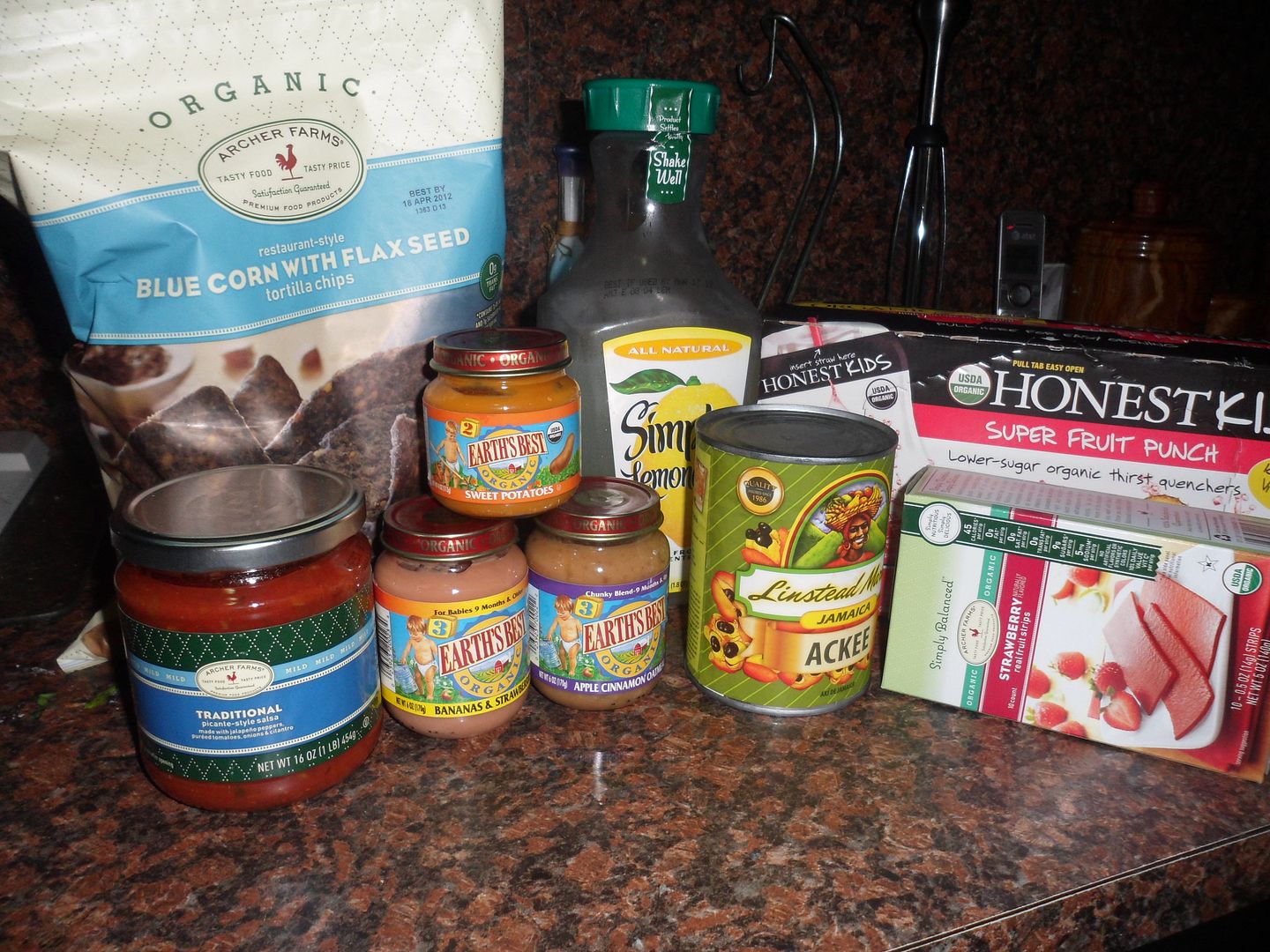 *Archer Farm's blue corn tortilla chips and salsa dip
*Earth's Best baby food
*Simply Lemonade
*Honest Kids juice packs
*Archer Farms Strawberry fruit strips
You may have noticed the picture of the Ackee. Well, it was on sale and I simply love Ackee.
All these items were on sale and/or I used coupons for greater savings. Even if they were not on sale I would still purchase these items because my children love them. I do believe children should be children and enjoy eating snacks. On the other hand, I do not believe we should drown our children in unhealthy eating habits that will affect them in the future.
We as parents, care givers, aunts, uncles, and even friends should make sure that we educate our children on healthy eating habits. We cannot expect our children to eat healthy if we are not reflecting that as well. So next time you go grocery shopping, and your children are screaming at the top of their lungs for candy, look to the fruit strips as an alternate. It's just as flavorful and is better for them.
Check out more of Gaetane's parenting musings over at her blog Seeds of Mommy Soul. And if any of your mommies (or daddies) out there would like to submit hilarious stories, adorable pictures or shocking parenting revelations to Clumps, don't hesitate to shoot me an email at Brittany@ClumpsOfMascara.com.
What are your thoughts on raising vegetarian or vegan kiddies?