I've been a die hard fan of St. Ives skincare products for I don't know hooooow long. Even before I was a beauty blogger, I was hoarding St. Ives stuffs like it was a job. And ever since they started omitted harsh ingredients from their products, well, I love 'em even more.
Good ole' St. Ives has recently launched these Scrub-Free Exfoliating Pads and of course I'll had to check 'em out.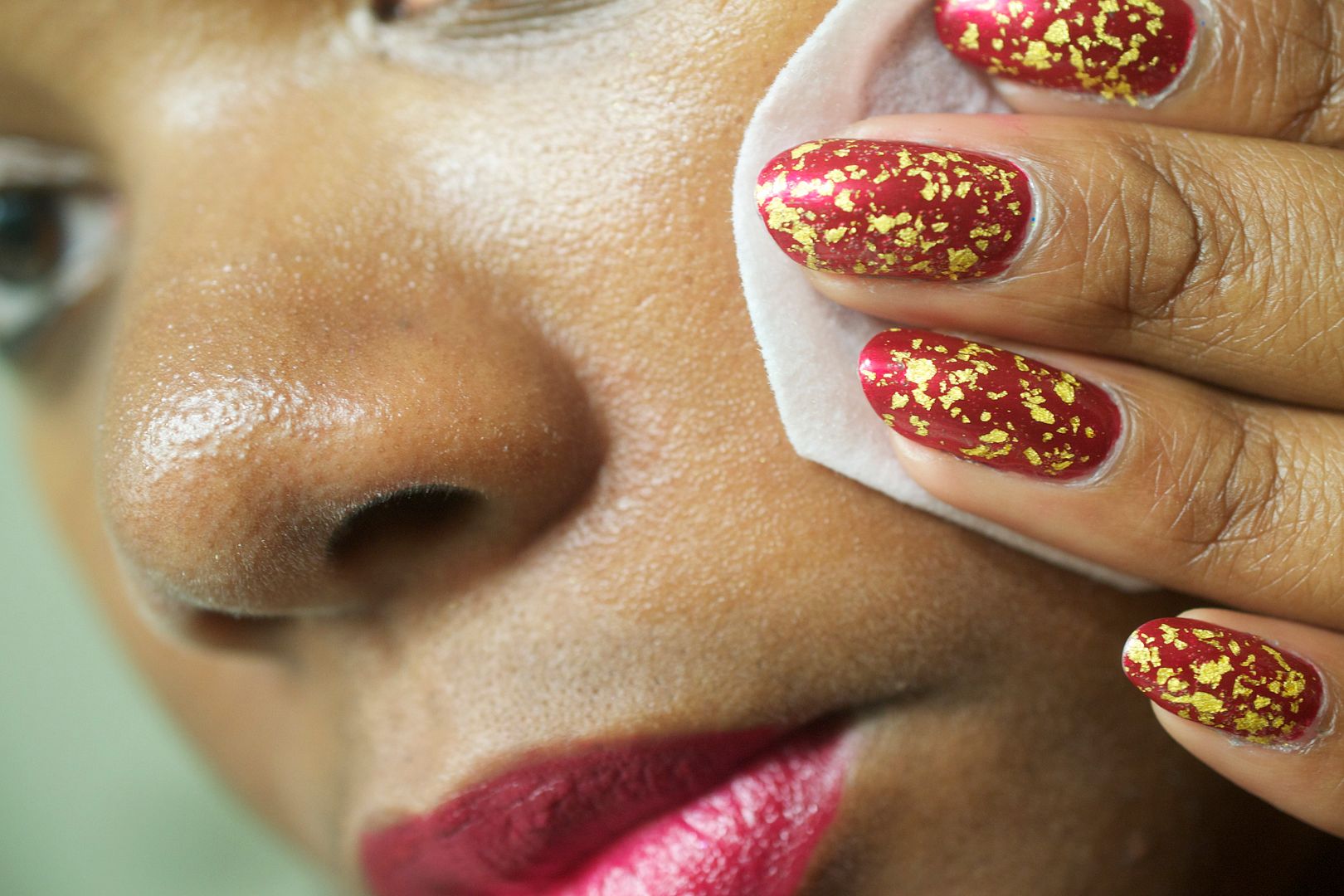 Peep the stats:
First mass-market brand exfoliating pads with alpha hydroxy acids (AHAs)
Formulated with 100% natural lactic acid
Only $4.99 and you get 60 pads
Exfoliates to reveal smoother, younger-looking skin in just 7 days
Well. These extreme claims of promising to provide younger-looking skin in just 7 days had me on my toes. I think I look like a youthful 27 years old but I'll take 24-year old skin any day. 😀 I gave these pads a whirl for exactly 7 days and welllllll, they have their ups and downs.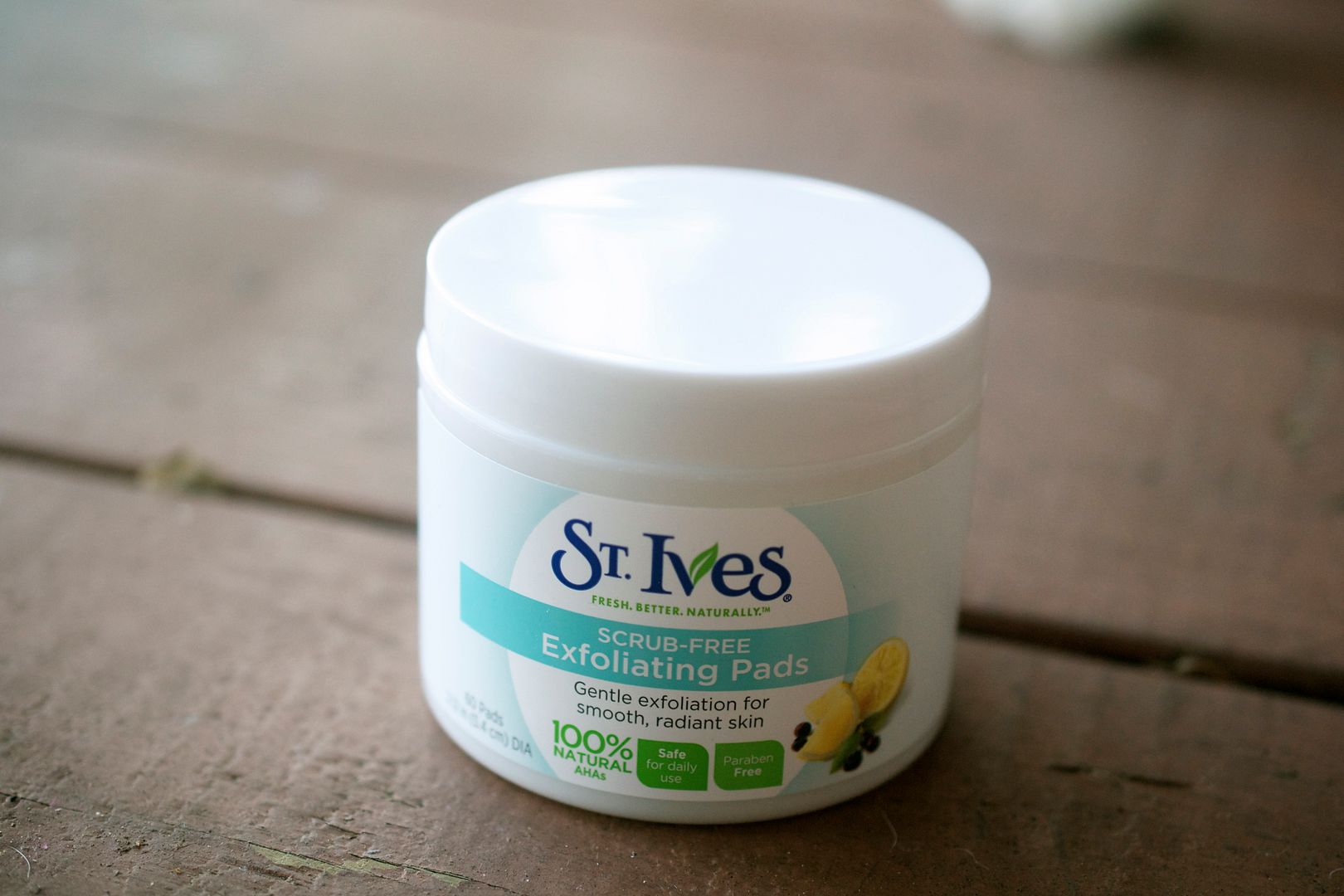 For one, I LOVE the fact that you get 60 pads for under $5. That's pretty dynamic considering you really only need 1 pad per cleaning. Now, if you use these TWICE a day then you're average at least 60 a month which still isn't that bad. I think these are ideal for traveling. You can just pop 'em in a carry-on, suitcase or tote and you won't have to worry about them spilling. Because I'm that nut that ALWAYS ends up spilling a face wash or shampoo in her luggage.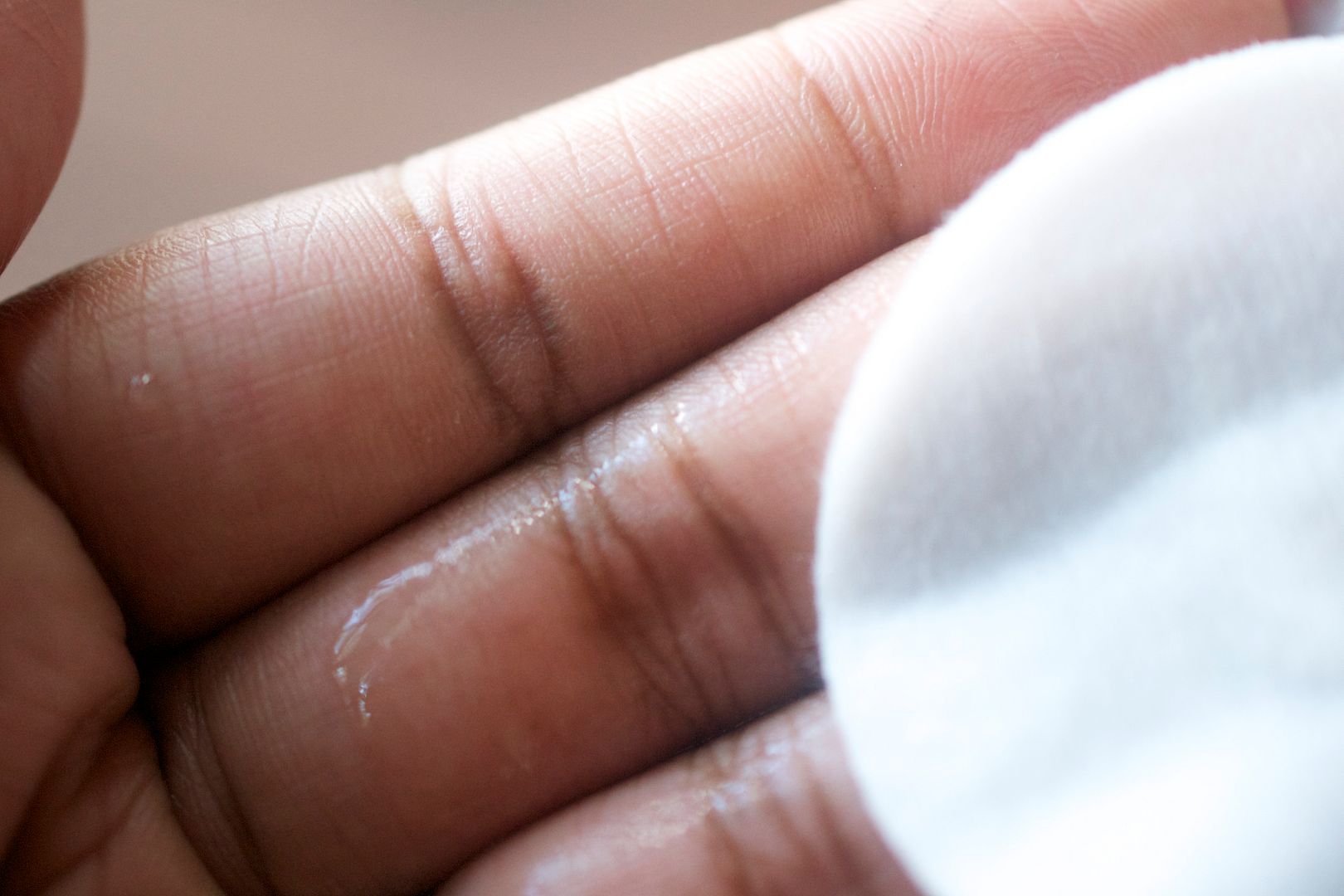 So yeah, portable and spill-proof products are definitely for me. On the downside, I'm not sure how effective these are at really cleansing the skin. Sure, they feel good but I didn't get that streaky clean feeling I love to feel after washing my face. Oh! And I so think the product name is weird. When you think of exfoliating, you think of scrubbing beads or somethin' like that, right? Well nope…the pads are smooth. It's the ingredients that provide an exfoliating experience. But then it says scrub-free. Huh? So yeah, I get it, but I think the language may throw you off if you're taking a quick glance of this in drugstores. Reading thoroughly is indeed fundamental.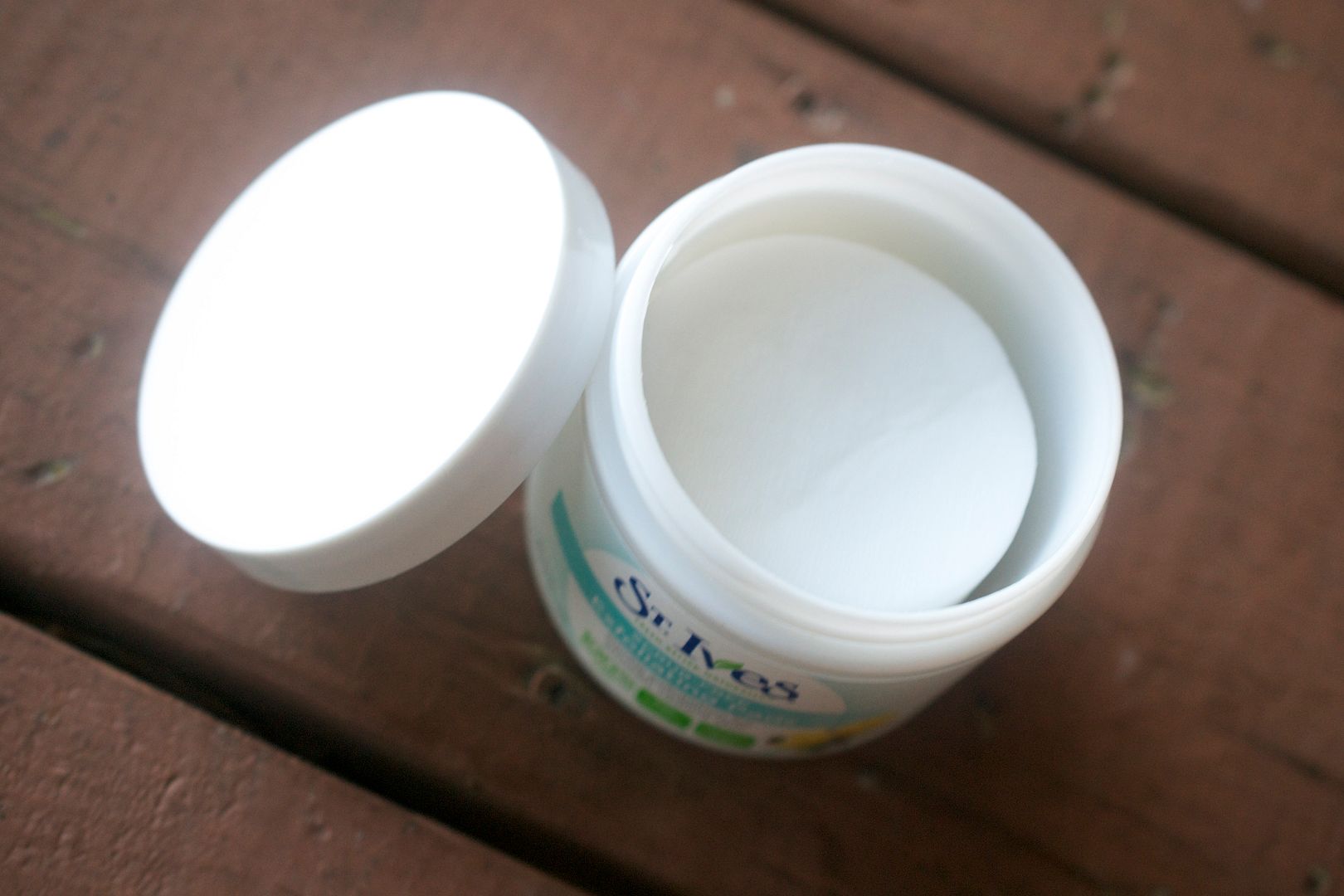 Pro's
-Affordable and easy to find
-It's paraben-free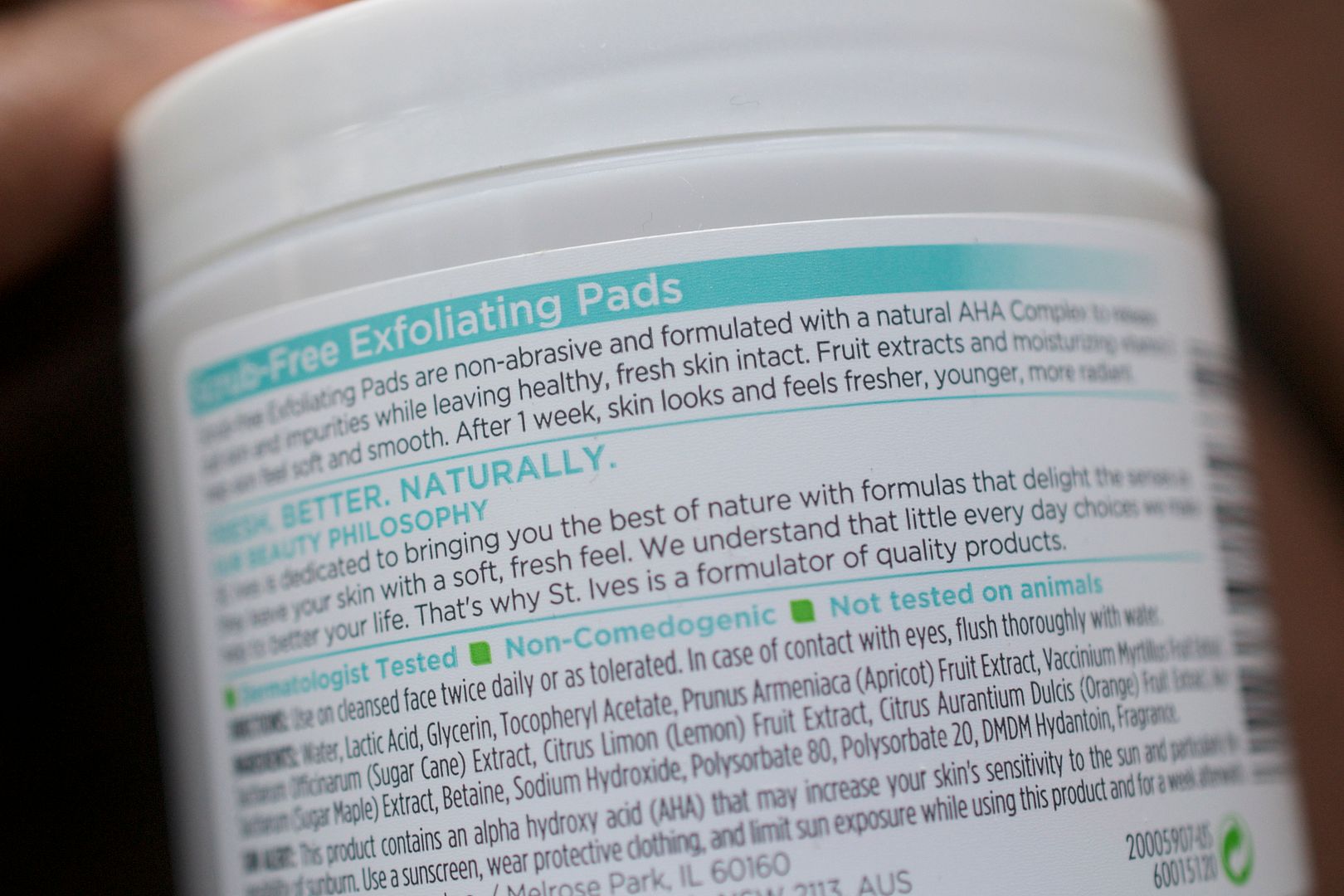 -They aren't unscented but the light fragrance that they provide isn't too overwhelming
-Pads are lint-free and smooth.
-One pad should be good enough for the face and neck.
-While you may want to use a makeup remover prior to these, they do a great job at removing face makeup like light foundation, powders and blushes.
-Those with dry skin will love how moisturizing this is.
Con's
-It's a bit drippy. Which is good because you get more than enough cleanser but bad because it can be a bit messy.
-The pads are hard to pull apart. Each time I used 'em, I'd grab 2-3 and then had to spend a few seconds pulling them apart.
2-3 pads…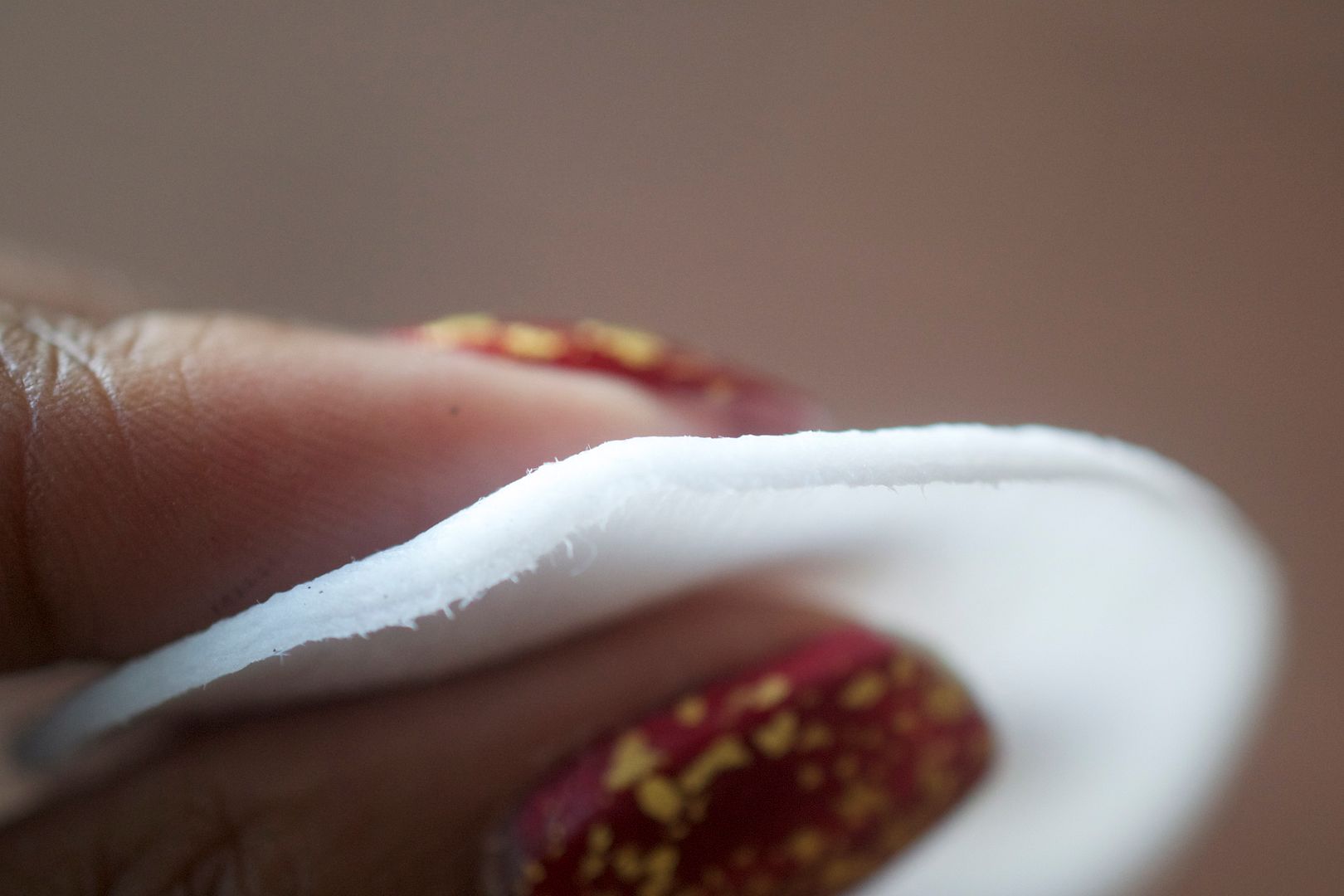 1 pad…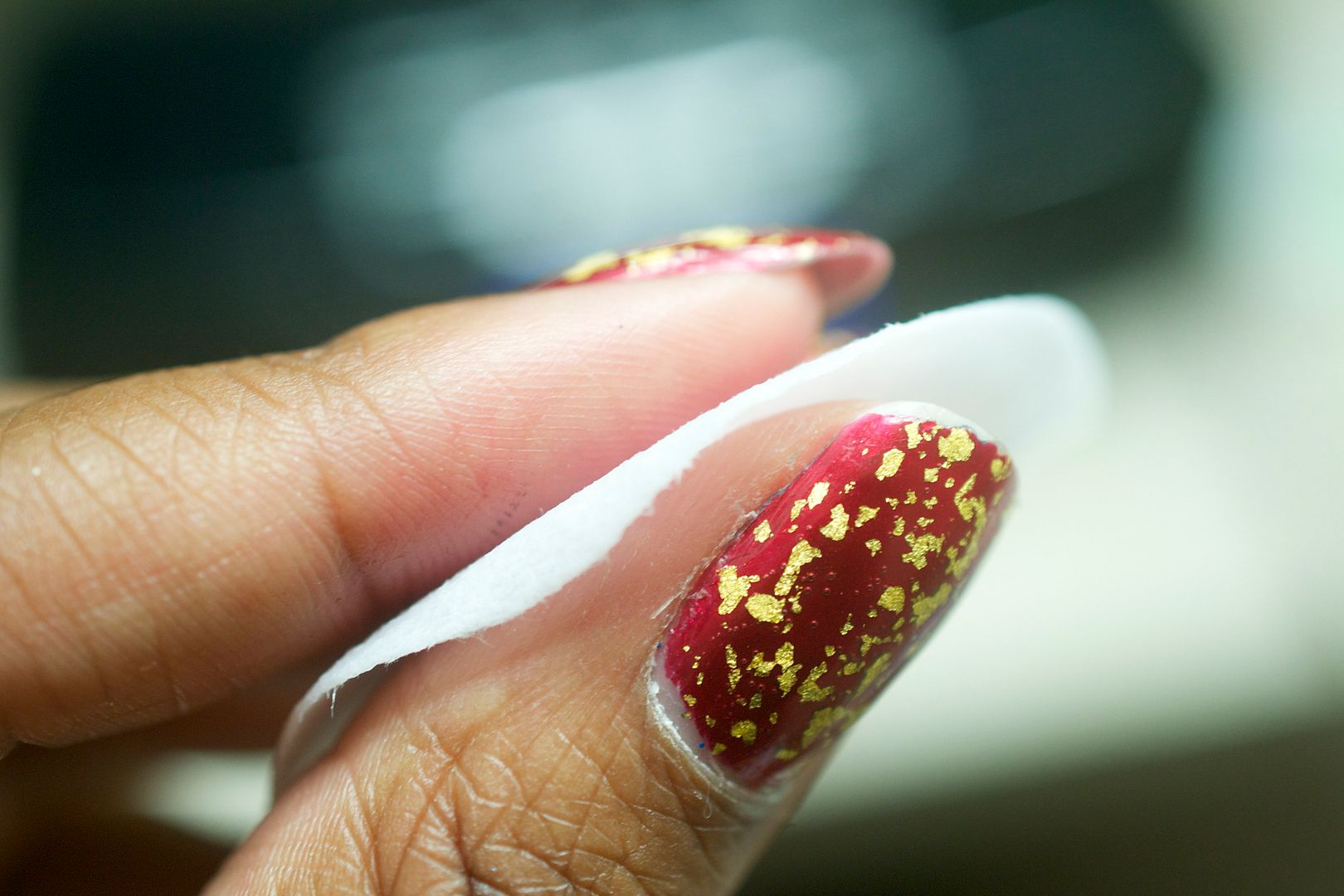 -Didn't really change the appearance of my skin in 7 days. But then again, despite the claims, I didn't expect it to.
-My skin didn't feel ultra clean. I still felt like I needed to follow up with another cleanser. Then again, I'm not really sure if it's a cleanser or not. Maybe this is something you use AFTER you wash your face? I'm not sure.
Are these ideal for me for every day use? Probably not. I like the skin drying-type clean and these didn't give it to me. But I'll still be carrying them with me when I travel. I can be a lazy somethin' when travelin' and skincare wipes and pads that help me remove the days's gunk without turning on some water are sooooo up my alley.
Oh, and this warning was on Drugstore.com so it's definitely something to take heed to,
"This product contains an alpha hydroxy acid (AHA) that may increase your skin's sensitivity to the sun and particularly the possibility of sunburn. Use a sunscreen, wear protective clothing, and limit sun exposure while using this product and for a week afterwards."
ETA: Look what else I found per Drugstore.com: Use on cleansed skin twice daily or as tolerated. In case of contact with eyes, flush thoroughly with water. That changes a lot, uh?
So is just me or am I the only slow bird that thought that these pads would actually be textured to exfoliate? Even though they said "scrub-free"? Whatcha think?