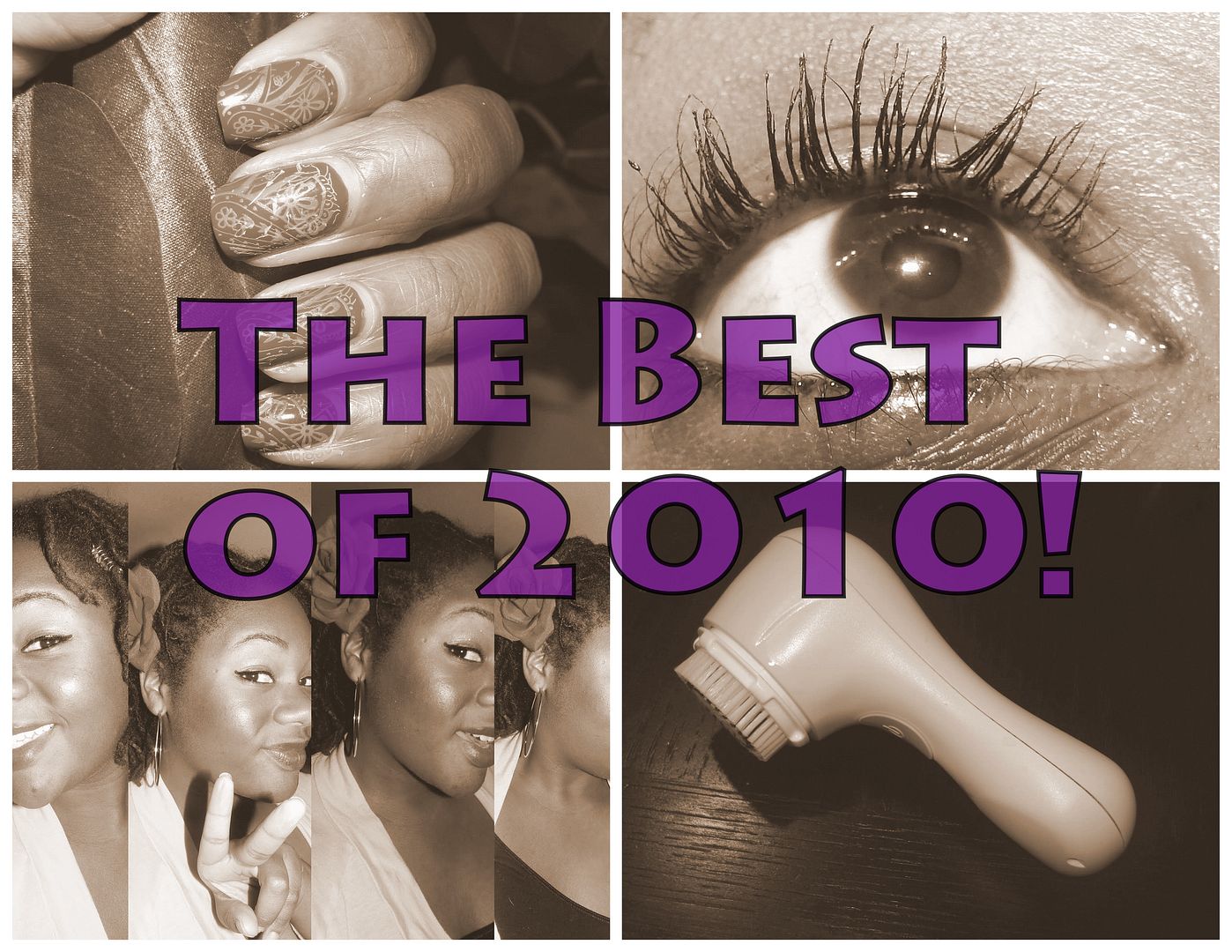 Ready to bring in the new year? I am!! I've got my bags packed and will be heading down to Miami. The weather is in the high 70's and low 80's so I'm ready to ring in the New Year the Florida way. The last few New Year's were spent in New York and Atlanta so I think I'm going to love the climate  change.
Let's countdown the top 14 posts on Clumps of Mascara in 2010.
1. Remember the 50 Million Pound challenge posts? It was all about loosing weight and eating healthy. Green smoothies practically changed my life in 2010. I posted my recipes here and will still be showin' them love in 2011.
2. The Clarisonic Mia practically changed the way I took care of my skin. I am still a faithful user and a forever fan of Clarisonic. If you didn't purchase one this year, you HAVE to scoop one up next year.
3. 2010 marked the year where I did my first YouTube tutorial. It was all about neutral eyes and a poppin' lip.
4. NYX's Jumbo Eye pencil in Milk revolutionized the way I did eye looks. It became my holy grail primer for when I wanted super vibrant and bold looks.
5. My winning a contest and getting the chance to meet Iman made 2010 EPIC!!
6. I fell in love with red lips. And I attempted to make other ladies feel comfortable with rockin' red lips by doing a "How to Wear Red Lips" guide.
7. I wrote a Dear Brown Girl letter. Reviewing mascaras is cool but motivating and inspiring is really my true passion. 8)
8. Konading was my nails' bff in 2010. And I was more than in love with OPI's Jade is the New Black.
9. Maybelline The Falsies mascara was by the far the most popular mascara I reviewed in 2010. The video hit a record number of views and was even featured on Maybelline.com under their Beauty Buzz. This is huge as I was one of the featured alongside other publications such as Allure, People, O Magazine, Glamour and more!
10. The best of Clumps of Mascara-the video. While I don't crank out videos as much as I should, no one can deny that when I do crank them out they are just…a mess.
11. Vegan make-up and natural products. In 2010 I made a commitment to green up my make-up collection and the products that I review. While I continue to review everything that I think would interest the Clumps fam, a majority of the cosmetics and body products that are feature are eco-centric and are safer alternatives. It was my commitment to you and let's face it, green is better!
12. Super bright lips! A majority of my FOTD Friday posts were all about bright lips. This one was no exception.
13. It only took several years but I finally masted the brown smokey eye!
14. My love for nail polish, designs and trends did not end. Ruffian nails ruled my world for awhile.